The National Association of Music Manufacturers Show 2005.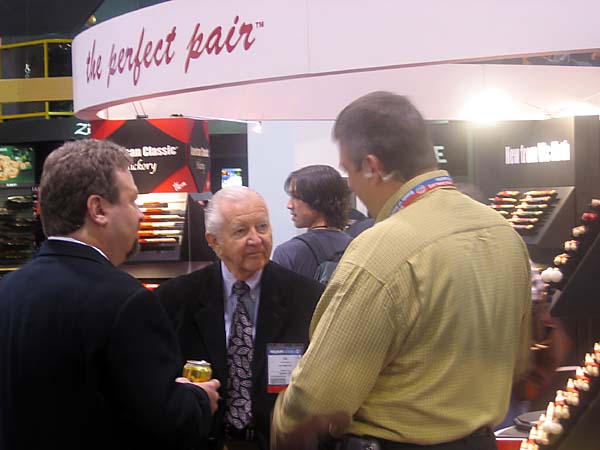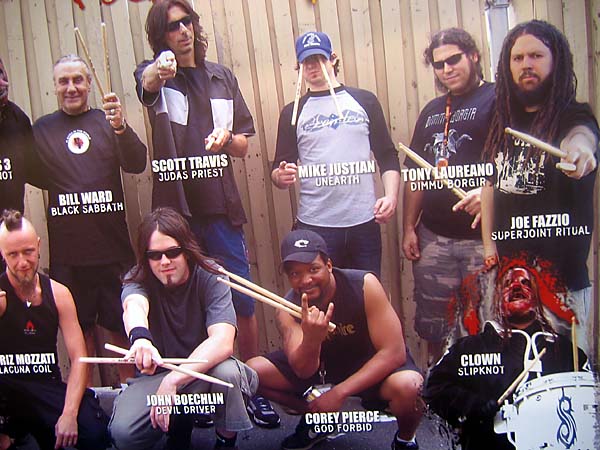 Mr. Clown from Slipknot looks like he has a blood-haze aura, not a very good Photoshop job. Sounds like a good lyric stub.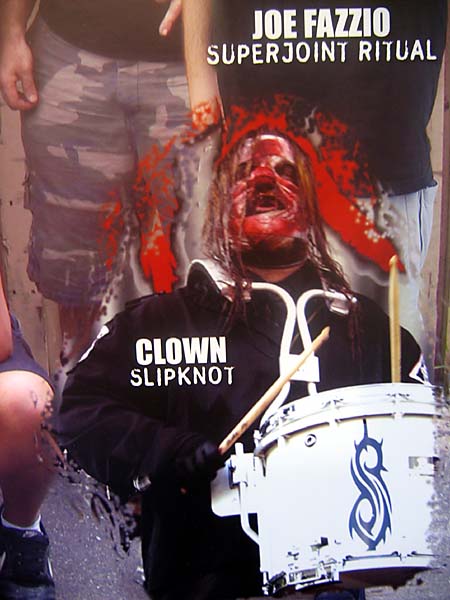 "Okay, are you guys ready? Hold on ... meeee meeeee meeee ... MEEEEEE .... la la LA la la ... okay ... you better have that frickin' tape running this time, Fred ... onetwothree PARADISE SATAN HOTEL IS OPEN ALL NIGHT / YOU CAN CHECK IN BUT THEN YOU ARE NOT ALLOWED TO LEAVE ALL RIGHT / STEP FORWARD INTO THE CHRIST HOLE / YOUR CHAINS BIND YOU AND THEN YOU CANNOT STEP INTO THE CHRIST HOLE / THE FAMILY GOES TO THE MOVIES WILL THEY EVER BE SEEN AGAIN / NO THEY WON'T MY MINIONS OF THE LEAGUE OF MARCHING AND/OR FESTERING DOOM NO SIR / NO ONE UNDERSTANDS YOU BUT I DO / THE BIG BULLY I'LL GET EVEN SOME DAY / OH DON'T LET IT BOTHER YOU LITTLE BOY / WHAT YOU HERE AGAIN? HERE'S SOMETHING I OWE YOU / HERE'S A LOVE TAP FROM THAT BAG OF BONES REMEMBER? / THE UNHOLY UNITED UNFORGIVEN UNCOLA PLAGUE IS UNLEASHED UPON THE ZOMBIE CITIES OF STENCH-ROT AND THERE'S FILTH IN THERE SOMEWHERE, TOO / WE ARE THE SCREAMS OF DESSICATED LARVAE -- SERIOUSLY, LARVAE / MY DISEASED HORN CATCHES ON YOUR BLOOD-HAZE AURA DORSAL FIN WE FIGHT LIKE PARIAHS WHO ARE FLESH-EXCLUDED RARRRRR ARRRRRRR ALSO RARRRRRRR / THE SKIN IS TOO TIGHT OR MAYBE IT'S THIS T-SHIRT / DO YOU HAVE SOMETHING MAUVE IN A THIRTY-SIX? / THANK YOU / THE MATRIX OF DISEASE -- WAIT I SAID DISEASE BEFORE / THE FEAST OF THE PAGANS LIKE LAMBS TO THE SLAUGHTER NOT A VERY GOOD PHOTOSHOP JOB / THE MATRIX OF HORROR CRAWLS SUFFERING THROUGH THE MUD AND BROKEN GLASS AND BOILS AND PUDDING / I REALLY HATE PUDDING / IT REMINDS ME OF OLD PEOPLE AT THE DAMNED SWEDEN HOUSE / THEY JUST LOAD UP ON THAT STUFF LIKE IT'S PACKING MATERIAL / PUDDINGGGGG!!!!! AAAAAAIEEEEEEE PUDDING!!!!! RRORROORRRORWWWWRRRR!!!!!! / BECAUSE I LOVE, LOVE MY CARPET" [assorted gurgling/belching]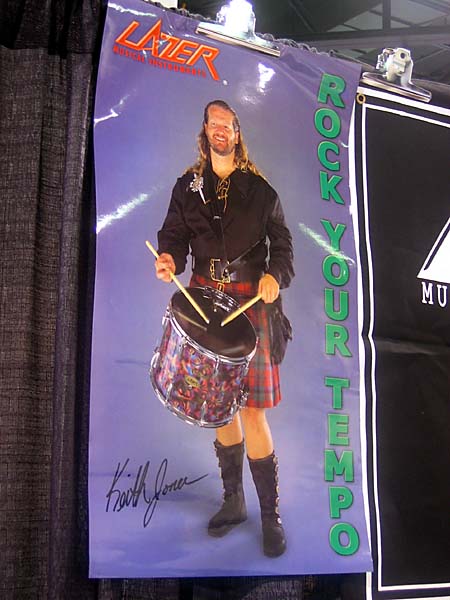 So we went back to the Lazer drum booth to figure out who would sell Tim the drums and they pointed to the poster they had up and said that guy would sell Tim the drums then we were all like "it's the guy we saw in the morning! In the band!" If only we had known, we could have rocked our tempo.
The V-Accordion. It is a digital accordion which also has bellows. I tried playing the V-Accordion but I forgot to unbuckle the strap so I was like "EEERRRRRRGGGGGHHH" and "UUUUUUURRRRRGHHHH" etc., then I figured it out and I wasn't embarrassed because I've spoken at city council meetings naked. It was important.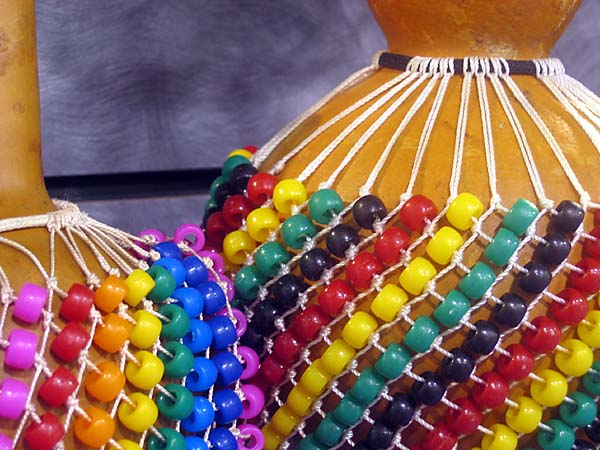 Every time I do one of these things I have an opportunity to blow your occular orbs out with a big splashy rainbow of color. And I suppose that's the difference between myself and most everyone else at NAMM -- they were listening, I was looking. I am curious color whore.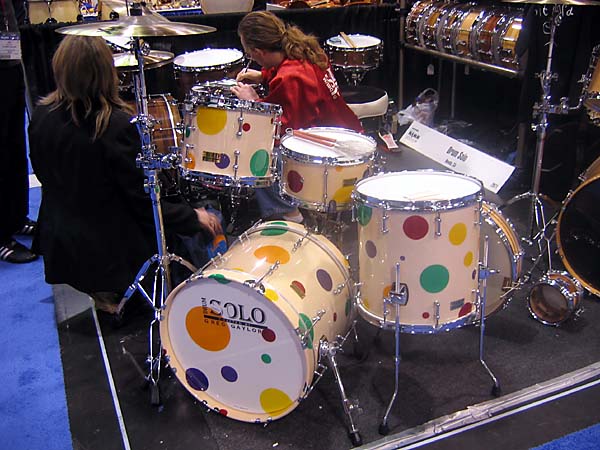 Colorwhore! Colorwhore! The Wonderbread® of drums.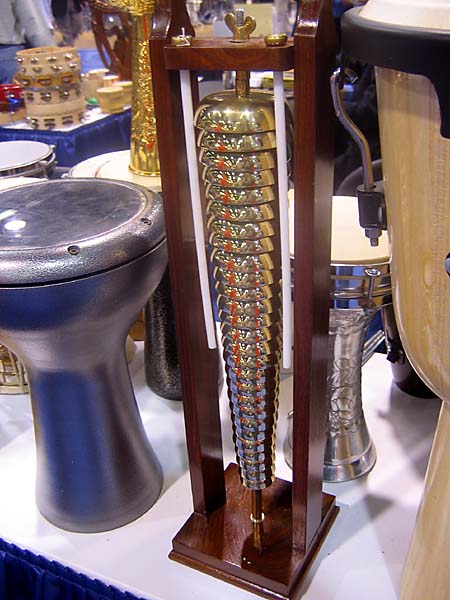 Tim told me the name of this thing and it was totally obvious, like "bell tree," and we laughed and laughed but now I'm not sure that's what it is. The day the laughter died. It looks like something that would be in an old hotel.
next page
(pg 18)