2003oct11.
Arizona Deep-Fried State Fair (8).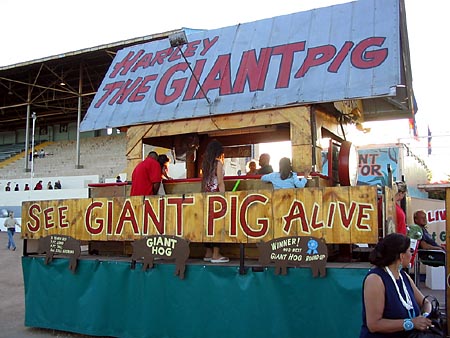 This is another peer-down-at-what-you-paid-to-look-at attraction. They've parked all of these things next to one of the entrances, so it's the first thing you encounter. Later on, down the road -- depending on the day -- you might end up in a building filled with giant pigs, and you don't have to pay fifty cents to see each one.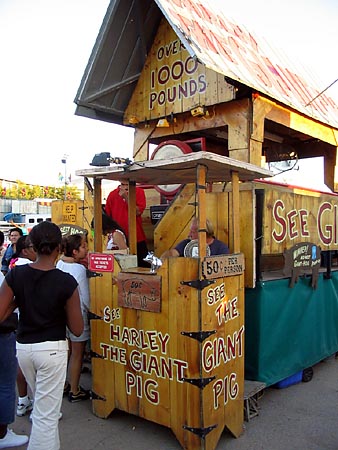 The carny manning this booth didn't say anything. There was no barking. There was a help wanted sign, and I'm guessing that as long as one didn't have to wrangle the pig, pretty much anyone would qualify for the job.
Like me.
I didn't spend any money to "SEE" any of these ridiculously-large animals. It's sort of like Pixieland, in that the unexplored option naturally posesses an unlimited world of potential. That pig could be as large as a blimp. I'll never know. Unless I end up working there. Then I can look at it WHILE they're paying me.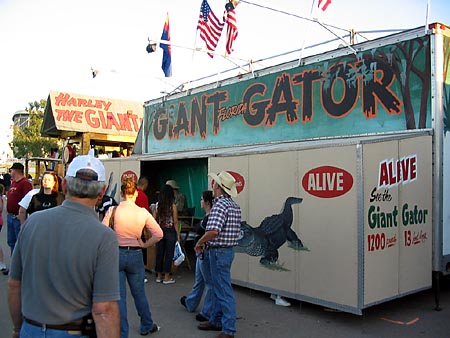 Florida plates, I checked. AUTHENTIC.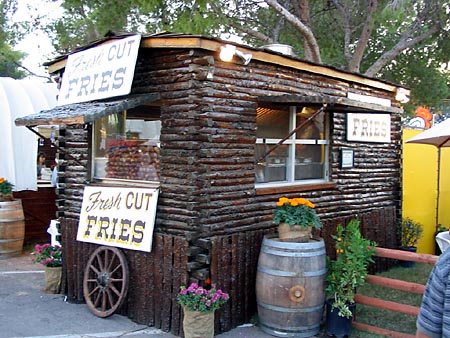 A very unique food trailer.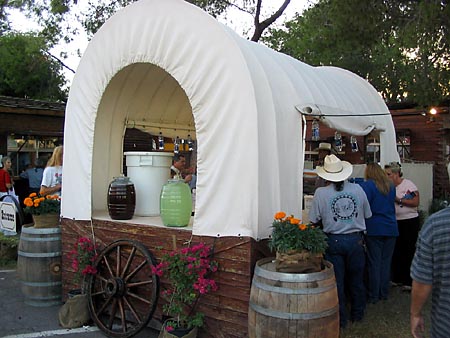 Another old West trailer. What's the name of the guy who takes care of the food in wagon trains? "Cook." Yeah. "Hey, cook, get me some grub." That was an authentic old Western conversational tidbit, there. I'm not averse to the occasional intense bit of research to bring these vignettes to you.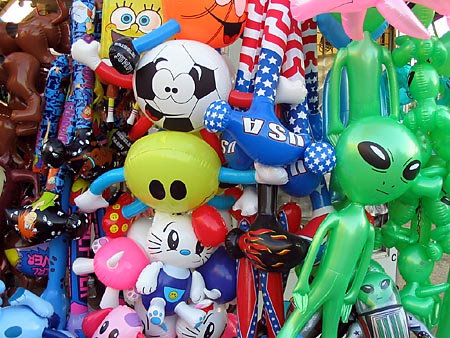 American Hammer surrounded by Potential Victims.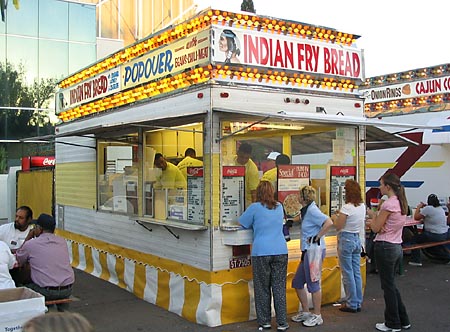 Here we discover that a popover can have beans, chili, or meat inside. I was thinking more in terms of a light, airy confection. Forget what I said about the popover earlier.
The garbage can in the lower-left has some stupid uplifting message on it, I'm reading the words "Together we have the power to ..." and the text continues but I never noticed it at the fair because I have this strange tendency to NOT search garbage cans for philosophical/wistful statements.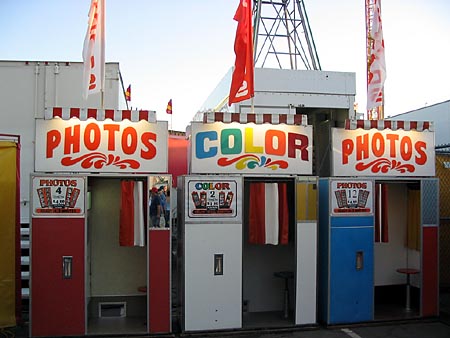 Photo booths. They didn't have any in which I could get my photo taken with a favorite food trailer. A nice touch here is that these three booths were pushed into an alcove away from the crowds. This might also be why nobody's using them. PHOTO BOOTH 1BR/0BTH $4.00/10MIN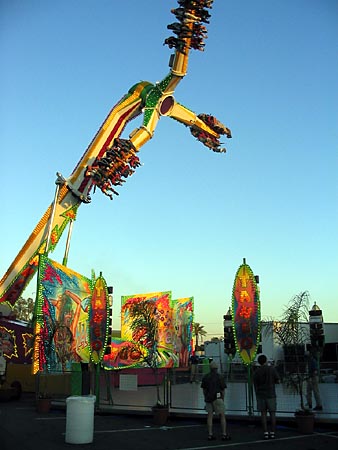 Adventurous souls on the Tango. This ride is very strange -- it lifts up, spins around, then comes down and drops everyone into a chamber which is then crushed into a sphere, then that sphere does a loop-de-loop and is shot into space. I hate loop-de-loops, I'd never go on that ride.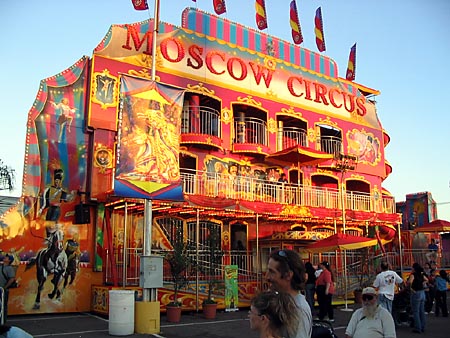 Moscow Circus. Everyone wants to go to the Moscow Circus. Now there is an easy way to do this, via this Moscow Circus carnival ride. As in the Moscow Circus, at the very end you (the circus audience) slide down a spiral slide from the second story down to the bottom. The Moscow Circus: It Has No Rotating Tunnel Endgame.
Runner-up name: Clown Glass II.
next page