Pig Parts: The Arizona State Fair 2004 (page 4 of 7).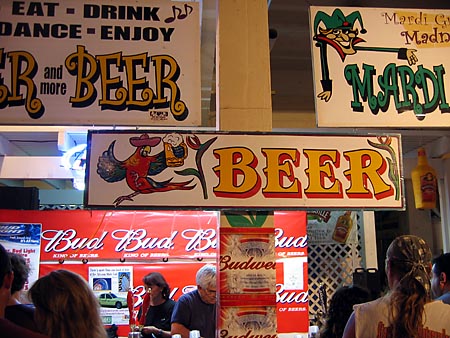 The lines for alcohol beverages at the coliseum were long and stupid. I believe people were lubricating themselves for the upcoming Steve Miller appearance. Steve, we are drunk now. Play us some old time rock "'n'" roll.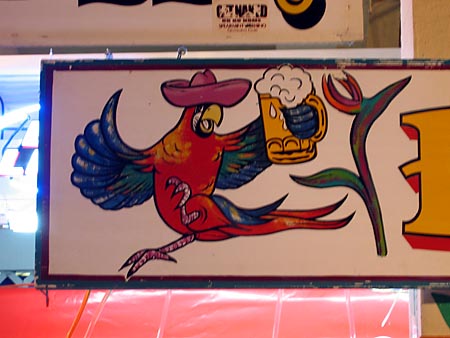 Even the animals were getting hammered. This sign amused me because of the parrot's non-cartoon image along with the tiny sombrero. And the large beer. The beer is nearly as large as the parrot, I don't think he'll be able to finish it.
Okay. Now we're going to get into it. We're going to go "behind the curtain." We're going to actually pay good money to see the exhibits of mutant animals whose very existenz will blow our puny little minds. Prepare yourself.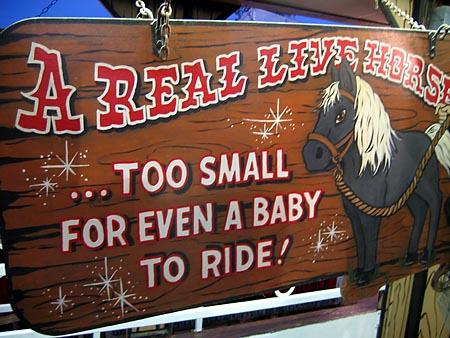 Do you remember the booth with the tiny horse? A real live horse ... too small for even a baby to ride!? Take a look at the booth itself from last year.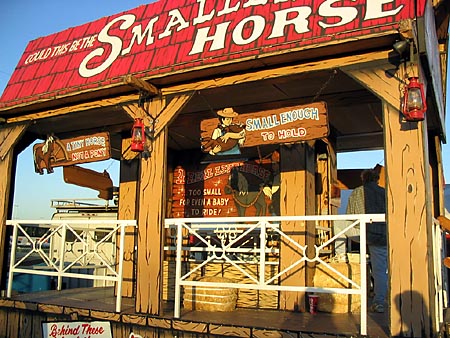 (photo from 2003)
Unfortunately the Cardhouse budget for 2003 did not allow for such extravangances, but here, now, 2004, I had the extra fifty cents to get in.
Tiny horse: The Magic Revealed.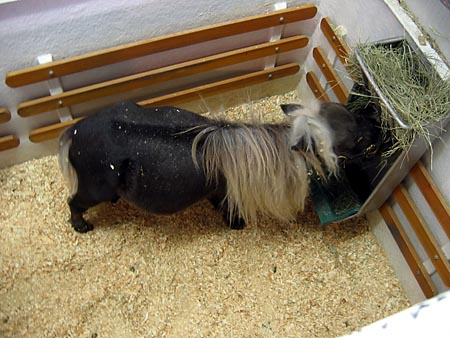 THERE IT IS, FOLKS, STEP RIGHT THIS WAY AND SEE (SEE!) WHAT I'M CALLING POSSIBLY THE TINIEST HORSE EVER HOW COULD ONE HORSE BE SO SMALL? TOO SMALL FOR A BABY TO RIDE IT, EVEN THOUGH A BABY COULD TOTALLY RIDE THAT THING INTO THE SUNSET MY GOD LOOK AT WHAT NATURE HAS ERRONEOUSLY BRUNGETH INTO BEING THIS HORSE IS AN ABOMINATION -- AN ABOMINDINATION -- A SCARY MONSTER THRUST TOWARD OUR EYES! LOOK AWAY! LOOK AWAY!
With 1/3rd of our remaining budget spent, let's go visit White Mountain, the giant steer.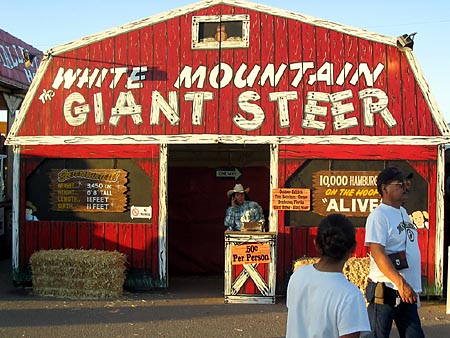 (photo from 2003)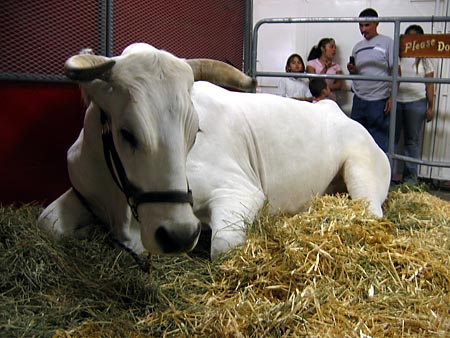 Huh. Well, there she is. Pretty big.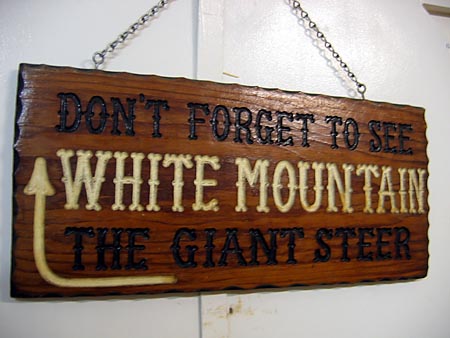 I've already seen White Mountain, the giant steer.
At that point I had just enough money left in the budget to visit Hercules, the giant horse.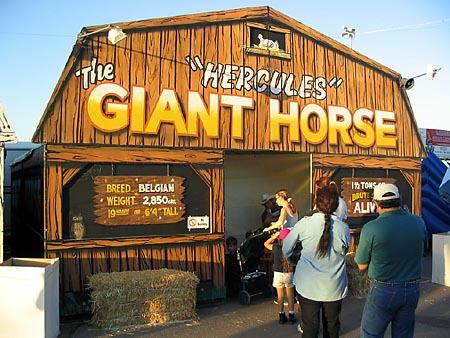 (photo from 2003)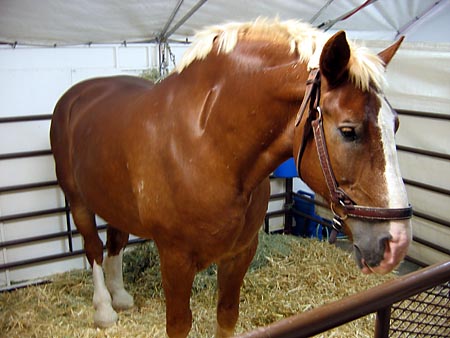 Huh. Well, there he is. Pretty big.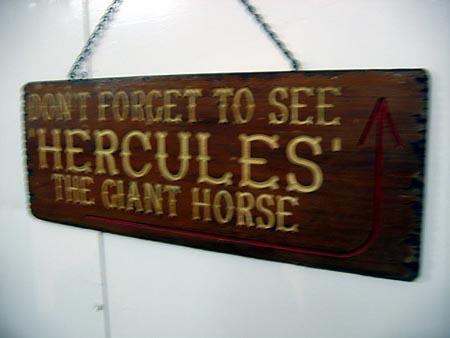 I've already seen Hercules, the giant horse.
Unfortunately the Cardhouse budget for 2004 was thus blown all to hell, so there was no money for Der Cuckoo Haus Krazy Fun Hawsens that I was chirping about last year. I'll visit it next year. Always leave something for next year. There is also a GIANT ALLIGATOR and a GIANT PIG but the way I look at it if a steer or a horse got loose it's probably not going to hurt you but with an alligator or a pig kiss your leg goodbye.
Your Own Head In Rose-Scented Wax Forever.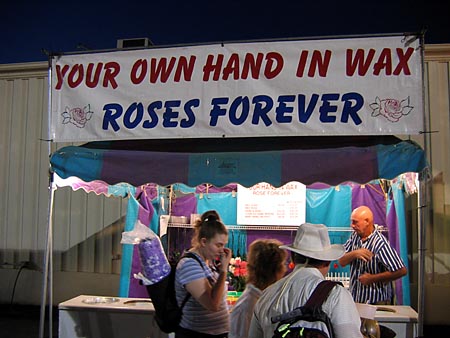 When I first glanced at this sign, I thought it said "YOUR OWN HAND IN WAX FOREVER" which would probably create a host of logistical issues. But a booth devoted to things you could cram your hands into would probably rake in the big box office.
Also note that a boatload of Arizonans never wear headgear, so what are the chances of getting a photo of someone wearing a hat at night?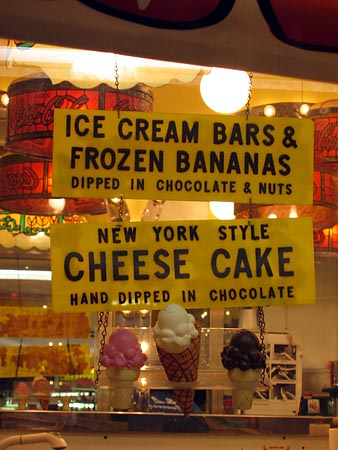 YOUR HAND DIPPED IN CHOCOLATE FOREVER
next page (page 5)