2004oct01.
Hawaii Shop (page 7 of 7).
Parks Brand Pharmaceuticals: Various.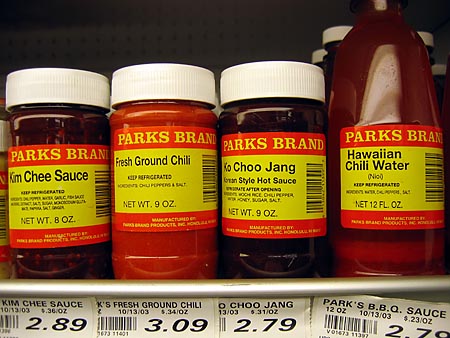 "Yeah, I used to pay $50 to get my Ko Choo Jang prescription filled but then I found out about Old People Who Won't Shut Up On The Television Commercial Medical Co-Pay Scam Insurance."
Halm's Korean Turnip Kim Chee.
Great logo, great design. Too much wording, put the ingredients on the side.
Maui Style Maui Onion Flavored Potato Chips.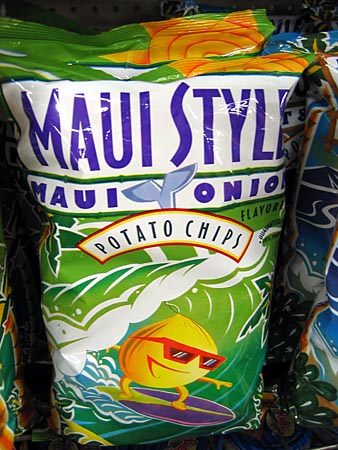 What is that blue thing in the middle? Is that supposed to be a whale tail? I am confused. They've totally obscured the continuity of the graphic. Perhaps the onion is trying to escape the whale? What is it that Joseph Campbell said about there only being two stories in the world: One in which an Maui onion comes into town, and one in which a sunglassed Maui onion surfs the hell away from a graphically-obscure whale on a bag of potato chips?
I'm writing stupider. That's because I had a nap, and now I'm in the groove.
Not joking.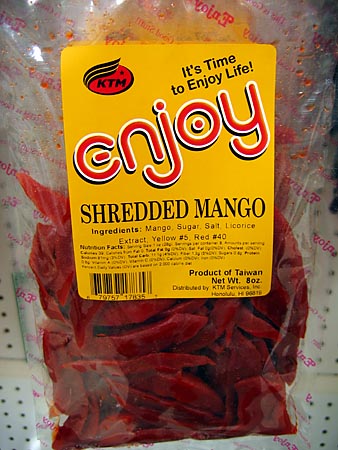 I am a big fan of mango, but this does not entice me to take the Time To Enjoy Life! I feel more like Checking To Make Sure No One Has Stolen My Guts!
Foremost Hop Scotch Vanilla Flavored & Chocolate Ice Cream.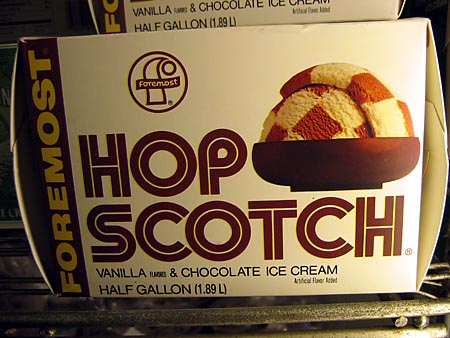 This is the only ice cream in the history of the universe that has a comb-over.
Hawaii Pineapple Flavored Sable.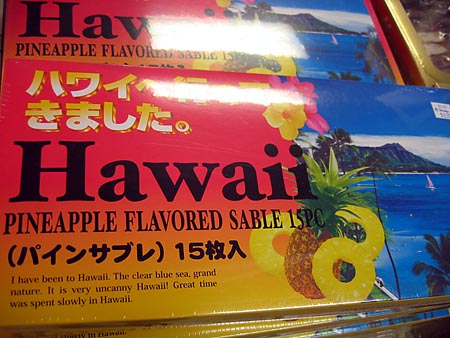 Sable? Sable?
Sable?
Saw this in a realistic simulation of a Japanese depato store in the Honolulu mall, a few hours before magically ascending into the sky. The bottom paragraph reads:
I have been to Hawaii. The clear blue sea, grand nature. It is very uncanny Hawaii! Great time was spent slowly in Hawaii.
Yes, a great time spent slowly. Perfect encapsulation.