2004oct01.
Hawaii Shop (page 1 of 7).
NOH Haupia Luau Dessert Hawaiian Coconut Pudding.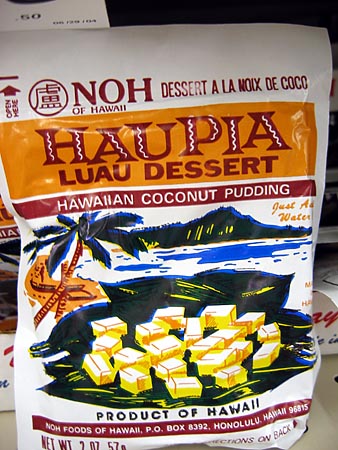 I'm not sure I would like the coco-nut pudding. I'll have to sleep on this one.
NOH Haupia Luau Dessert Hawaiian Coconut Pudding.
Seriously, I don't know about coco-nut pudding. Give me some breathing space, here.
This package has about twice the amount of product than the previous package. I like the drawing much better. I think they're just going to keep selling the two products even though the packages are very different.
Mendo Maté Traditional Maté Gourd.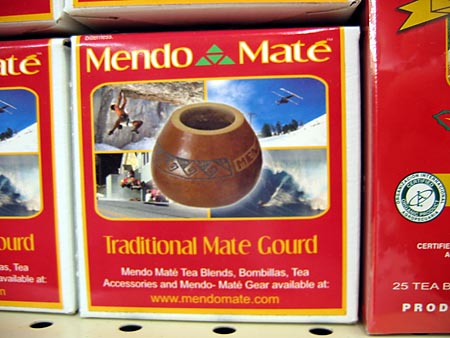 Just when you thought you had it all figured it out ... here comes Mendo Maté yerba maté energy-like beverage and cultural drink of ancient origins. No, seriously, this is like an energy drink but they get all in-your-face with the regular sugary energy drinks on their website (Mendo Maté). It is a tea from Paraguay and I know nothing about it. It is a stimulant, so watch out, my friends. I am neither endorsing or unendorsing this concoction that brings with it its own legend, its own folklore, its own t-shirt series, its own traditional gourd.
Foremost Neopolitan ice cream.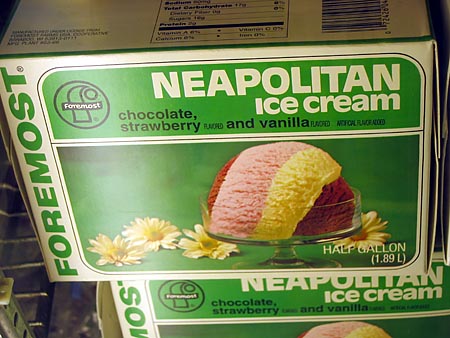 I love this. That composition reminds me of those old vending machines that would offer you some sort of brown slurry -- the machine was labelled "coffee" -- and you'd always have the hot chocolate option, and the big photo would always be sun-bleached and would show some cinnamon sticks stacked right next to the cup o' hot chocolate and you'd be like "cinnamon sticks ... right. Is this even chocolate?" And you'd start rocking it back and forth because back then we didn't have signs to warn us that we could be crushed to death by this simple, sustenance-giving machine and the liquid would shoot all over the place and the ice and wooooo what fun we had back then, huh? Not like now.
Foremost Cookies N' Cream ice cream.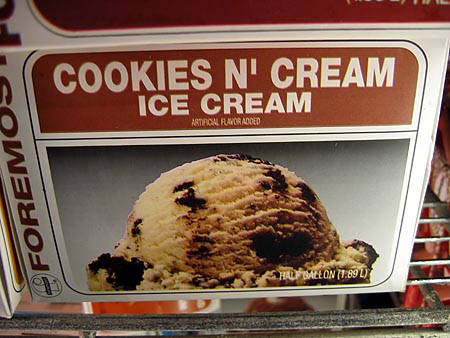 The ice cream package design of the Foremost Corporation is reassuring in these times of horrific rainbow-heavy logos and scary ultra-realistic sneering mascots.
Foremost Kona Coffee ice cream.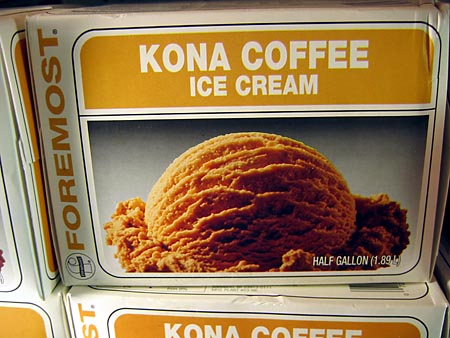 Foremost Orange Sherbert/Vanilla ice cream.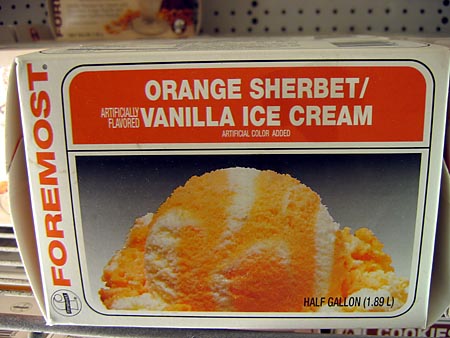 Foremost Hawaiian Macadamia Nut ice cream.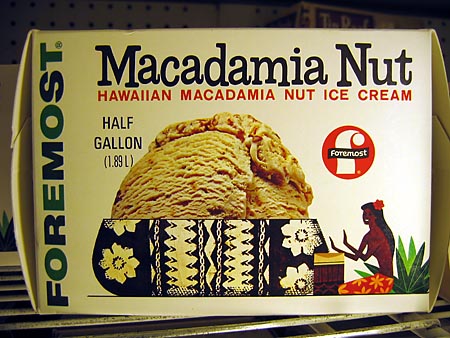 Let's step away from the freezer section for a little bit.
Diamond Ruff N' Ready Cookies.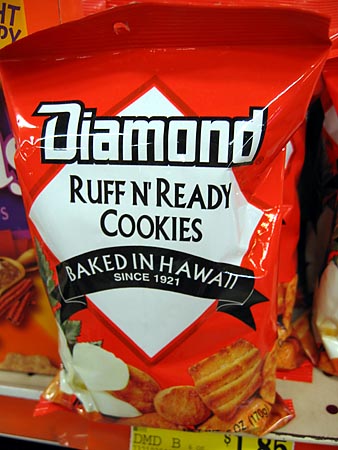 This, I don't know what this means. My cookies are ready for adventure. Intrigue. My cookies are more macho than I am.
The All American Caffeine Free Shirley Temple™.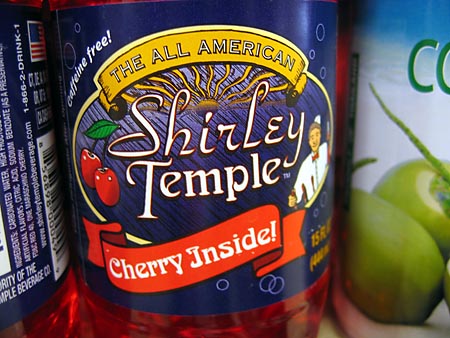 Noted without comment.
next page (pg 2)