Dulces Anahuac, S.A. De C.V.
Av. Popocatepetl No. 55
Mexico
Tel. (2) 222-00-90
Fax: (2) 222-13-72
Toll free: 01-800-226-3900
Current products (as of December 2003): Davinnos, New Vice, Gordon, Oldline, Jokers, Campers
Current products (as of July 2001): Winstun, Salam, Raleyg, Kemt, Viseroy, Mapletun

---
All of the candy cigarette packages are actually crammed with mediocre-tasting and immediately-staining gumballs. Perhaps children pretend they are brightly-colored tobacco clumps. The packs themselves are rather small - 2.5 inches tall. They're usually sold in multi-packs -- four to pack, or ten. Variety.
Sometime around the beginning of 2001, it appears that Dulces Anahuac either changed its name from "Tarancon Y Cia" or actually bought out "Tarancon Y Cia", manufacturers of the more "traditional" candy cigarette packages Winstun, Salam, Raleyg, Kemt, Viseroy, and Mapletun.
---
davinnos.
Tijuana, Mexico - July 2001.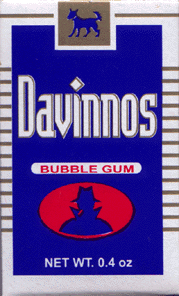 Davinnos reminds me of the shadowy figure from the "Neighborhood Watch" signs.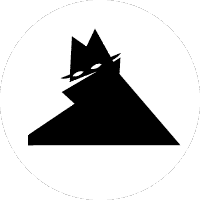 I traced this image off an actual Neighborhood Watch sign -- a ridiculously huge one tucked in the hills of some well-off suburb. A gated community, protecting the rest of us from the depradations and machinations of rich boring people. An elderly lady was walking her bicycle by and asked if I was checking the sign to replace it. "Yes, exactly." Gotta get on that someday.
---
New Vice.
Tijuana, Mexico - July 2001.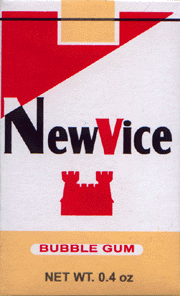 A wonderfully accurate name.
---
Gordon.
Tijuana, Mexico - July 2001.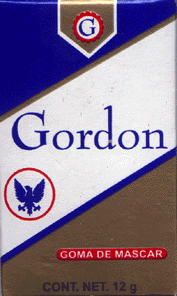 ---
Oldline.
Tijuana, Mexico - July 2001.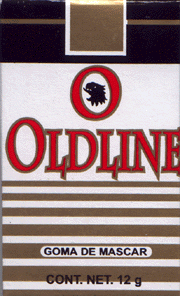 ---
Jokers.
Tijuana, Mexico - July 2001.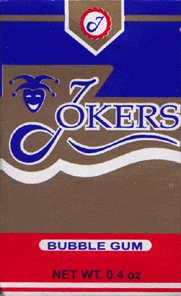 ---
Campers.
Tijuana, Mexico - July 2001.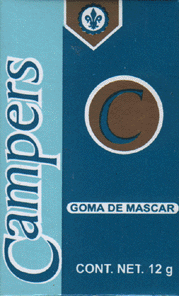 ---
Winstun.
Tijuana, Mexico - July 2001.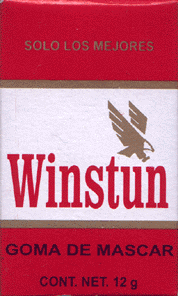 This is where it gets weird. Yes, that's a derivative of Winston. Great, alert RJR, they'll express total surprise and then they'll exchange letters with Dulces Anahuac for ten years. Anyway, these next six packs of candy cigarettes were originally manufactured by Tarancon Y Cia, but then in July of 2001 I vaguely remember noticing that the manufacturer is now Dulces Anahuac. It's sort of strange - the Tarancon Y Cia and Dulces Anahuac boxes were exactly the same, looked like the same ink, the same general design sense, etc. At the time, the paper slip that was included with the Tarancon Y Cia knock-offs had bit with the address cut off, so I figured RJR had already shut 'em down and this was the last bit of stock. But it really turned out to be a merger/takeover. Or ... was it?
It's almost as if Tarancon Y Cia was some sort of dummy corporation. Print the knock-off brands under the dummy name to be on the safe side. I don't know why, if that's the case, they've decided to "merge" back together.
---
Salam.
Tijuana, Mexico - July 2001.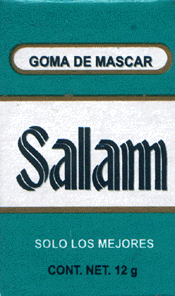 You think I'm off my rocker about Tarancon Y Cia. But there's a boatload of precedent here, all wrapped up in the history of candy cigarettes. Candy cigarette manufacturers have this habit of sort of second-guessing the legal and moral minefield they perceive they're walking through, so that, for example, you had "Marlboro" candy cigarettes which were approved for one candy company, not approved for another, called "Marlbro" by a third, etc.
Of course, maybe I'm totally wrong and I've even mixed-up the manufacturers. I'll figure it out next time I go back.
I'm just thinking out loud here, really there's nothing legally actionable on any of these pages.
---
Raleyg.
Tijuana, Mexico - July 2001.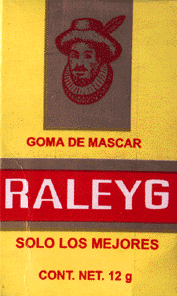 Everyone remembers when Sir Walter Raleigh became this mixed-up robot who couldn't spell and tried to kill people, right? "I AM RALEY G, BEEP BOPE"? Well, this candy cigarette brand commemorates the history. Of that.
There actually are cigarettes sold in Mexico that look suspiciously like these called "Raleigh" or "Raleighs."
Oh good, the neighbor's home, still sans muffler. I'm giving his car another week, tops, considering the amount of tranmission fluid he's dumped on the ground. Any day now, really. I think a real man, like Sir Walter Raleigh, for example, would have kicked his ass already. But then, what gives with the flowery neckbrace, Walt? That's like reading Steinbeck's hearty Travels with Charley and cringing at the part when he takes Charley, the mangy poodle, to be groomed. Really, you're cringing throughout the book, because Charley is a poodle. That's not a dog you take on a cross-country road trip. It just doesn't fit, no matter how many different states of being he's able to communicate to you via his "Fft"ing.
---
Kemt.
Tijuana, Mexico - July 2001.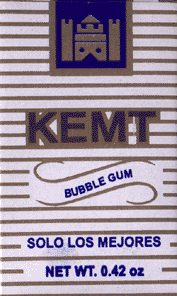 Fellow corporation La Cubana used to manufacture a "Kent" candy cigarette back in 1950 (with permission granted by Lorillard). But now, Lorillard is fooled by fiendish camoflauge! Or should I say "fiemdish"!
---
Viseroy.
Tijuana, Mexico - July 2001.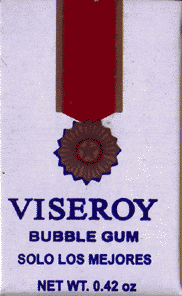 ---
Mapletun.
Tijuana, Mexico - July 2001.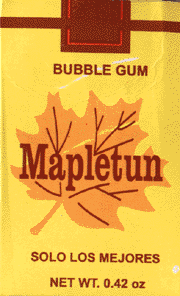 This is, most likely, a knock-off pack of an actual Mexican cigarette brand called "Mapleton." I haven't seen them, just the name in a list of cigarettes.