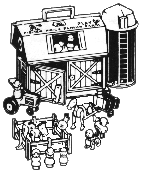 The under-30 set needs a little push - then the floodgates open.
"Hey! I remember them people!"
"Yeah, the castle!"
"Look, it's Lucky!"
The Little People(R) have created some indelible memories of childhood for a number of people. That legacy was brought to a grinding halt, however, in the fall of 1990, when production of the Little People ended. In pursuit of the elusive, younger one-and-a-half to five year-old age-bracket toy market, Fisher-Price has bailed on their extensive play family and ushered in a new set of totally-redesigned Little People.

Although the first Fisher-Price Little People playset was introduced in 1968, this story really starts in 1959, with the introduction of a Little People predecessor: the Safety School Bus. This, and the 45+ Little People playsets introduced over the next 32 years, put a backspin on the toddler toy industry which, until that time, had pretty much been composed of blocks, pull toys, and those maddening little circle/triangle /square-peg/hole puzzle sets. Fast-forward to 1968; taking a cue from the successful dollhouse genre, Fisher-Price introduced the Little People Farm playset - barn, silo, massive amounts of farm animals, dad, mom, brother, and sister. Following closely behind, the House and the Action Garage formed a solid Little People trilogy, each standing the test of time, while other playsets (A-Frame house, the first humongous Airport, Children's Hospital, etc) have come and gone.

How did the Little People have such a tight grip on "play value?" Maybe it was the shapes. Hasbro's "Weebles" ("Weebles wobble . . . " and that's about all they did), and Playskool's unnamed family set were woefully lacking, being based on eggs and squares, respectively, decidely non-people shapes. Maybe it was the colors. Bright, screaming, mostly primary colors. Maybe it was the figures.
The cast
Dad
Commonly referred to as "Green Dad" around the X Magazine office, dad started out bald, made of wood. In 1974, he (and the rest of the figures) started metamorphosizing into plastic ‹ first his head, then his body. Somewhere in the recent past, he acquired a horrible Ted Koppel-like hairpiece that seems to plant him firmly in the '70s.
Mom
Typically blue, with yellow hair in a bob. Why wasn't she ever a pilot, or a race car driver? Boy, this is a scaled-down "Brady Bunch."
Boy
A shortened little dad, who also recently started sporting the hair helmet. "Boy" was introduced in 1965; later he got a cowboy hat for various playsets, including the farm.
Girl
Goes back pre-"Goldilocks & The Three Bears" pull toy/puzzle/playset; two other hairstyles were introduced at this time, and one more in the 1970's, a retro-Dorthy Hammill look. At least she pulled skycap duty in the Airport.
Lil' Bullie
The evil twin of "boy," L.B. was introduced in 1963. Later, he was the "cranker" for the Ferris Wheel. and the Merry-Go-Round, and could not be removed from those sets (he still retains that very authentic pissed-off carnival-worker look). Both styles of baseball cap (side/front) were introduced in the 1960's.
Lucky
Easily my favorite character (see X Magazine #2, "Worship the X"), Lucky was introduced with the Big School Bus, and started out with plastic ears nailed onto its wood head. A strange figure in the Little People realm, for three reasons:

1.) Another dog that had arms and legs was introduced in the Farm playset - a striking parallel to the Goofy-Pluto phenomenon.

2.) Lucky's predecessor had a black head; later a white Lucky was introduced with the fire station set; Lucky vs. Dark Lucky?

3.) Having the same basic peg body shape as the other people, Lucky can easily drive a car.

Of course, each of these characters was designed to match their associated playsets; two extreme examples are the Castle (every character has a little crown), and the fire truck (the firemen have been gifted odd-looking arms for ladder gripping).
Personal grease rack experiences
To make a credible assessment of the Little People's play value, one should take an objective approach to this entire "play family" concept by rounding up some kids and producing a series of boring statistics. Unfortunately, I can't do that, since I've been smitten with the Little People after being given a Farm at my mother's company picnic in 1971. Since my sister was asleep at the time, she had no say in the matter and also received a Farm -- now, we had double everything, and could have conceivably ruled the world. It wasn't until two years later, when I received the Action Garage, that the domination was complete -- now, not only the primary colors, but cars, an elevator, and a grease rack you could carry around while cranking out an awful racket. Play value, and how!
Fisher-Price gives Little People ... the boot.
In February of 1991, the last Little Person rolled off the production lines, bringing the final tally to somewhere over 800,000,000 Little People. Slowly, toy stores began to sell off the last of their Little People back stock; the original Little People molds were destroyed, and various machines were retooled to create the new, "cuter, chunkier" line of Little People, as presented at the 1991 Toy Fair in New York.
But what of the "new" Little People? Have they not the icon-like qualities from which instant adoration arises? In my humble opinion, no. Fisher-Price has sacrificed the vaguely-human shape, and over 20 years of playful familiarity, for a freakish fun-house mirror substitute. Now, youngsters can look forward to memories of playing with fat Little People and a dog that ... actually has legs. Sacrilege!
The Little People aren't little anymore, but the memories live on. If you'll excuse me, I have to go play.