Welcome Diner.
The Welcome Diner is a small metal diner located in Phoenix, Arizona. It was created by Valentine Manufacturing Incorporated [1 2] of Wichita, Kansas. This the same company that made Dot's Diner located in Bisbee, Arizona [1].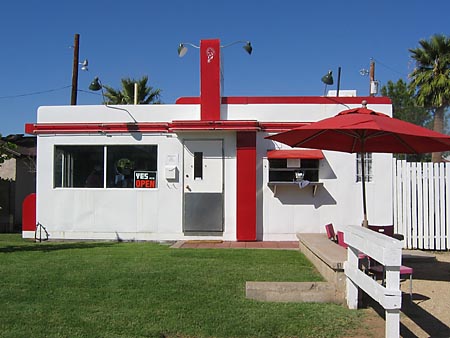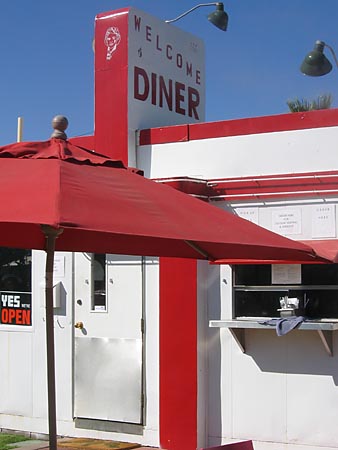 As with all Valentine diners, you sit on a stool -- most have nine or ten stools. The Welcome Diner closes at 3:30pm on Saturday (the menu, at the bottom of this page, reads "3:00pm").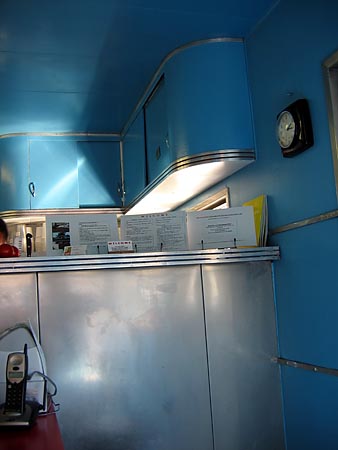 I like these cabinets.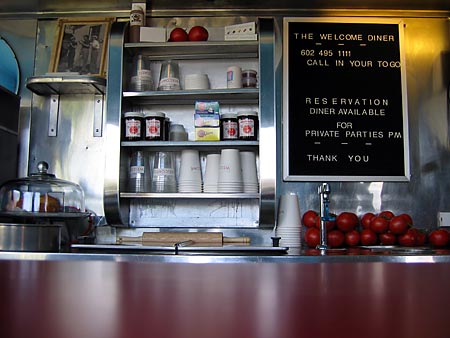 If you would like a glass of water, you cannot have it (this reminds me of Olive Garden's H2NO program). You can, however, purchase a bottle of water for $1.75.
If you order the Seasoned & Grilled Vegetable Sandwich ($6.25), you will receive it on a paper plate. If you order the Grilled Cheese Sandwich w/Tomato and Basil ($5.25), that will be served to you in wax paper. Slid onto the counter in front of you without a plate. Someone else ordered the same thing and got the same wax paper action. It is a free service.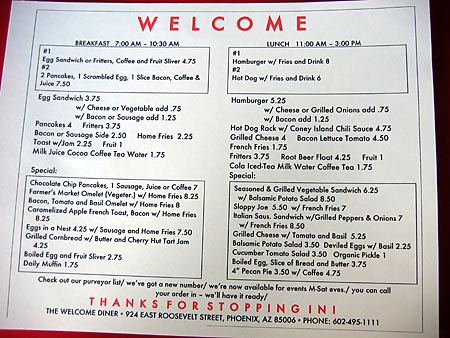 I would like to come back for breakfast. I like pancakes. Also I would like to try the fritters, as long as they aren't served in wax paper. But as far as lunch, there really aren't a lot of options open for me -- since I don't, for the most part, eat meat. Your dining experience may vary. I'm pretty sure you like meat.