SEPTEMBER 21 1997
Team A: 10   -- Rock, The Bug
Team B:  3   -- Blackhole, Pokey

Teams were decided for this game via an alternate version "rock-paper-scissors" method (match someone? that's your teammate!).

The Rock scores the first goal quickly and becomes cocky.
Rock: "I'll bet you a dollar that you won't score a point on us. We've got the enhancements."
Pokey: "You're on."
Rock: "How about a dollar a point?"
Pokey: "Nope."
Team B makes up the point and surges ahead to win. At one point, Pokey also becomes cocky, repeatedly announcing a certain score in a decidedly high-pitched manner: "Six to two!" It becomes a game "catch phrase". Perhaps you have already heard it.

I should have taken the dollar-a-point bet.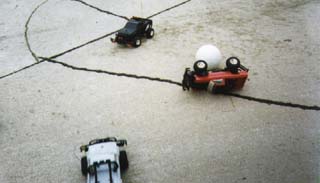 The Bug performs a pre-emptive flip, confusing both Blackhole and The Rock.