2021mixtape: Jab.
Got a jab or two. Jab jab jab. Playlist details appear below; The Spotify version is an approximation.
Spotify playlist.
I created a Year 2021 Musical Sampler that mysteriously does not contain any music from the year 2021. It is a mixed bag of what got stuck in me craw during the year and seemed to fit well together, somewhat. I will perhaps write up a small lazy thing in the hand-waving future about the "Give the gift of music" sticker phenom. I don't know anything about "The Nice Price" sticker and I'm sure there's a similarly inane legacy behind it; reluctant research beckons.
Swans "Love of Life" (1992).
Thunderball "Solar" (2001).
Eric B. & Rakim "Don't Sweat The Technique" (1992).
Count Basie "April in Paris" (1956).
Ladytron "Season Of Illusions" (2008).
Ray Lynch / Tom Canning "The Oh Of Pleasure" (1984).
Serge Gainsbourg & Brigitte Bardot "Bonnie & Clyde" (1968).
Ladytron "The Mountain" (2019).
Les Rita Mitsouko "Les histoires d'a" (1986).
Stereo Total "LA, CA, USA" (2015 Mix).
Jhfly "high rise" (2015).
Waylon Jennings "Are You Sure Hank Done It This Way" (1975).
Unlike Pluto / Mister Blonde "Sweet" (2017).
Massive Attack "Anistar" (includes hidden track "LP4"; 2003).
Bettie Serveert "Tomboy" (1993).
Alex "Double Scoop" (2018).
Used as interstitial music (along with "high rise") on RobCDee's stream. Japan resident Rob provides "second monitor content," and rides around Tokyo on a bicycle everywhere seemingly always.
Unlike Pluto / Karra / Eric Zayne "Searching for You" (2016).
Woob "Odonna" (2009). Available here.
Keren Ann "Nolita" (2004).
Joni Mitchell "Help Me" (1974).
Capsule "レトロメモリ" ("Retro Memory" 2012).
Stereo Total "Holiday Inn" (2015).
Les Gams "Attention! Accident (Sur Autoroute De L'ouest)" (1963).
Taps Miller "Ferme la bouche" (1959).
Nancy Sinatra "Bang Bang (My Baby Shot Me Down)" (1966).
Keren Ann "Jardin d'hiver" (2000).
Henry Mancini "Something For Cat" (1961).
Broadcast "Black Cat" (2005).
Echo & the Bunnymen "The Cutter" (1983).
Orchestral Manoeuvres in the Dark "The Native Daughters of the Golden West" (1985).
Air "La femme d'argent" (1998).
Boards of Canada "Roygbiv" (1998).
Noel Harrison "Windmills of Your Mind" (1968). This should be the soundtrack to Yoann Bourgeois / CCN2 – Celui qui tombe ... too obvious, probably.
Jacques Dutronc "Et moi, et moi, et moi" (1966).
Blast Off Country Style "Teenage Unicorn" (1993).
Shirley Bassey "Goldfinger" (1964).
Praga Khan "Injected with a Poison" (1992).
My Bloody Valentine "Moon Song" (1991).
Built To Spill "Happiness" (2001).
Don & Dewey "Justine" (1958).
Old 97's "Doreen" (1995).
Liam Lynch "United States of Whatever" (2003).
Dream Warriors "My Definition of a Boombastic Jazz Style" (1991).
Stone Poneys / Linda Ronstadt "Different Drum" (1967).
Starbuck "Moonlight Feels Right" (1975).
In my mind I have written a teen lost summer movie script written from the vantage point of the adults who have to deal with their garbage. "Hey you dirty teens, knock that shit off!" [FX: hoses teens off] This song of course is the killer track everyone's forgotten about that burns out its welcome before the trailer ends.
Tangerine Dream / Woody Jackson / The Alchemist / Oh No / DJ Shadow "We Were Set Up" (Flying Helicopter/Plane Theme: Grand Theft Auto V 2013).
The actual much-more-mellower version used when flying has been extracted here (it's all about the creamy center starting at around 2:30).
Vitalic "Poney Pt. 1" (2005).
As used in French artist collective Pleix's "Birds" video (2013).
Django Reinhardt / Quintette du Hot Club De France "Oiseaux des îles" (1940-1941).
Distant Fires Burning "Battelle s'eveille" (2019).
Amon Tobin / Steinski "Ten Piece Metric Wrench Set" (2003).
Bocal 5 "BB Coquin" (1983). Information here. An except of "BB Coquin" is available here. Pretty sure this used to be played on WLBS (a Detroit-area "new wave" radio station 1979-1984).
Bill Nelson "Transmission" (1984).
Buddy Rich "Machine" (1977 or 1978).
You know, from the Saul Bass Star Wars opening. Actually, it's a different version. The one you hear in the video seems to be tighter and TIGHTER.
The Jazz Butcher "Partytime" (1983).
RIP Pat Fish.
Hans Zimmer "Dream Is Collapsing" (2010).
Gordon Lightfoot "Sundown" (1974).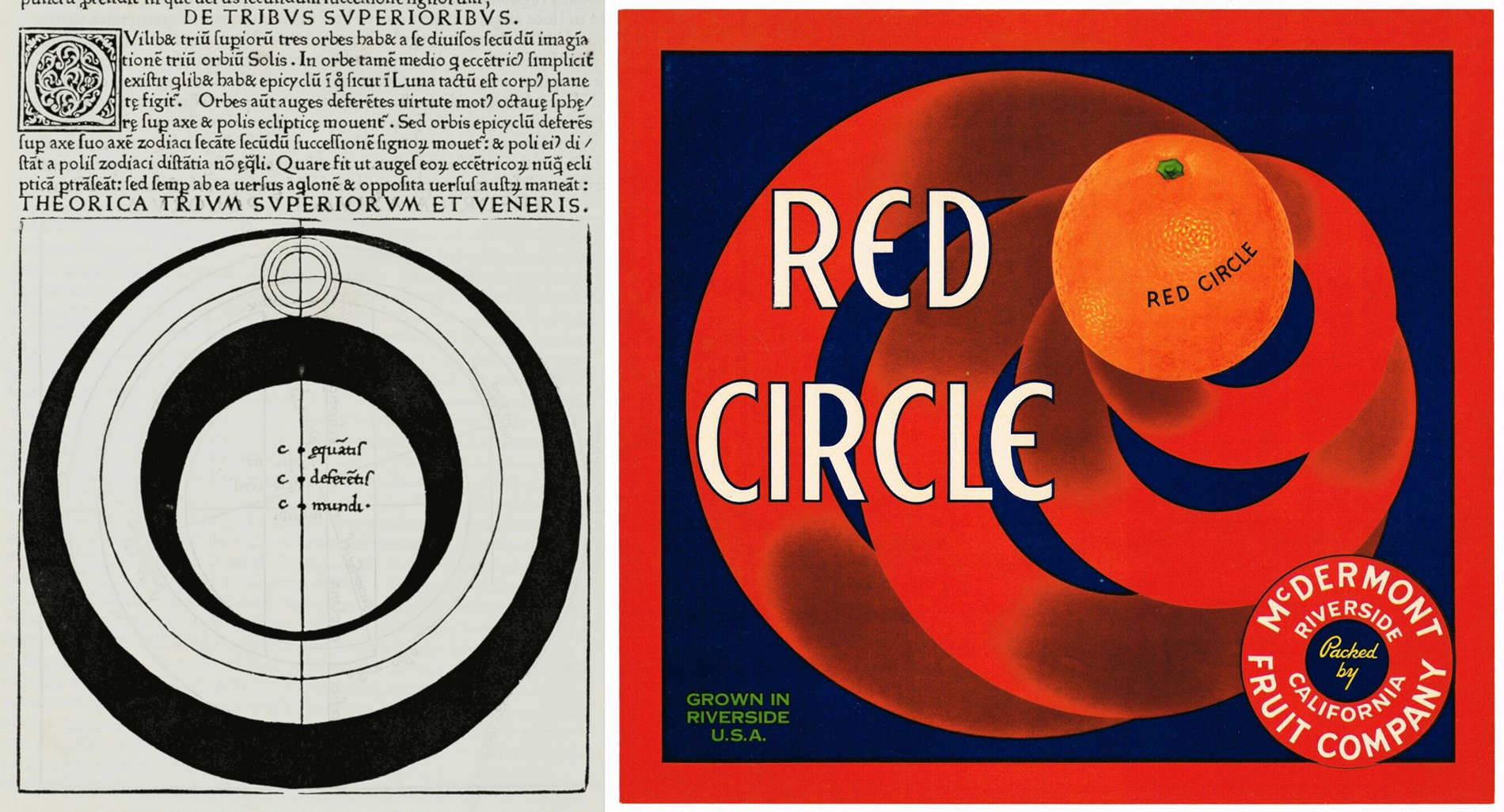 Cover art unholy marriage between George Peurbach's New Theory of The Planets (1474; 1, 2) and a crate label for Red Circle oranges (~1938). A thumbnail of Peurbach's drawing right next to a thumbnail of Red Circle oranges in my "future-whatever" directory. That's how it starts. Spend almost three hours looking for good images of the damn pointless stickers that were on every record in the go-go 80s. Fifteen minutes in Intense Graphical Editing Program, mostly dealing with the stickers. Then, forget to set the background to black-black so your Intense Graphical Editing Program leaves it at printing-black, which is a little lighter; like how that sets it off w/full-black backgrounds. "Done."