This year, the number of bowling gifts available for your loved ones makes it easier than ever to bring the thrills and excitement of bowling home for the holidays. However, this dazzling new freedom of choice is not without its share of gutter balls for the unwary consumer. X Magazine herein reviews products from the entire bowling spectrum as yet another example of our commitment to the community we serve so proudly.

RATING SYSTEM:

Fisher-Price BOWLING
Price: $12.99
Features:
Bowling made easy and fun for children
Easy-to-set-pins
Convenient storage carrying case

The bowling engineers at Fisher-Price Sports have, true to their claims, made a version of bowling for children (ages 3-6) that is easy and fun . . . a little too easy. Imagine your tot tearing a new bowling set open to find only SIX pins. Starting a legacy of underachievement that lasts a lifetime. A plastic base contains holes to set the pins (all six) up.
Unfortunately, the ball must negotiate a 3/4" ramp to topple the plastic, but authentic-looking, maples. The saving grace of this bowling set is the hefty red rubber ball. A child could always begin knocking over lamps and vases with it once the thrill of six-pin bowling wears off.
Empire Junior BOWLING
Price: $3.99
Features:
Indoor or outdoor fun

Bowling at its minimal best. Ten durable, heavy plastic pins and two balls. A good deal, at first glance, but the Quality Assurance specialists at Empire of Carolina, Inc. are quite a few pins short of 300. The entire set appears to be colored with surplus federal food dyes found to be carcinogenic in the 70s. The pins are made of heavy plastic, but how heavy can hollow plastic pins be? Pin action is less than satisfactory, even when the ball is thrown rather than rolled. One final surprise... the remnants of plastic injection molding are present throughout, posing a safety threat to less-than-bright younguns. Junior BOWLING: soon to appear on toy recall lists near you!
Marchon Family Games Power Alley Electronic Bowling(tm)
Price: $99.99
Features:
Requires advanced electronics degree to assemble
Full array of the usual consumer electronic features
Toll-free service number

From the manual:
"Bells ringing! Lights flashing! Music playing! People having a great time! It's not a party, but it's just as fun -- it's MARCHON'S POWER ALLEY ELECTRONIC BOWLING (tm) GAME! Through the use of state of the art microprocessors and careful engineering, you, your family and friends can enjoy all of the fun and excitement of bowling in your own home!"
My heart began to race after opening the LARGE box. Could it really be true? ALL of the fun? ALL of the excitement? Disappointment followed as I continued reading ...
"The bowler 'knocks down' (their quote) the optically projected pins when the ball rolls over specially designed electronic switches that simulate real bowling pins. The force and speed with which the ball is thrown DOES NOT affect the number of pins knocked down."
This game represents much of what is wrong in America today. We have grown fat and weak, relying on microprocessors to randomly eliminate optically projected pins, rather than using our ingenuity and skill to topple maples with a mighty 16-pounder.
This year's most popular, most expensive home bowling version contains few of the thrills of REAL bowling. A spare causes the state of the art microprocessor to emit a tinny bugle charge; a strike evokes a portion of the William Tell Overture (that's the Lone Ranger theme, you uncultured slob). Save the $100 and join a league.
Nintendo Championship Bowling
Price: $24.99
Features:
Little physical movement necessary
Poor computer graphics and sound
Another American institution poorly imitated by the Japanese

Get a life.
Carrom Bowl-A-Mania Game
Price: $23.99
Features:
Sturdy Wood Construction
Durable Plastic Pinsetter
Natural Wood Bowling Pins
Fast Action Bowling For The Whole Family

Here's a bowling game you can feel GOOD about. Not only does the sturdy wood construction provide hours of "fast action bowling", but the set is MADE IN MICHIGAN. Real bowling proportions, real wood pins, real gutters! Bowl-A-Mania also provides non-regulation lane markers and a textured plastic ball, vaguely reminiscent of a real bowling ball. BUT THAT'S NOT ALL . . . you also get a patented, pivoting "pin spotter" to assist in placing the pins for the next frame. The 48" lane provides an amusing, moderately satisfying home bowling setup.
X MAGAZINE CHRISTMAS EXCLUSIVE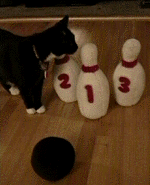 Baby Things by Dakin: Plush Toy Bowling Pins
Price: $14.99
Features:
Stuffed, fuzzy, cute
Clearly numbered pins
Muffled bell sounds

The plush toy bowling pins are the Shining Star of Bethlehem to this Christmas' wise bowling shoppers. Seek no further for pure bowling satisfaction. Dakin has reduced bowling to its absolute minimum: One (1) 6" black stuffed ball and three (3) clearly numbered pins, which make strange tinkling sounds when shaken. The X Magazine staff still gets giddy with excitement when the pins are introduced into an otherwise mundane environment. Should the pins be set up and toppled, or hugged, or used as clubs? The possibilities are limitless.
The Mansons wisely returned all the bowling toys save their last, triple-strike selection, which still holds a cherished position on their mantle.