2004jul13.
Arcades in Japan (continued).
Championship Football. (Akihabara)
This is the total control nerve center of Championship Football which is to say soccer. There are all sorts of these type of group games in Japanese arcades.
Championship Football. (Akihabara)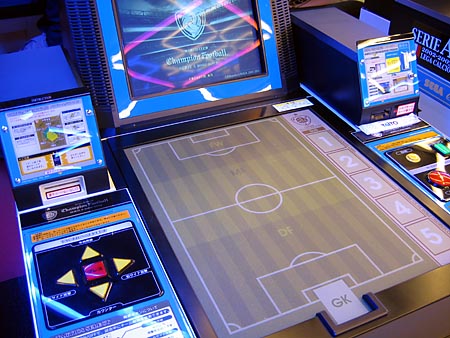 I didn't understand what this playing field is for, or if it does anything. Perhaps field positions light up. Perhaps it's a nice flat place to put a pizza.
Hookerspies! (Akihabara)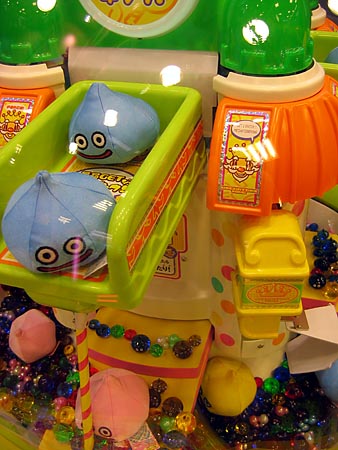 Colorful acid rain drops act as hookers/spies for the Japanese typing Yakuza.
I just wanted to say "Hookerspies!" again.
Google "Hookerspies"
Musical instrument-themed video games. (Akihabara)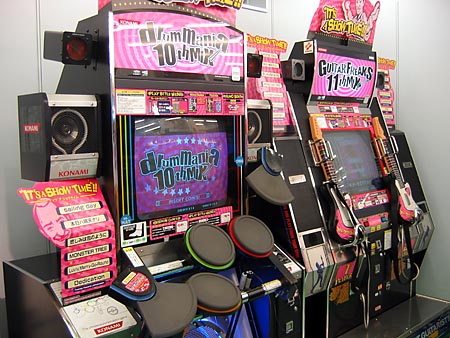 Why spend hours in your room learning three chords when you could just drop in 100 Yen and become a guitar master? That is the question I pose to you. The guitar one requires you to actually flail about so you're holding the guitar upright at some points and horizontal at other points. I'd rather never have to do that again.
DJ-themed video game. (Akihabara)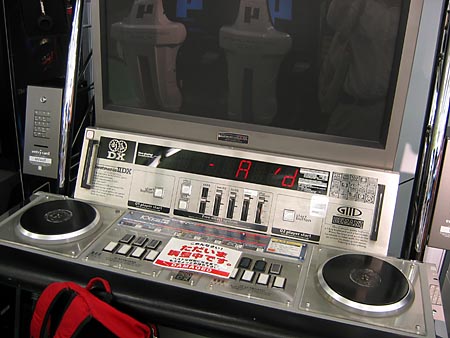 The DJ arcade game was "DAMAGED" so I couldn't spin my freak-ass tunes on the wheels of steel that day. The pretend DJ walks back to the ryokan in the rain, muttering to himself.
But then he returns because he forgot a photo.
Barrel Pirate's Got All The Answers. (Asakusa)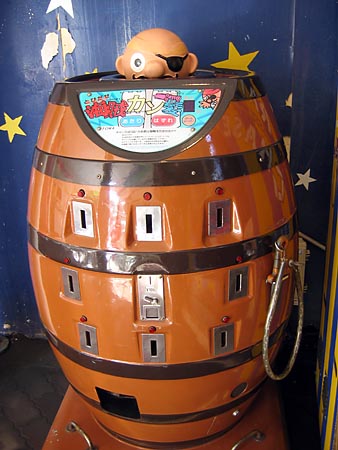 This game costs roughly one dollar US. What you do is you put in your 100 Yen, and then if you're lucky, you can read Japanese and know what this game does.
Otherwise a cutlass comes out of one of the holes and airs out yer guts! SheeeeeeARRR! Matey.
This concludes our feature for today.
I imagine you already know this and were making a funny, but just in case not -- your typing yakuza brothers are lupin and jigen from 'lupin iii' [1, 2], one of the longest-running japanese animation series, directed by our old pal miyazaki hayao. also, I wish you had found the game where you're s'posed to jam your semi-virtual finger up a semi-virtual ass...
I was not familiar with the series. I had heard about the ass game, but "forgot" to seek it out. I wanted to run across the game in which you used a metal spoon to bang on actual pots and pans, but did not.