Billboards in Arizona.
When you're driving through the middle of the desert and the only thing you can see for miles around is some strident massive glowing political advertisement, its inherent magical realism causes you to suddenly change your mind and do whatever that big piece of plastic wants you to do. MUST KILL UNITED NATIONS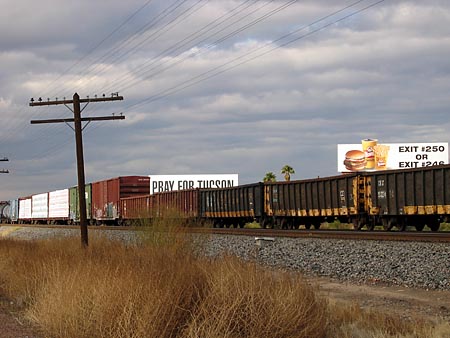 I took this shot in the beginning of December 2004, but there's been another one up near the Tucson Airport for over a year. It went down, this one went up. So theoretically that leads me to believe that it's not a ClearChannel thing. Hahahahaha! Riiiiight. (taken 2004dec05)
Quit second-guessing our fearless leader billboard.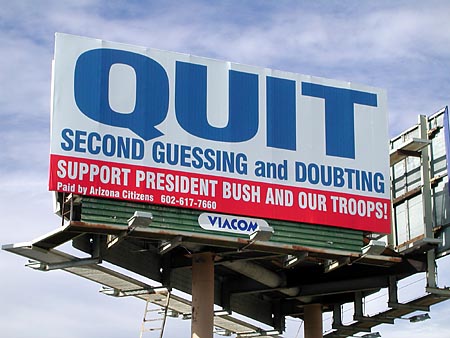 The way I understand it, second-guessing implies that there was a first guess. And that's what I'm looking for in a president these days -- a lot of faith-based randomized decision-making. It would be nice if one of those Pop-O-Matic® plastic-bubble enclosed dice tumblers was involved as well.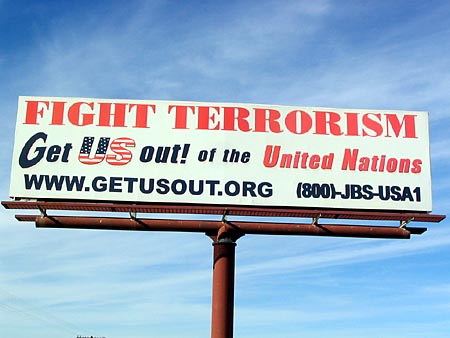 That probably wouldn't be the first thing I would do to fight terrorists. Probably the first thing I would do is stop putting dictators/thugs on the U.S. payroll and then call them terrorists when the deal goes sour for you down the road. I know. I crazy.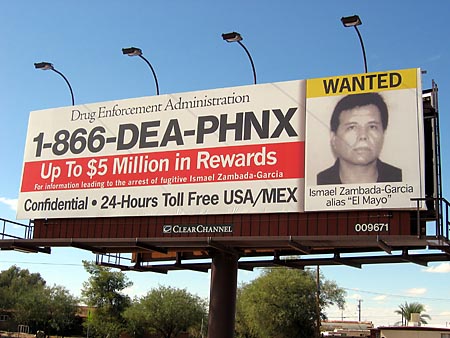 You think billboards spruce up the roadside, check out this one! This is just what I'm looking for in a billboard. Catching criminals is our job. I'm sure El Mayo is around here somewhere, hoping someone will spot him. (photo taken 2004oct19)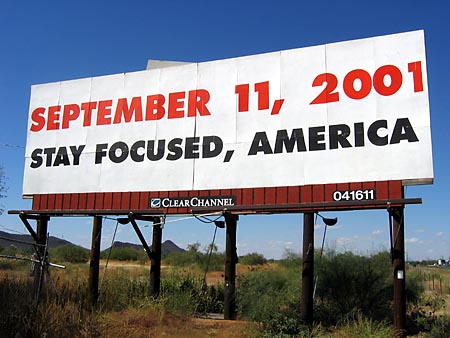 Because out here, in the middle of the desert 100 miles from the nearest city, this is where the terrorists will attack. Mmmmmm that cactus right there. Clearly a terrorist target. Eyes on the prize. (photo taken 2004oct19)
Clear Channel positional billboard.
"One Nation Under God" -- put there by deists so all y'all didn't go off and try to start your own country. Godland. That would have been fun to read about in the history books, though. CROATOAN II: THE REVENGENEST
2004Nov update: too late. (photo taken 2003dec near Nogales AZ; in 2004nov another is on I-10 in North Tucson)
Clear Channel positional billboard detail.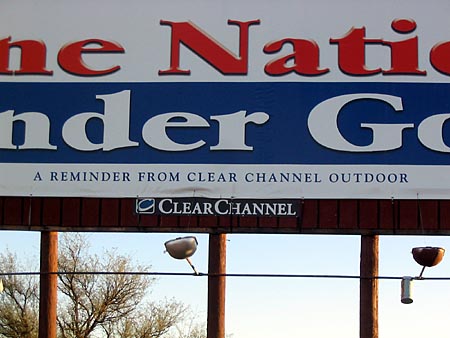 OBEY
CONSUME
MARRY AND REPRODUCE
NO INDEPENDENT THOUGHT
STAY ASLEEP
THIS IS YOUR GOD
A TIME FOR HEALING