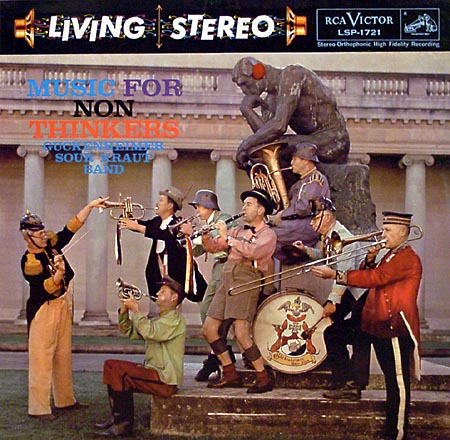 2001mar29. Music For Non-Thinkers by the Guckenheimer Sour Kraut Band.
Excerpts from the liner notes:
On Rheinwein Polka - "This little Teutonic gem has been greatly improved by my genius in handling the massed-male-chorus. It, as In München steht ein Hofbrau Haus, captures the genuine flavor of the Munich beer-hall. To achieve verisimilitude, I provided the band with steins of lager beer, before the recordings were made. I consumed four liters of lager, and yet my stirring vocal indicates that I remained coherent. On the other hand, there is an exaggerated air of rowdy inebriacy to the music ... this is obviously the fault of the recording technicians, poor fellows, unaccustomed to the potency of good Bavarian beer."

In the interest of peace and harony, this album was recorded on Sunday, December 29, 1957, on the main floor at Gump's store in San Francisco. The Herr Doktor Guckenheimer is in reality Richard Gump, widely known merchant, author, artist and serious composer. The recording equipment was installed in Gump's famed Steuben Room. Mr. Gump is pleased to announce that sonic breakage of this valuable glass was kept at a minimum.