jan feb --- --- --- --- --- aug sep --- --- dec
Above: Early morning new year's day in San Bruno while on the 24-hour Wanderer's Union wander; lookit all those chickens; having a pleasant chat with taskmaster mice during Distance Go!, Erstwhile Philatelic Society

---
While dealing with highly stressful moves, I like to send off the more ridiculous housemate ads to friends so we can collectively cackle at the bullshit. Here's a selection of the more entertaining ones this time around (food shares for fuckfaces are down, overly-invasive identity shares are up). 2018 resolution: be more scent-aware mit der instagram account to verify identity. PS: I moved into a place with NINE cherry trees IN MY BEDROOM suck it 7x7 ultra-local history buff.
wait was that ...
a scent?
---
I'm offering the space for $700. (including all utilities) in exchange for a few regular chores, which include tending the small lawn weekly, tending the recycling and compost, making up a bed 4-6 times a month, and occasional help with lifting and carrying. Please be mature, an excellent bed-maker, and happy to help out. Because the bed-making chore, which is for a rental space, must be done during the daytime between 11am and 3pm approximately 4-6 times a month, you MUST have a work/study schedule that allows that.
---
We are a creative artistic household we like to draw, paint, sew, and build thing from scratch. The kid's are so talented.
---
I am a creative, spiritual, 50+, scent aware, female with a great sense of humor who is a member of KPFA. I work as a caregiver. I am clean, considerate, easy going and respectful. I am eco-friendly and use only all natural products and request the same of you.
---
We highly value self-care and hope to find someone who has cultivated their own methods of doing so.
---
(berkeley) Looking for student ‒ Room Not in Berkeley
---
If you're interested please e-mail me the following:
-A quick bio about yourself.
-Link to social media (Linkedin, Facebook, Instagram, etc.)
-Phone Number
---
Room 2: 767$ per month. $900 dollar deposit. Comes furnished, must purchase for furniture $150 (Desk, full bed and frame,large side table.)
---
This unit has a keyed private entrance with a small refrigerator, microwave and toaster oven. **Please note--if you like to cook this will not work for you. There is no oven or stove-top, only a toaster/oven combo.
This small unit is 7 feet by 7 feet. Only a twin bed or futon will fit. No Queen mattress or King Mattress will work.It has one large sliding window and one stationery window.Screen door for additional ventilation.
The large sliding window faces the garden. There is no closet-only a closet bar to hang shirts and pants on. Will hold at least 20 shirts and 20 slacks. Also suits, jackets, sweaters will also fit as necessary. Several storage shelves for books, videos, tapes, folded dress shirts etc. Small table, computer, printer, television set, stereo with speakers fit as well. If you have a lot of "stuff" it won't work.
If you "travel light" it works just fine.
The unit is sunny, clean and quiet in an older neighborhood with beautiful trees and flowers.All areas of property are well kept. Property has 75 fruit trees plus grapes and bananas. House is not far from a city park with mature trees with garden benches with picnic tables.Observation deck overlooking the creek with a very old bridge and murals painted underneath the bridge done by local artists. Area has points of historical interest such as the Peralta House, built by a Spanish landowner who was given large swaths of east-bay land by the king of Spain. Across the street is the Best house, built by Daniel Best in the mid 1800's. He invented the tractor and had a tractor manufacturing company that he eventually turned into the hugh Catapillar Tractor Company.Where the BART station stands now used to have the Delmonte Canning Company large cannery. San Leandro still has a annual Cherry festival which dates back to the 1800's when San Leandro was covered with hundreds of acres of Cherry trees (Varietly Queen Anne Cherries), according to the Librarian/Historian who did the research for me. I have 8 cherry trees on the property.
The unit has a overhead light/fan combo.
Bathroom is next-door. It has a shower, toilet, sink, medicine cabinet and counter. Purified water outlet for the purest water imaginable.
7 MINUTE WALK TO THE SAN LEANDRO MAIN BART STATION. 4 minute drive to the 580 McArthurfreeway and 4 minute drive to the 880 Nimitz freeway. 1 minute walk to the bus stop, with buses going north to Oakland/Berkeley, and south to Hayward/Fremont area.
1/2 block to the San Leandro Main Police Department. EXTREMELY SAFE AREA. 2 blocks to the downtown area with the Public Library, Doctor and Dentist offices, pharmacies, Safeway, 4 banks, cleaners, nice restaurants, McDonald, Subway and Nations fast food.
I am looking for ONE PERSON ONLY who is quiet, mature, and seeks their own privacy. Someone who wants to stay for a least ONE YEAR. NO SHORT TERM RENTALS. NO PETS
NO SMOKING(not even outside smokers), ALCOHOL OR ILLEGAL DRUGS TOLERATED.ONE PERSON ONLY
Do not reply if you live out of state, or out of country. I will want to meet you in person and see pay stubs and references. "Credit check required".
First months rent and Last months rent as security deposit. Commonly referred to as "First and Last".
$75 per month for all utilities including wi-fi internet and basic cable TV.
When you reply, please tell me a little about yourself. AGE AND GENDER. For example work schedule, hobbies and activities so that we can make this a "good Fit" for everyone. I will not reply to e-mails that just give a name and phone number, or say, "Just call me if the room is available".
Please feel free to ask any questions as well. It is preferred to correspond by e-mail a few times before appointments will be set up to see the unit. Appointments will be set up in the order they are received.
Please be honest or it won't work.
---
$700 / 567ft2 ‒ 2&1apt.567sqft.5blksS.ofUC; FREE GIFT&ICE CREAMw/app! (berkeley)
---
What you are:
Someone who is a joy to be around. Easy to please and all around kind person. Smells good and has good personal hygiene. Has some sort of professional or artistic ambitions in life. Is organized, so we don't have to worry about missed rent payments or loss of important documents, or forgets to pay their share for the utility bill. Someone who treats the place well and respects it as if it was their own. Someone who does not excessively wear down the house. The last thing we need is to fix broken walls, find dings or dents in the walls, and excessive wear and tear on the floors. Basically, someone who is awesome at life. We like you.
---
Our utilities + food + booze generally comes out to +/- 300 a month on top of rent. That means you and your friends can be here and not have to worry about whose stuff is whose, there are no shelves with labels for certain people's things.
You:
Like to cook and eat home cooking and help clean up.
Are excited by the idea of planning and working on projects around the house.
Are open to hanging with the housemates on both planned and spontaneous adventures (board games, darts, drinks, hikes, camping etc.)
Are willing to make our home and the members of our community a priority in your life
Aren't just looking for a room because it is cheaper, but rather because you like people and want to contribute to creating a home.
[EDITOR'S NOTE: ahhahahahahahahaahah boozeshare ... it's much easier to pay for your booze and food than for my friends to be soooo confused about labels on things. thank you for being up front about this so i never had to meet you]
---
We prefer to find a female-identified person, but we are open to any gender identity, including men, and will consider all applicants [...] We are looking for someone between 25-40 [...]
---
3-year lease. Application, employment verification, and background as well as credit check required. No smoking inside the house. Sorry, no pets. Please send an email about yourself ‒ what you do for work, your lifestyle, what you are looking for in terms of roommates. Interviews will be set up immediately. Available for move in immediately.
---
My ideal roommate is a man, aged 25+. You want to stay with me for a minimum of three months, and a max of seven. None of this is set in stone. What IS set in stone is that you'll respect me, my home and my belongings. You'll see from my past guests' reviews, (I will give you the link to my listing when you reply to this post), and I will do the same for you.
---
Hi, I'm X, one of those Baby Boomers who has kept learning and growing--a writer/artist who had 2 art shows last year. I'm easygoing and have a quiet cat named Y that stays in my room. I would like to live with a fairly quiet person with a full, busy life outside of home. A commuter or full-time student would be ideal. Prefer someone over 25. Just the bedroom by itself is 162.5 square feet! 13' x 12.5'. Sorry, the apartment is too small to accommodate overnight guests, intimate partner visits or additional pets. These points are, alas, non-negotiable.
---
You: Our ideal housemate is warm, playful, responsible, and tidy. Our ideal housemate is also committed to intentional living. That means having passion, as well as capacity, for being part of community. We are looking for someone who's down to co-manifest a radically nourishing and sustainable home, not just have a dwelling for yourself. It includes meeting regularly, contributing to house projects, visioning justice, working through healthy conflict, and kicking it to really know and invest in each other.
---
Please email if you are interested with a little bit about yourself and include a link to your instagram for validity.
---
We are looking for someone who wants to live in a supportive sanctuary of committed, grounded, focused, creative, spiritual people. Mature and above 30 preferred. Yoga, meditation, shamanic practices, martial arts, personal/spiritual growth, art, or a daily discipline that keeps you real, honest, humble, supported, would be great.
---
Must show rental history, show Drivers license or ID, and last 3 pay stubs.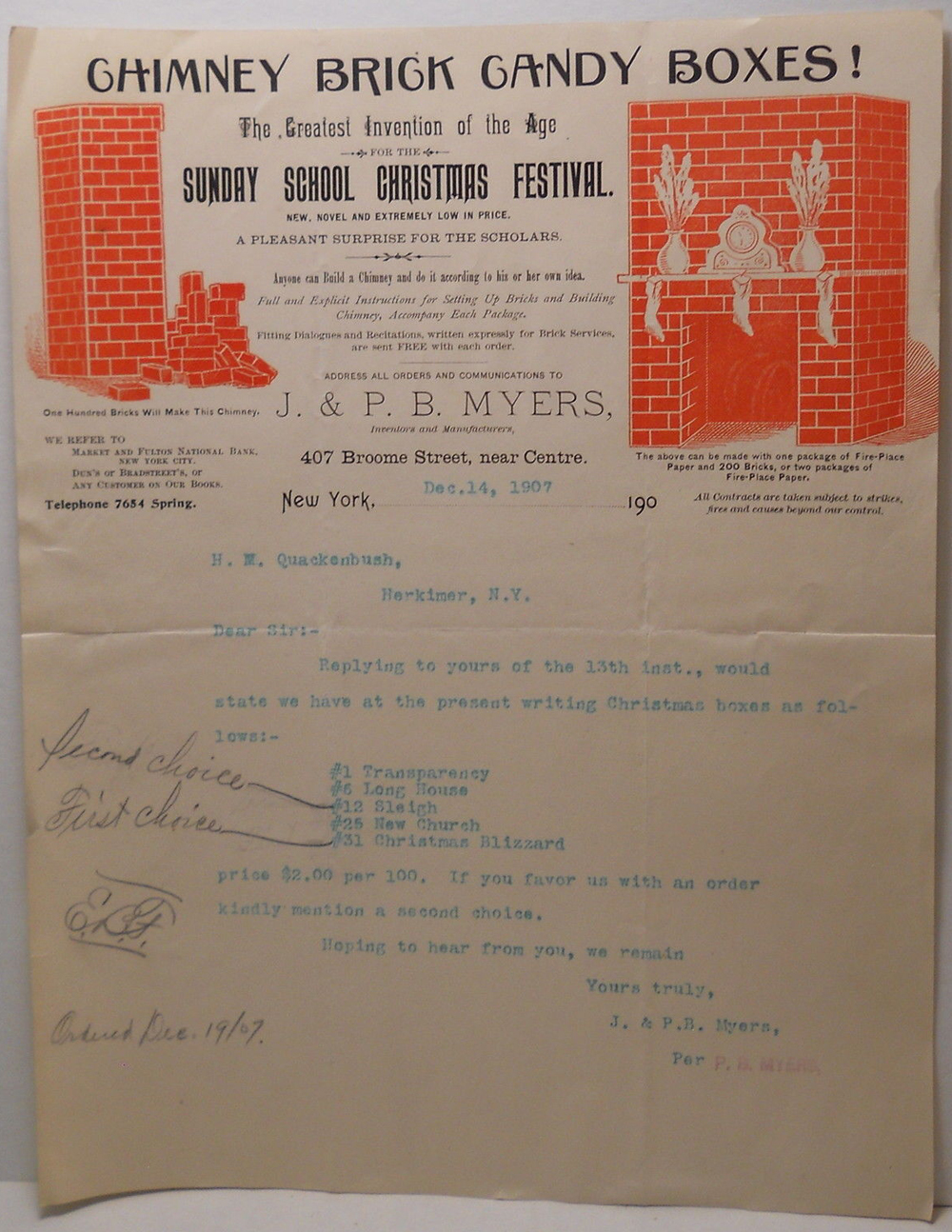 Sometimes I wish I lived 100+ years ago because you could "invent" any old thing and blow your lungs out over-hyping it. I HAVE MADE A THING WHICH IS A "HANGER" THAT YOU "HANG" CLOTHES ON WORSHIP ME
"Inventors and Manufacturers" holy cats get over yourself Myerses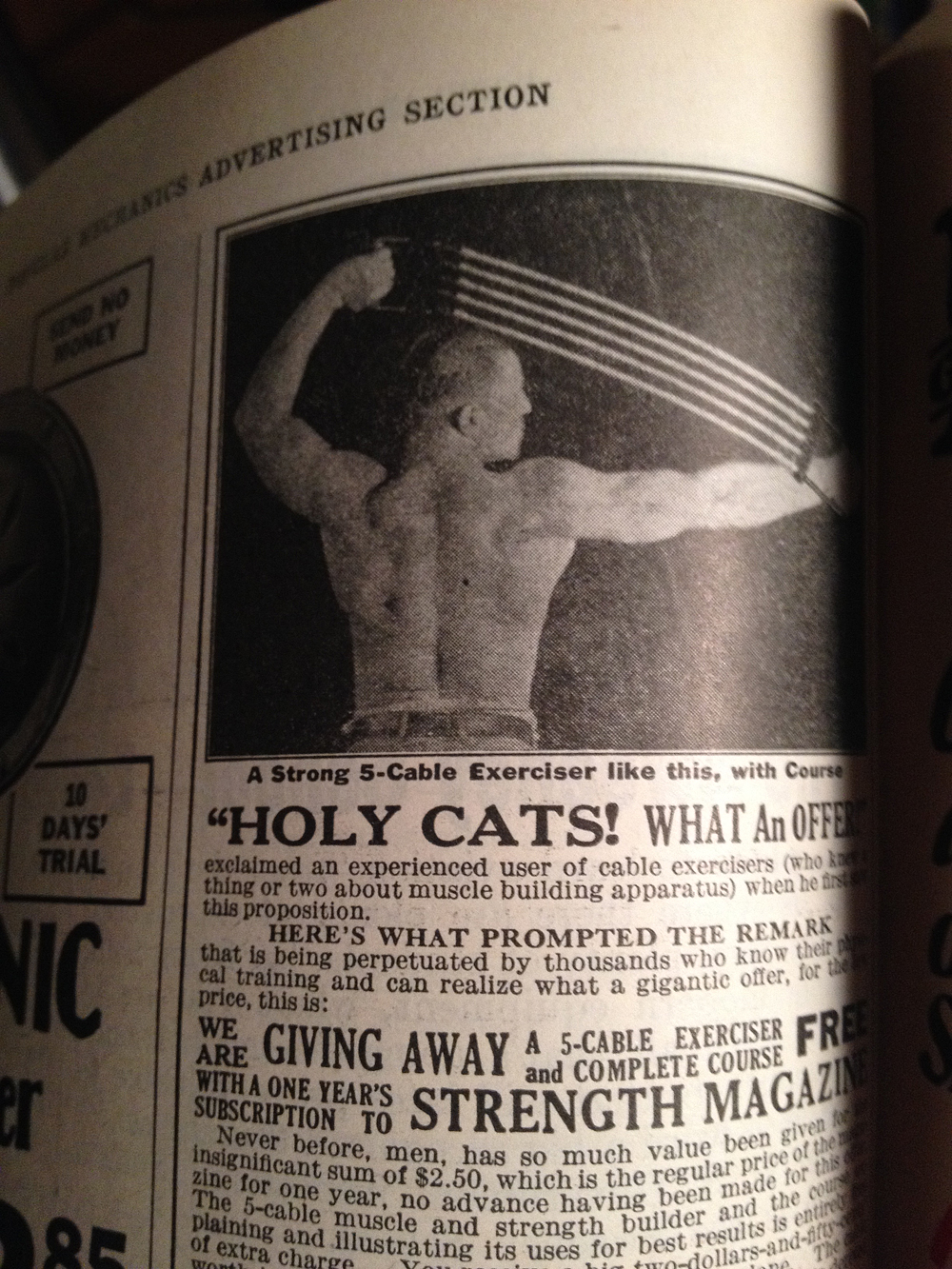 RE: "Holy cats"

Jesus Christ this chimney brick candy box shit does NOT end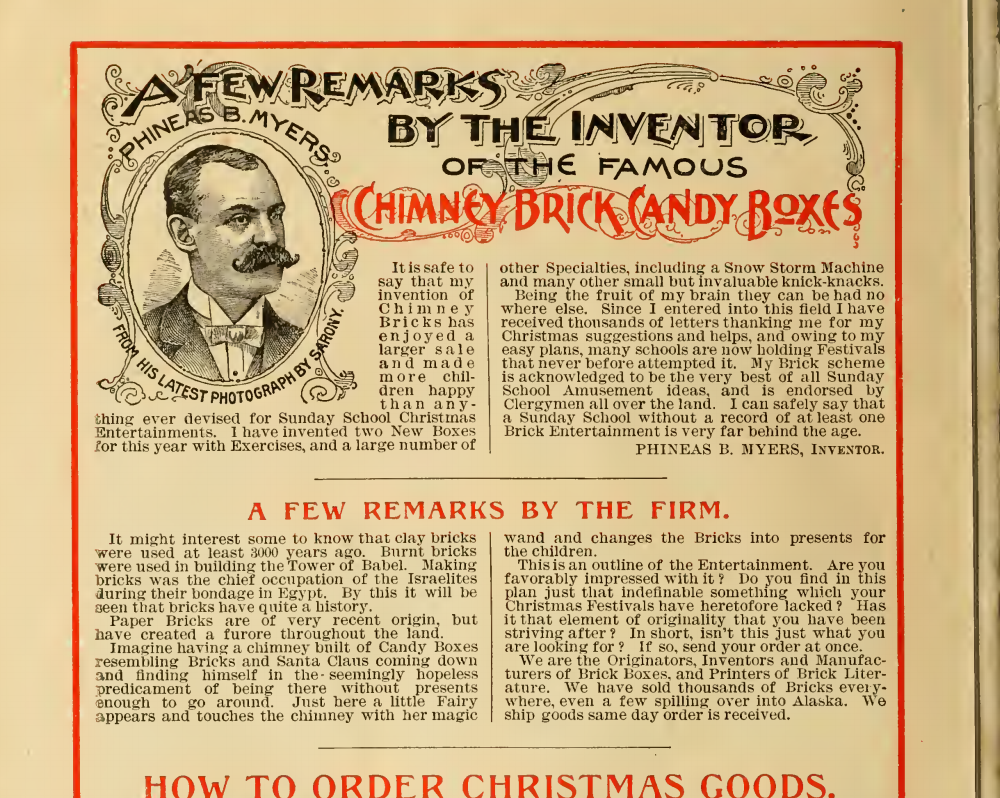 hineas I challenge you to a got-damned BRAIN DUEL
PRINTERS OF BRICK LITERATURE. I.e., the very fatuous brick-related text you are reading right now, person who lives in darkness and has not ordered our fuckin' stupendous-ass BRICKS YAAAAAAAAA Oh I spoke too soon, it's referencing a SERMON AND RECITATION ON THE BRICKS ("WRITTEN EXPRESSLY FOR THE BRICKS") TO ACCOMPANY BRICK ACTION.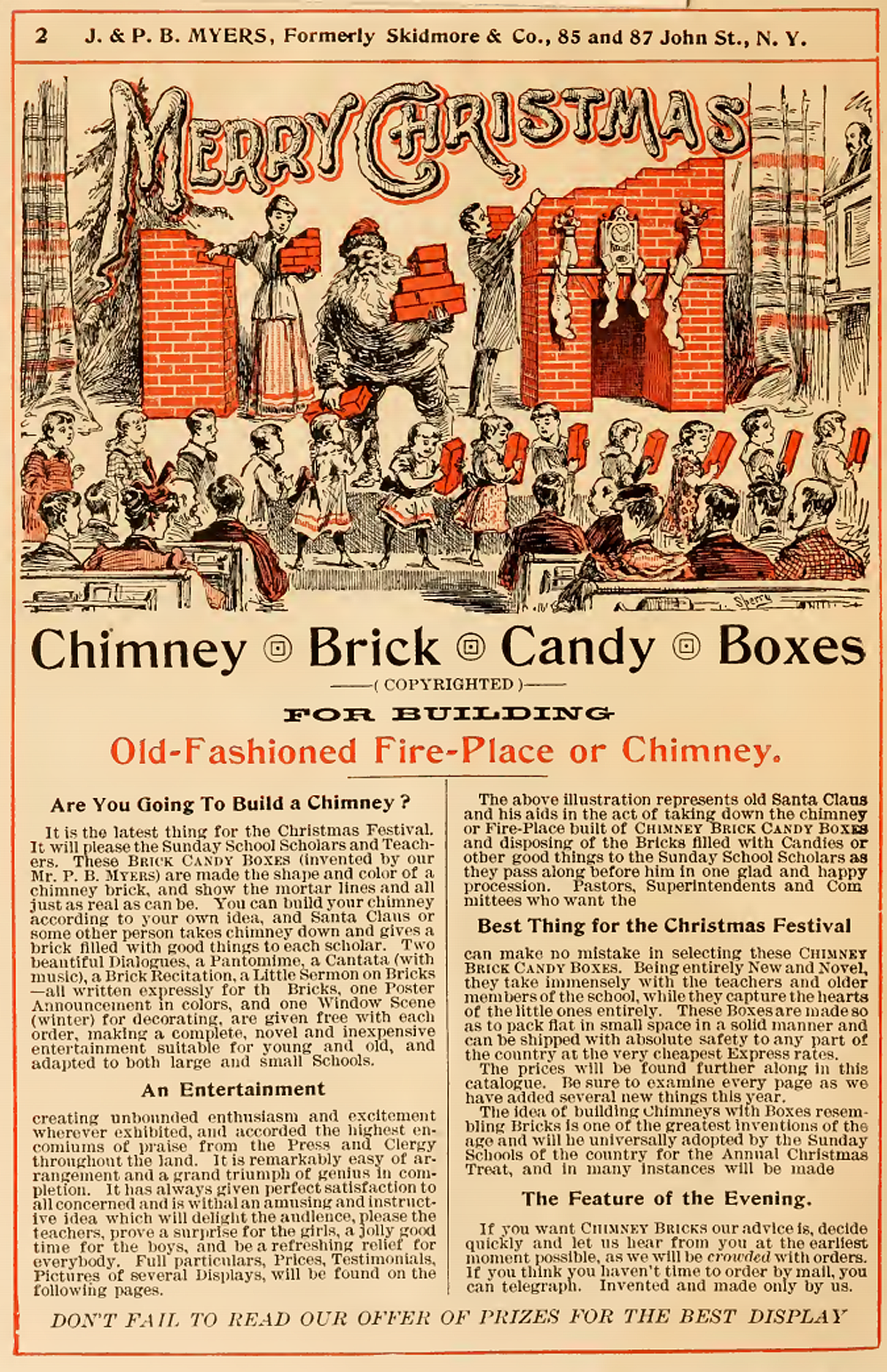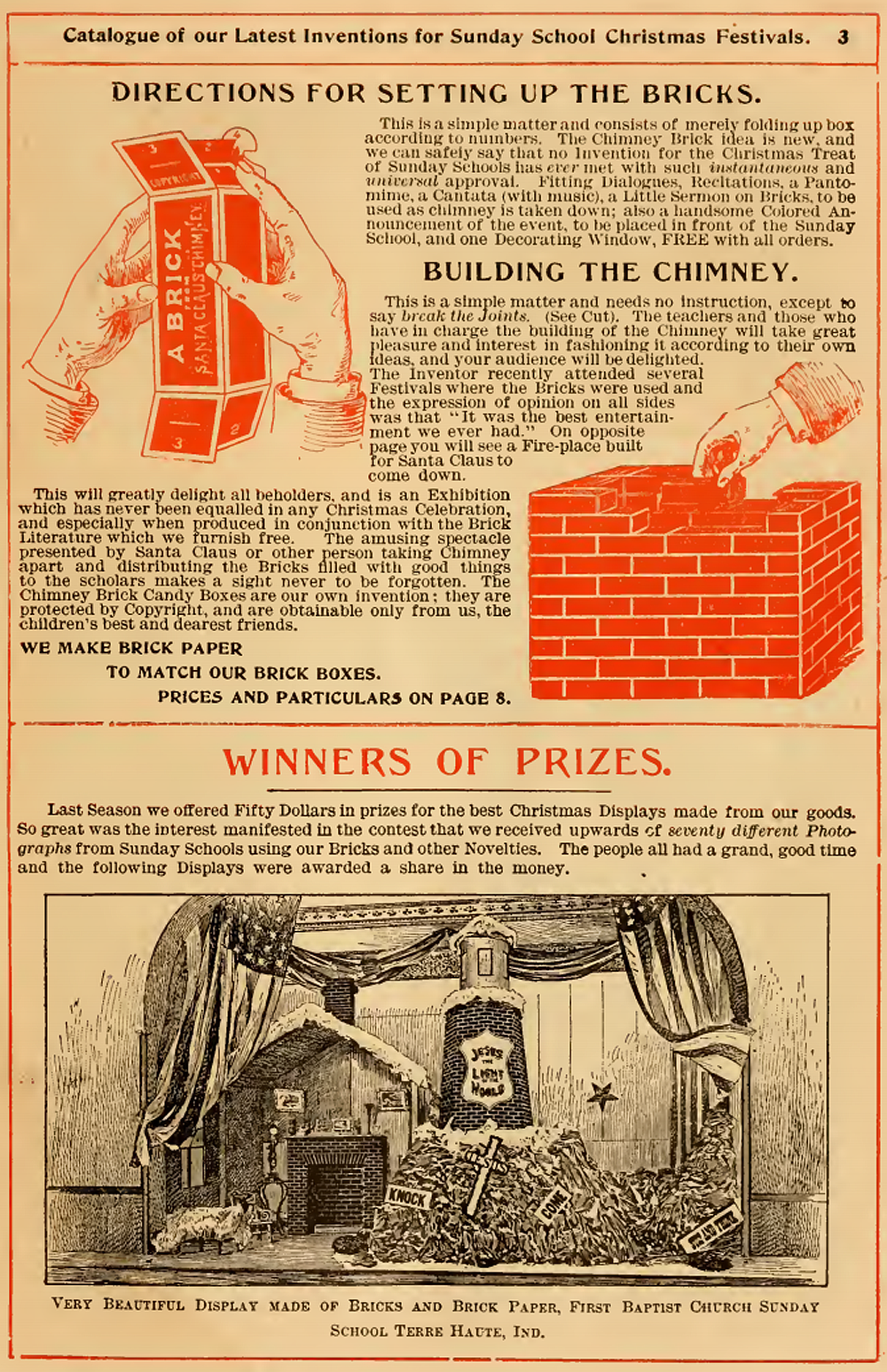 You see that part? The chimney ... CONSISTS of bricks. The chimney is COMPRISED of bricks. Okay, I might have lost you there. Let me break this amazing invention down for you. You get a box. Then you get some more boxes. You pile those into the shape of a chimney. You may also want to put some wrapping paper around it that is ALSO brick-patterned. No, I've gone too fast. Okay, let's start again. Bricks, yeah? We've all seen them. Okay imagine more bricks. Hold on, let me do up a sketch ... [FX: exit stage right for drawing paper/pencil]
For more exciting offerings from Phineas B. and Robert L. Myers including even more boxes that will blow everyone's minds out of their skulls repeatedly, please peruse their amazing catalogue at your leisure.

So, about that J & PB Myers company ... turns out they cooked along for almost another hundred years, patenting various packages, became a subsidary for Goody ("#1 in Hair Accessories and Styling Tools") .. they were around until 1990, at least; the latest entry I can find for them indicates that in 2008 their site was closed "with Remediated Contamination." No more brick candy box chimneys.

I have been ill for the last week+ with this year's harsh flu. I got lucky; my temperature went up to 99.8, but fell back down the next day (scared of my robusto immunity system is wot). The rest of it has been the long tail of coughing and other boring mind-melting symptoms (strained super-crying jag while trying not to cough in the grocery store, most recently). During this sickness when I feel the need to zone out (not coughing is partially a mind game, no joke), I watch random Twitch channels of Player Unknown: Battlegrounds. There's something incredibly amusing about watching people play a video game many miles/countries away, doubly so because my first video game was Space Invaders and/or some sort of Pong variant and the difference is astounding. Pretty sure Space Invaders didn't have a tip jar.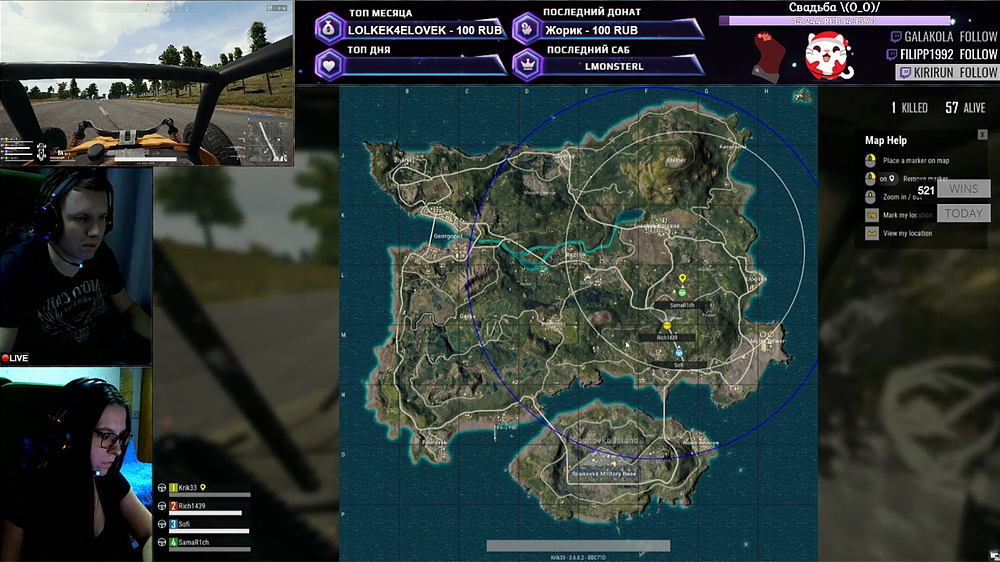 One of my favorite recent "episodes" was watching a South Korean woman racking up strategic kills while dealing with the hiccups in real life. The South Koreans I've watched do running commentary at low volume, then drop quick joyous outbursts when they "knock out" (injuring a competitor enough that they end up crawling, no longer able to use weaponry and having to wait for teammates to "revive" them with time-based first aid) or kill someone. With the British, the conversation is affable to a fault and somehow Nando's is always mentioned. There is one take-out place in Great Britain. It is Nando's. The Americans think they're radio DJs along w/so many swears. Your stereotypes may vary. I enjoy the varieties of reactions to common events within the game, and trying to figure out what's being said when I can't understand the language. When I'm feeling particularly nutty I'll keep multiple tabs open w/all the attendant conversations mixed together while I'm doing something else (like writing this) then pop one open if something is popping off. A number of these streamers are also pushing through their own (most likely worse) flu nightmares, so we have something in common for awhile! The ick.
I'm tempted to buy PUBG and run around without shooting anyone. I could be a medic, helping people heal. It would probably take a few years before I'd actually win a round, but it would be worth it because I wouldn't have hurt a soul and that's a DOUBLE win. I just want to help (turns out it's been done).
[Insert Pac Man: Battlegrounds image here]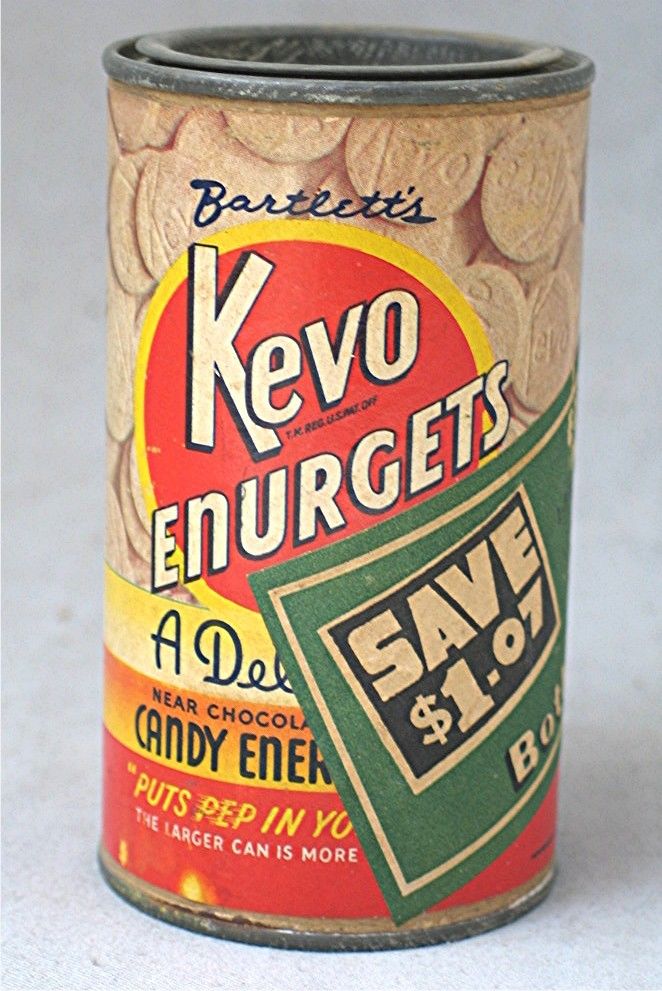 ERMAHGERD ENURGETS

This tiny change to wikipedia seems like something I would have done ten years ago but I don't think it was me.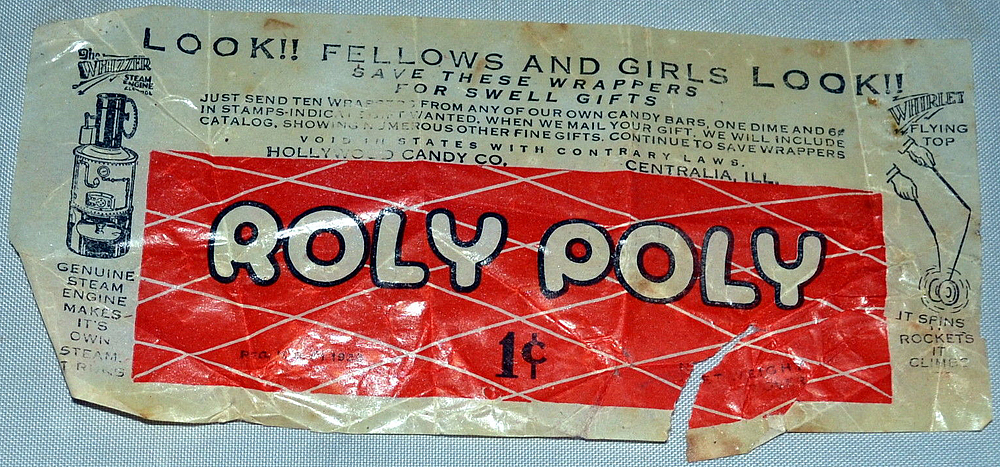 Kids back in the day could save wrappers from candy bars and get a working steam engine. What can they get now? Some rare Instagram filters?
Children what can you get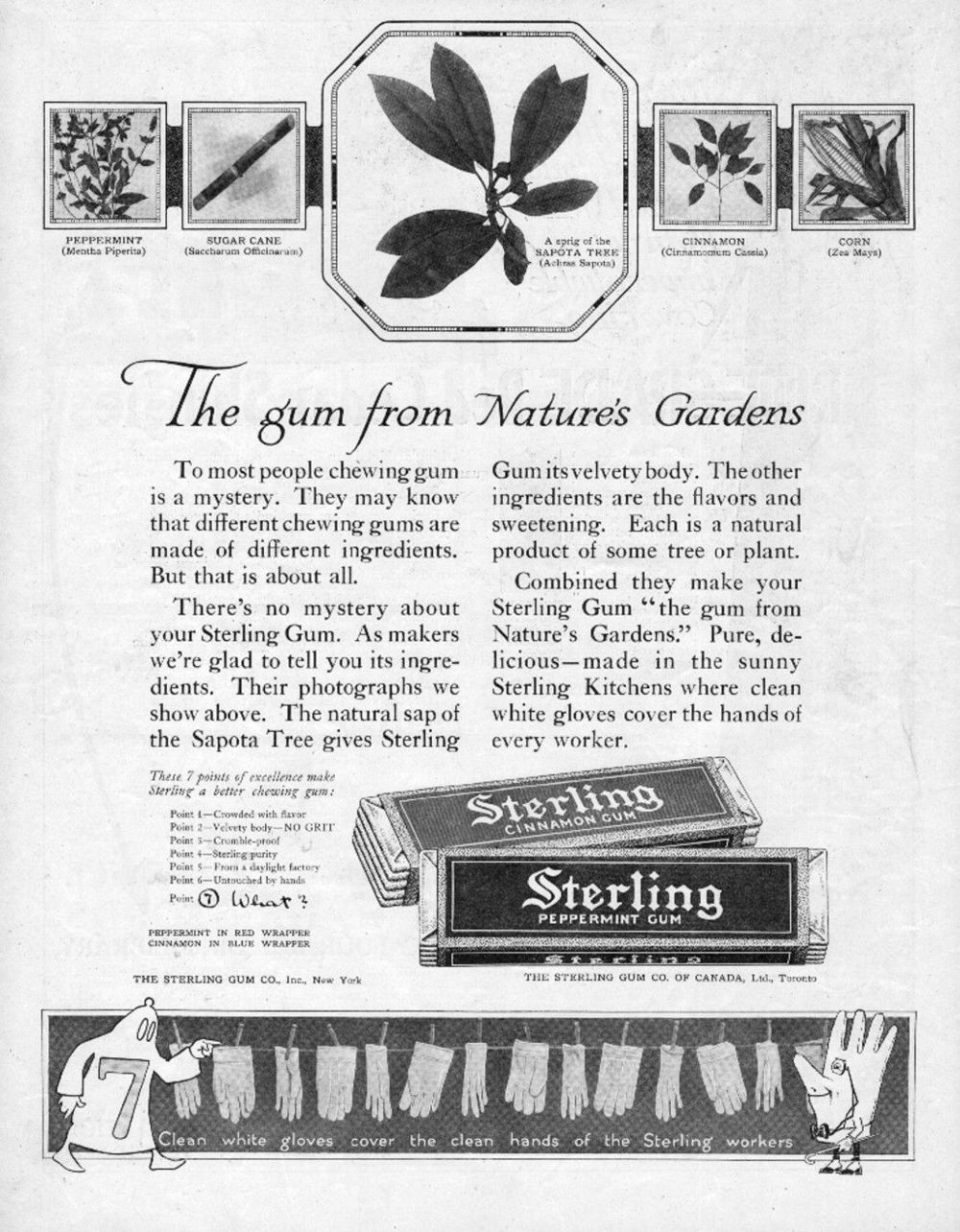 1916 Sterling Gum advertisement. Noted for the strange figure ("Figure 7") bottom left, and the hand-drawn note (apparently in the published ad) alluding to same (note that the leading has been enlarged on the last line to accomodate the note). "What?" Yes. What.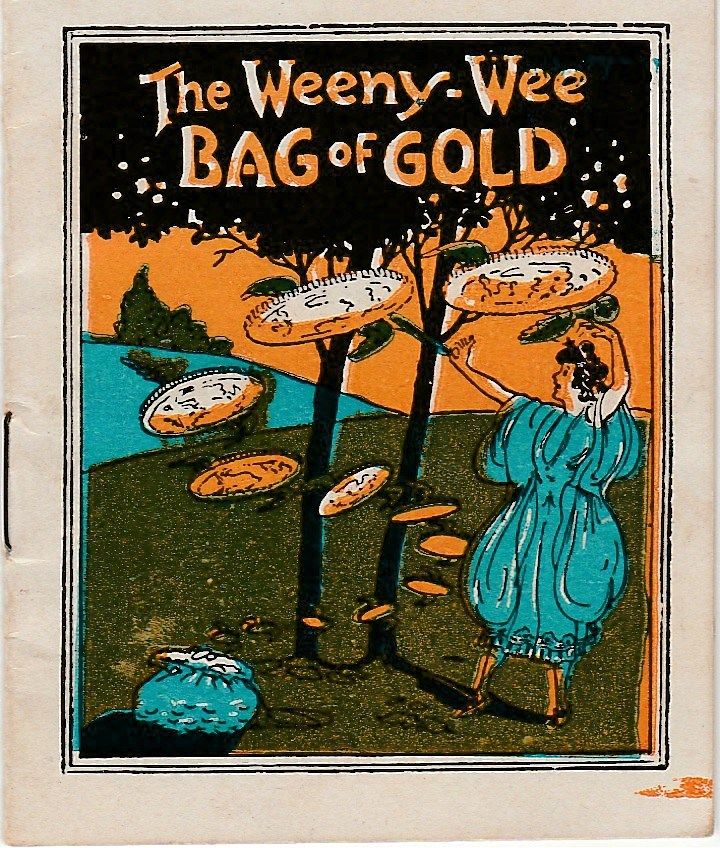 Been hearing a lot about this cryptocurrency so I studied the market and invested in the FUTURE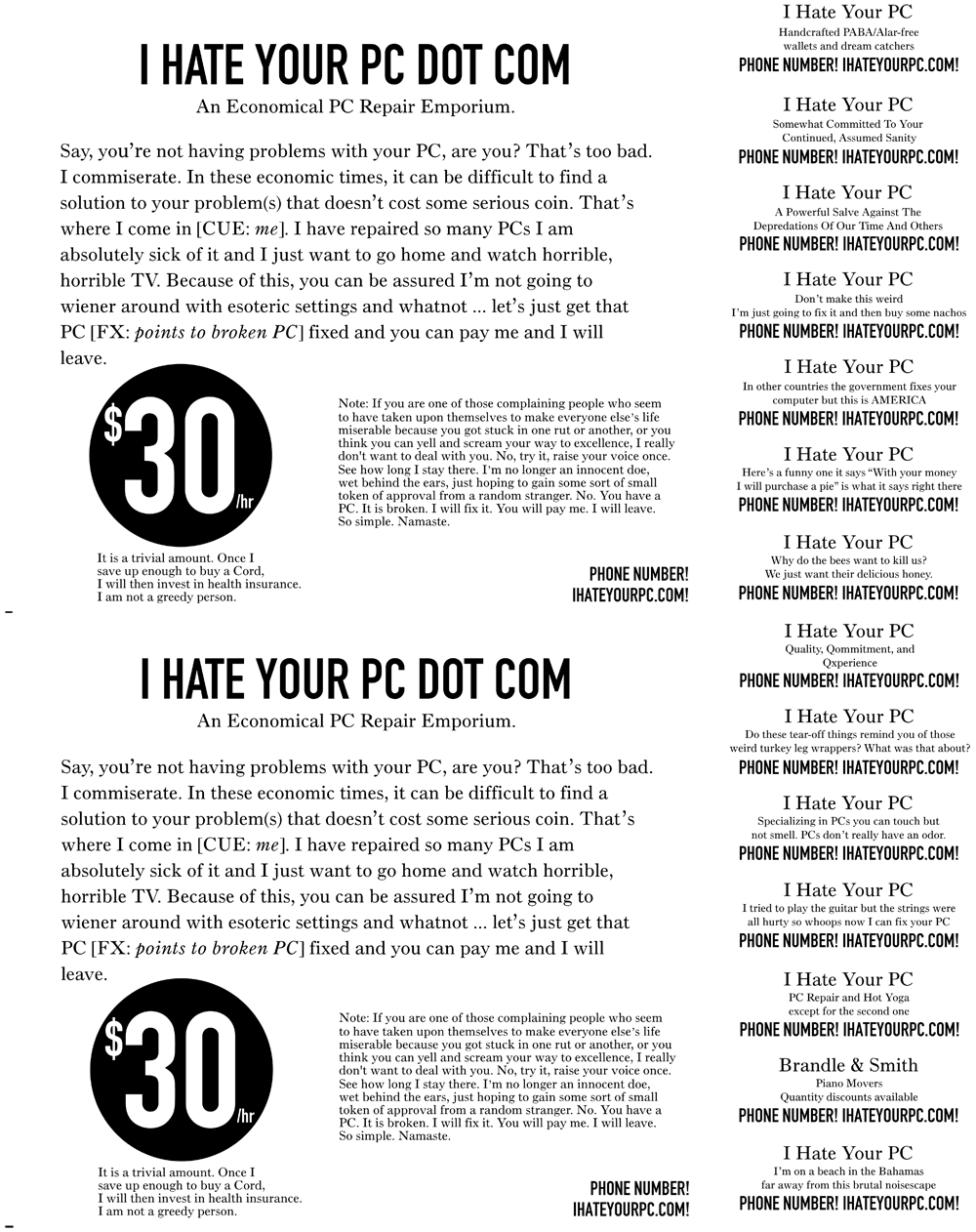 Flyer from when I was going to do PC repair. Turns out I hate it so much I didn't even start. I'll figure out what to do with the domain within the next ten or so years, I'm sure.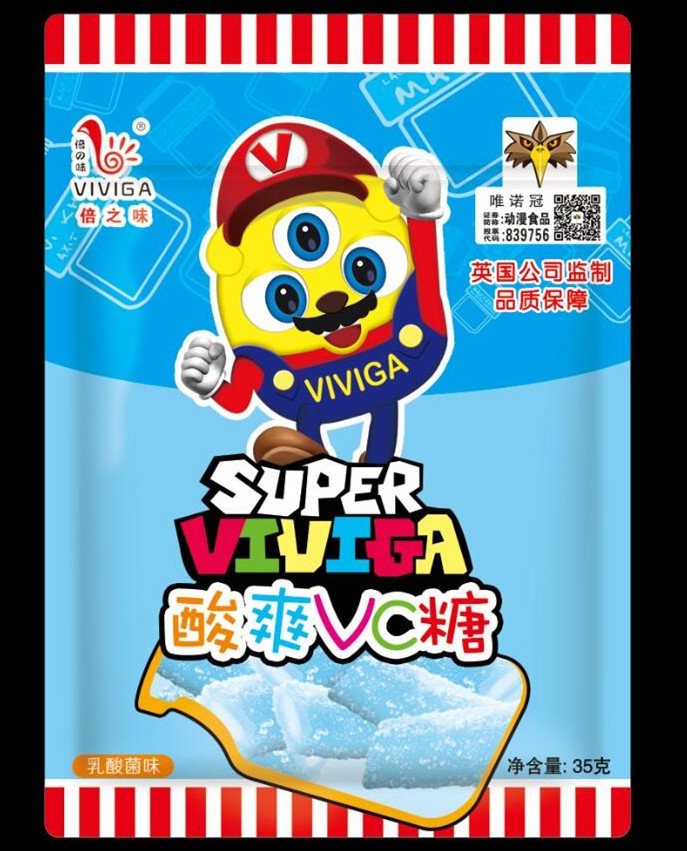 Children it is me, Mario. Please help me, children, the pipe I have been exploring is filled with toxic sludge. Children.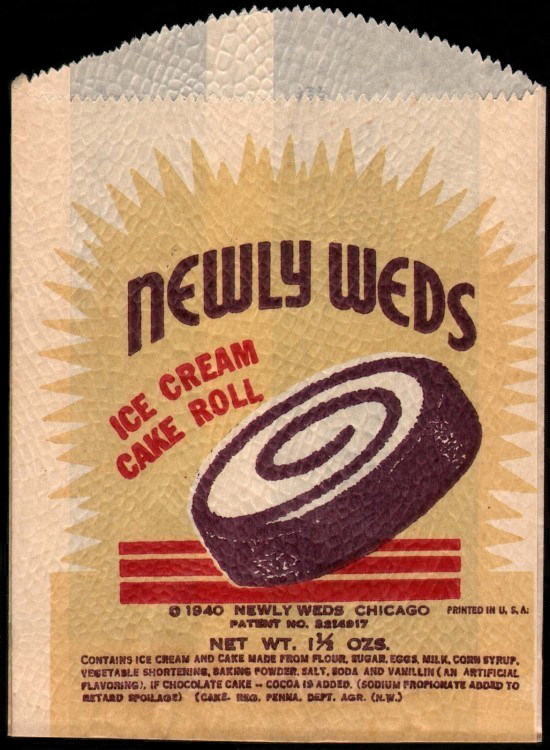 Newly Weds Ice Cream Cake Roll (1940, Chicago).


Advertising: What Can't It Do. "This is fake, also you will not look like this fakery. Buy our product."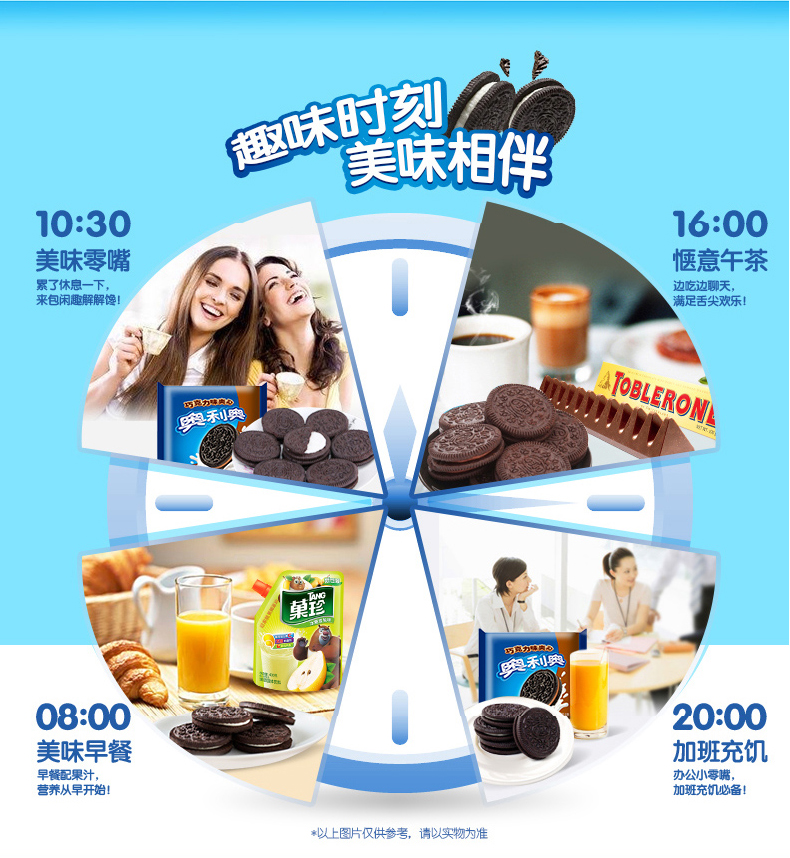 Where's the 230am Oreo salad? The 547am Oreo injection? Amateurs.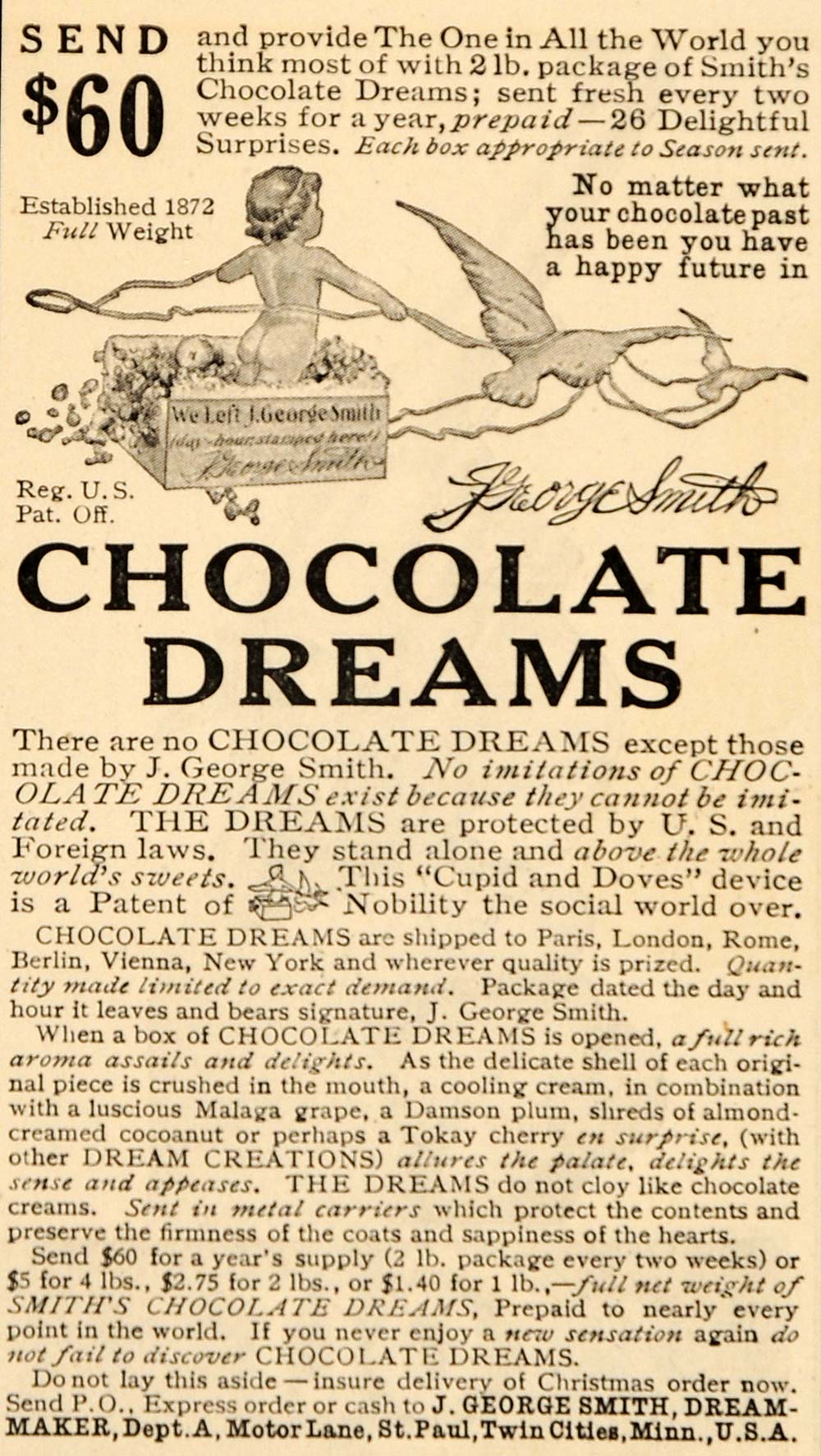 This 1909 advertisement is filled with amusement. Perhaps you have caught the funniest thing about it ... $60 for a year of chocolates. That's over $1600 in current funny money.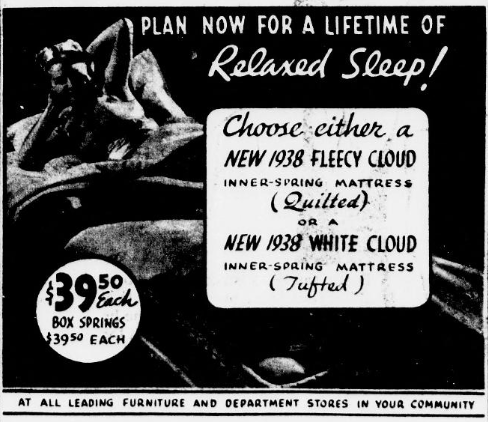 I would like to be a new 1938 fleecy cloud thank you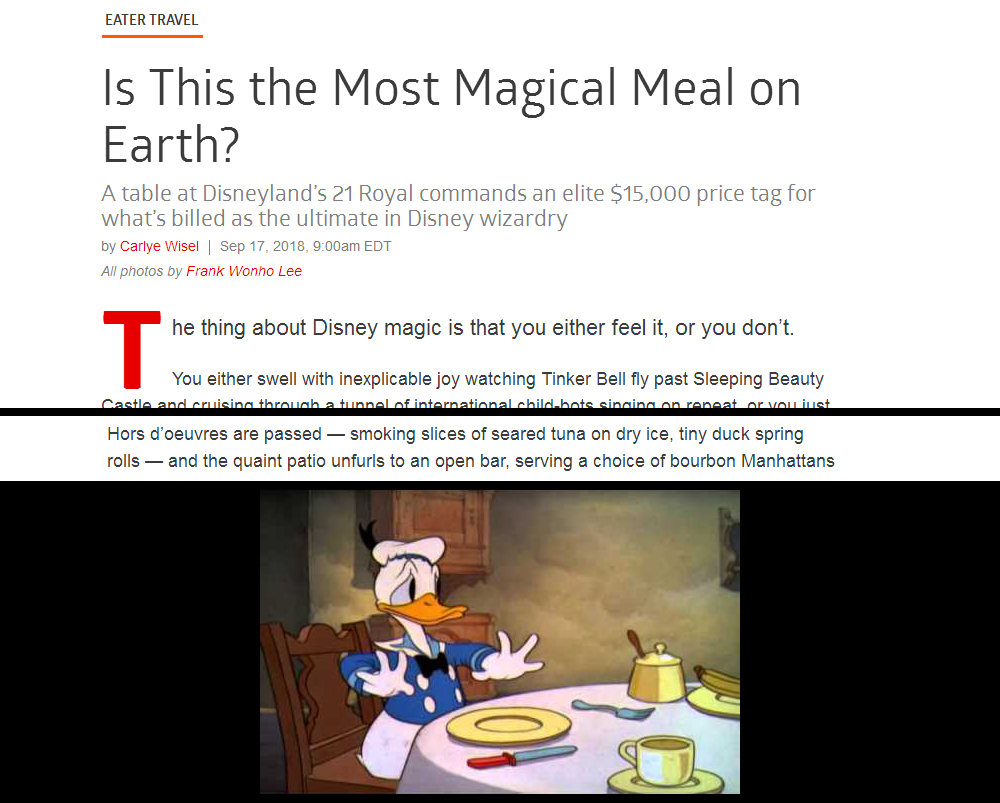 those totally don't look like hotel rooms, certainly not scam listings, and it's utterly impossible for craigslist to group postings by IP addresses in any form whatsoever #nonscam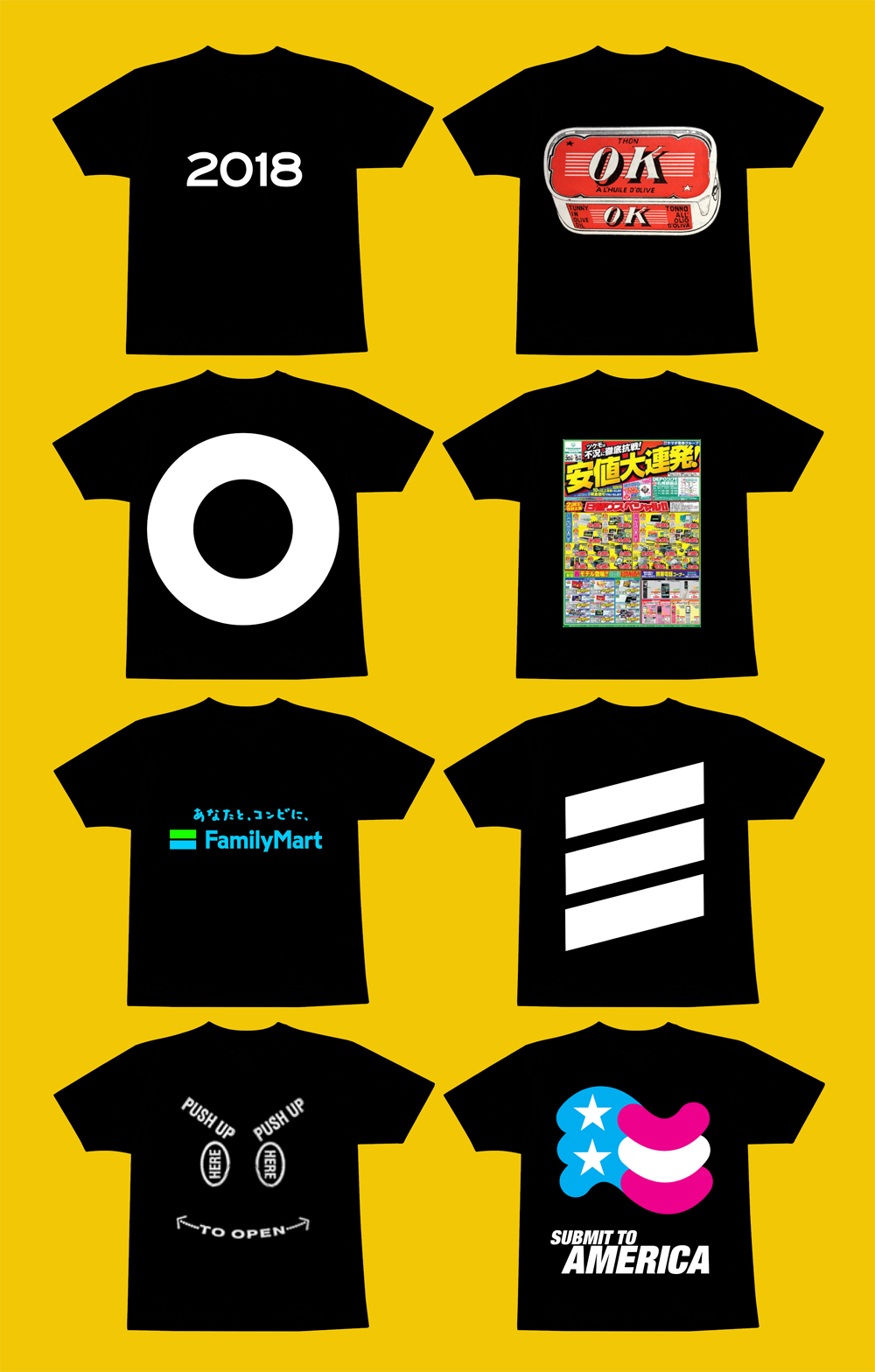 End of year 2018 Cardhouse t-shirt sale! For 20% off any selection, any quantity, enter "#pantspantspantswhoaaaaaaadoggies" in the coupon code field! GOTTA MOVE 'EM!

<< 2017
2019 >>