dr. cliff's photo-tour
the burningman98 series
---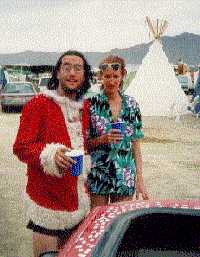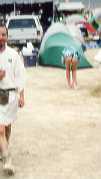 Apparently, lots of people think 'naked' and 'interesting' are synonyms. While drinking from mazdalicious, we theorized that most of these weekend nudists would be horrified for anyone to see them naked anywhere outside burningman. This situation had our names written all over it...
Something had to to be done about these people. They were ruining our buzz.
We tried to get photos of people's faces and asses, so we could post them together for the world to see. Imagine the shock of Suzy Deskjob, surfing across this website and seeing a photo of her naked stupid ass, right next to a photo of her stupid face!
It was a good plan, but ultimately, we only got one matched set of photos.
---