2003dec01. Desert update: Today a road runner and a coyote crossed the road in front of the car, about a minute apart. The coyote was carrying what looked like a paper sack, I think it might have been a jackrabbit. Road runners are fun to watch, they keep their tail at a nice jaunty angle, they've clearly got things to attend to, a bird with clearly-defined goals. Not like quail, named "America's Fruitiest Bird" by the National Audubon Society for the last seventeen years running. The peccaries are making regular visits to the house – two nights ago they savagely attacked the trash cans at 4:30am, popping one open so they could feast on turkey-scented aluminum foil and paper scraps. One of them took an actual bite out of a discarded Counterpunch magazine. It was a lean Thanksgiving for the peccaries, you betcha.
2003dec04. Perhaps I've been asleep at the wheel for months or even years, but my Amazon wishlist link went belly-up sometime in the past. And if you try to check the link and have cookies, you're always sent to your own wishlist, which is sort of why I have a funny feeling this has been a problem for some time. Maybe you are having the same problem. This is why I bring this up. Anyway, change the word "wishlist" in the url to "registry" and you're golden.
Before: http://www.amazon.com/exec/obidos/wishlist/[your own id]/
After: http://www.amazon.com/exec/obidos/registry/[your own id]/
Remember, Christmas is coming. Shop early, shop often. A reminder: I am a dirty, dirty camwhore who might, you know, show you something
extra
if you're good to me. So dirty.
2003dec05. Javelina/Collared Peccary, East Tucson.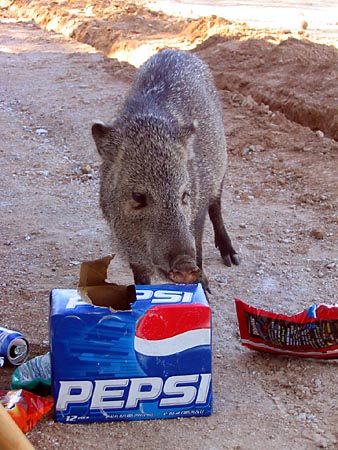 Javelinas are noisy eaters. We were apparently downwind, it just kept eating crap junk food while we gawked ten feet away. Perhaps it was just a starving loner, though they apparently eat the abundant prickly pear cactus, spines and all.
2003dec06. I've added some more photos to the Food City section. You can start at the beginning or jump to the new stuff (down the page a bit).
2003dec06. Two of the turkeys came to visit me today.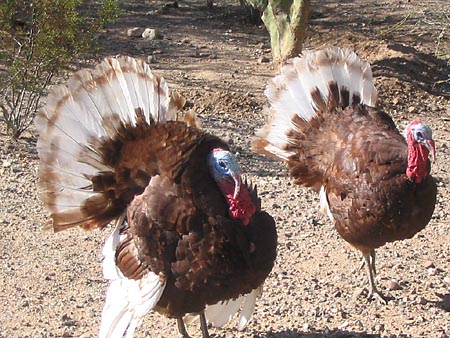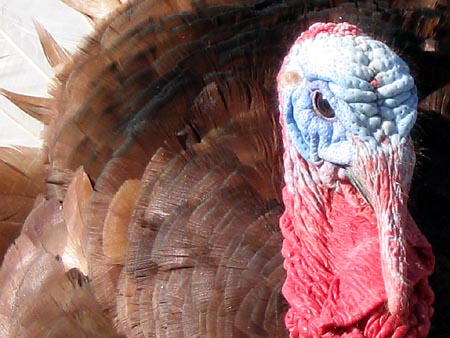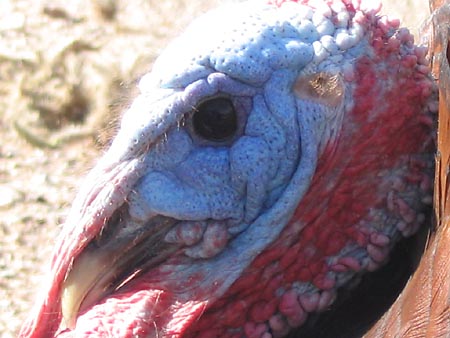 The pair of them came waddling up to barbed-wire fence voluntarily after spotting me. The primary male was in full strutting mode and followed a particular pattern – walk in front of me, pause, turn around, walk in front of me, pause, turn around, etc. Some of his feathers dragged against the ground, making a wonderful scraping noise. This is going to sound funny, but I felt like I was in the presence of royalty, or a turkey-shaped robot. I think he was guarding his territory, or showing off for his less-feathered friend. If I hadn't left, I get the feeling he'd still be out there, wearing a hole into the ground, eventually disappearing from sight.
2003dec07. Working on Mozilla: Behind the Scenes.
"Okay, now put 'close other tabs' immediately below 'close tab' ... yes ... YES! BRILLIANT!"
2003dec12. Saying no to the automatic Social Security Number [via doc]
2003dec15. I don't think I explained the turkey movement quite properly. Okay. It's a lot like winding up a rubber-band powered car. It starts out slow, and then accelerates. That's what the turkey did, back and forth, back and forth, in front of me, and when it walks anywhere it doesn't just move from point A to point B, it comes up with all of these intermediate points that must be visited that are sort of on the way. I think what's happening is that the turkey doesn't have much self-confidence. It kind of knows where it wants to go, so it points itself in the general direction and then heads out, crossing imaginary turkey fingers in its own mind. As it's moving, it notices that yes, it's getting closer, so it gains confidence and speed. But then it has to stop for some reason, like maybe because selective breeding has created a race of franken-turkeys that can only walk for a few feet before tiring and wanting to jettison one or more tasty phatt turkey legs for snacking at various state fairs. In other desert news, the javelinas are right outside the house right now. The porch has sort of a one-way screen and a wee javelina started noisily munching on a prickly pear about three feet away. The rest of the family was looking wistfully at the garbage cans, now nestled inside a home-built anti-Javelina garbage can corral built by my girlfriend while I ate pudding and made funny noises which was extremely helpful, I think. Also, they enjoy playing the "freeze" game with the flashlight. "You clearly cannot see me if I don't move yet at the same time release powerful odors."
2003dec17. William Safire checks in on the origin of the term "spider hole," as used recently to describe Saddam's Fortress of Solitude:
Another useful bit of information is the origin of "spider hole," a phrase used by Lieutenant-General Ricardo Sanchez to describe the dugout hiding place in which the fugitive Saddam was cowering. This is Army lingo from the Vietnam era. The Vietcong guerrillas dug "Cu Chi tunnels" often connected to what the GI's called "spider holes" – space dug deep enough for the placement of a clay pot large enough to hold a crouching man, covered by a wooden plank and concealed with leaves.

When an American patrol passed, the Vietcong would spring out, shooting.

But the hole had its dangers; if the pot broke or cracked, the guerrilla could be attacked by poisonous spiders or snakes. Hence, "spider hole."
That seems like an awfully long road to travel to get to the term "spider hole." Why not "snake hole"? Why would American forces name things from the perspective of a clay pot-hiding VC? "Hey, I found one of those dead clay pot VCs ... looks like he died from a bunch of spider and/or snake bites! I thus call this hole and all subsequent holes formed in the same fashion ... a ... a
spider hole
!" It couldn't have possibly derived from the fact that spiders actually dig holes in the ground or that VC tunnels were sometimes "guarded" by a ton of spiders?
"One hole seemed to be darker than any hole I'd ever been in and for a moment I thought I was losing my equilibrium because it seemed like the hole was moving in on me, and as I shined the light around more, I found out it was just a mass of spiders. The whole chamber, the walls and top, were one great black moving mass of spiders." (The Tunnels of Cu Chi, Tom Mangold and John Penycate)
Also note the reference to "Cu Chi tunnels" ... Cu Chi was a
place
, where the most elaborate network of underground tunnels was located (and then the Americans went and put their own really big base on top of it, enabling the VC to do really weird things like hollowing out a tree in the middle of the base and sporadically firing guns from the top of the tree). But I guess Safire has the 411 on the spider hole, I mean, after eating dinner with the Rumsfelds and all. I have not eaten dinner with the Rumsfelds.
[later, that same day ... ] Description of spider hole (scroll down a bit).
2003dec18. Mail.
Hey--I was looking at your food city pictures, and I thought you might like to know that "Jesus with a Horn" is actually St. Jude of Thaddeus – Jesus' relative, and the patron saint of lost causes. He has a flame on his head because he's one of the twelve apostles--they had flames on their head after Pentecost. Thought you might want to know.
As a former AZ and SF resident, I love your photoessays--keep up the good work.
Cheers,
Lizzy
Ah! A different religious dude. This is how I learn things. By taking photos and posting them on the web. Speaking of posting, there are actual macros over at Macros2000. Send yours in ... today!
2003dec18. I'm doing research on turkey behavior. The Grade 4 Boys have the lowdown on this wily bird. (2006: Still there, but too important to leave to chance, so ... )
TURKEY BEHAVIOURS

-FACT: IF TURKEYS HEAR A NOISE, ALL THE TURKEYS WILL FOLLOW THE SOUNDS.

-FACT: IF ANOTHER KIND OF TURKEY IS IN THEIR GROUP THEY WILL KILL HIM.

-FACT: TURKEYS ARE AFRAID OF CROWS AND IF TURKEYS SEE CROWS THEY WILL GO CRAZY!

-FACT: IF A TURKEY IS HURT THE OWNER WILL KILL HIM WITH AN AX.

-FACT: IF YOU WALK THROUH A FIELD OF TURKEYS, THEY WON'T STAY IN YOUR WAY.

-FACT: IF A PERSON HAS AN AX ALL THE TURKEYS WILL RUN AWAY AND GO CRAZY.

BY GRADE 4 BOYS
2003dec19. #1 hit on Blogdex today: The Tale Of The Gold-Digging Ant-Lions of India.
2003dec21. If you've sent mail through Macros2000.com I never received it, there's something gone right wonky with the forms. Try here instead.
2003dec22. A re-assessment of Mexican candy cigarettes.
La Cubana (several new packs)
Cresencio Vera e Hijos (one new pack)
Productos Glodis (your premiere copyright violation company)

2003dec22. "Did you find a tree yet?" "Hell, we could build one."
2003dec23. I was wearing a wide-brimmed hat today while cleaning the yard. Out here you occasionally heard weird machine noises, so when I heard this continual "WHOOSH WHOOSH WHOOSH" noise that got louder and quieter every so often, I started turning my head, trying to figure out where it was coming from. The "machine" turned out to be a raven, beating its wings 100 feet overhead, circling the area trying to get the best TV reception, I think. I am learning things about ... animals?
2003dec23. This buffalo seems a wee bit larger than most.
2003dec24. Penkiln Burn: Job 5.
2003dec25. The turkeys are unusually quiet today. They must be in the coop, sleeping. Yes. [much later: multiple turkeys heard gobbling. It's a Christmas miracle.]
2003dec29.
TIME FOR NIGHT HOLIDAY TIME FOR NIGHT HOLIDAY YOU MUST ENJOY HOLIDAY
2003dec30. The Wizard of Ass Has Spoken! A consideration of the person who is Hal Robins. It's a bit old, having run in July. Our circles occasionally intersected while I lived in the Bay Area and at one gathering a few of us were sitting down waiting for "The Conspiracy Zone" to air and instead something called "Bullnanza" came on, and we were all enlightened and educated, the end.
2003dec30. Bob's Travel Journal.
2003dec31. As you travel by foot into Nogales, Mexico, you will come across a waist-high green traffic light with a partially-obscured button next to it. A sign a little farther away, mostly out of your field of vision, indicates that everyone who crosses into Nogales should push the button. If you push the button, a small computer goes "think think think" (here the spellchecker tells me the second "think" is spelled wrong, beautiful) and if you're the lucky contestant, it makes a buzzing noise and the light turns red – which somehow indicates that you should turn your attention from the traffic light to the table across the way, at which sits an immigration agent. The chances of the light turning red, based on my observations as we sat in the massive queue to get back to the US (the lines come within ten feet of each other), is anywhere from one in 50 to one in 100. It was only when I was leaving Nogales for the second time that I realized I had never pushed the button. I think that's the easiest way to avoid being picked. Years later, it was my turn to face a US agent. I told him I had a little bit of candy and he did that thing where people stop thinking for a second and then all of his security-based systems came back online and his head snapped straight with mine and he said "is that all you have?" and I almost laughed because it was so transparent -- "oh, I'm getting away with shipping all of these drugs over the border he's about to let me g – OHMIGOD HE SUSPECTS SOMETHING HE FIGURED IT OUT" ...