While dealing with highly stressful moves, I like to send off the more ridiculous housemate ads to friends so we can collectively cackle at the bullshit. Here's a selection of the more entertaining ones this time around (food shares for fuckfaces are down, overly-invasive identity shares are up). 2018 resolution: be more scent-aware mit der instagram account to verify identity. PS: I moved into a place with NINE cherry trees IN MY BEDROOM suck it 7x7 ultra-local history buff.
wait was that ...
a scent?
---
I'm offering the space for $700. (including all utilities) in exchange for a few regular chores, which include tending the small lawn weekly, tending the recycling and compost, making up a bed 4-6 times a month, and occasional help with lifting and carrying. Please be mature, an excellent bed-maker, and happy to help out. Because the bed-making chore, which is for a rental space, must be done during the daytime between 11am and 3pm approximately 4-6 times a month, you MUST have a work/study schedule that allows that.
---
We are a creative artistic household we like to draw, paint, sew, and build thing from scratch. The kid's are so talented.
---
I am a creative, spiritual, 50+, scent aware, female with a great sense of humor who is a member of KPFA. I work as a caregiver. I am clean, considerate, easy going and respectful. I am eco-friendly and use only all natural products and request the same of you.
---
We highly value self-care and hope to find someone who has cultivated their own methods of doing so.
---
(berkeley) Looking for student ‒ Room Not in Berkeley
---
If you're interested please e-mail me the following:
-A quick bio about yourself.
-Link to social media (Linkedin, Facebook, Instagram, etc.)
-Phone Number
---
Room 2: 767$ per month. $900 dollar deposit. Comes furnished, must purchase for furniture $150 (Desk, full bed and frame,large side table.)
---
This unit has a keyed private entrance with a small refrigerator, microwave and toaster oven. **Please note--if you like to cook this will not work for you. There is no oven or stove-top, only a toaster/oven combo.
This small unit is 7 feet by 7 feet. Only a twin bed or futon will fit. No Queen mattress or King Mattress will work.It has one large sliding window and one stationery window.Screen door for additional ventilation.
The large sliding window faces the garden. There is no closet-only a closet bar to hang shirts and pants on. Will hold at least 20 shirts and 20 slacks. Also suits, jackets, sweaters will also fit as necessary. Several storage shelves for books, videos, tapes, folded dress shirts etc. Small table, computer, printer, television set, stereo with speakers fit as well. If you have a lot of "stuff" it won't work.
If you "travel light" it works just fine.
The unit is sunny, clean and quiet in an older neighborhood with beautiful trees and flowers.All areas of property are well kept. Property has 75 fruit trees plus grapes and bananas. House is not far from a city park with mature trees with garden benches with picnic tables.Observation deck overlooking the creek with a very old bridge and murals painted underneath the bridge done by local artists. Area has points of historical interest such as the Peralta House, built by a Spanish landowner who was given large swaths of east-bay land by the king of Spain. Across the street is the Best house, built by Daniel Best in the mid 1800's. He invented the tractor and had a tractor manufacturing company that he eventually turned into the hugh Catapillar Tractor Company.Where the BART station stands now used to have the Delmonte Canning Company large cannery. San Leandro still has a annual Cherry festival which dates back to the 1800's when San Leandro was covered with hundreds of acres of Cherry trees (Varietly Queen Anne Cherries), according to the Librarian/Historian who did the research for me. I have 8 cherry trees on the property.
The unit has a overhead light/fan combo.
Bathroom is next-door. It has a shower, toilet, sink, medicine cabinet and counter. Purified water outlet for the purest water imaginable.
7 MINUTE WALK TO THE SAN LEANDRO MAIN BART STATION. 4 minute drive to the 580 McArthurfreeway and 4 minute drive to the 880 Nimitz freeway. 1 minute walk to the bus stop, with buses going north to Oakland/Berkeley, and south to Hayward/Fremont area.
1/2 block to the San Leandro Main Police Department. EXTREMELY SAFE AREA. 2 blocks to the downtown area with the Public Library, Doctor and Dentist offices, pharmacies, Safeway, 4 banks, cleaners, nice restaurants, McDonald, Subway and Nations fast food.
I am looking for ONE PERSON ONLY who is quiet, mature, and seeks their own privacy. Someone who wants to stay for a least ONE YEAR. NO SHORT TERM RENTALS. NO PETS
NO SMOKING(not even outside smokers), ALCOHOL OR ILLEGAL DRUGS TOLERATED.ONE PERSON ONLY
Do not reply if you live out of state, or out of country. I will want to meet you in person and see pay stubs and references. "Credit check required".
First months rent and Last months rent as security deposit. Commonly referred to as "First and Last".
$75 per month for all utilities including wi-fi internet and basic cable TV.
When you reply, please tell me a little about yourself. AGE AND GENDER. For example work schedule, hobbies and activities so that we can make this a "good Fit" for everyone. I will not reply to e-mails that just give a name and phone number, or say, "Just call me if the room is available".
Please feel free to ask any questions as well. It is preferred to correspond by e-mail a few times before appointments will be set up to see the unit. Appointments will be set up in the order they are received.
Please be honest or it won't work.
---
$700 / 567ft2 ‒ 2&1apt.567sqft.5blksS.ofUC; FREE GIFT&ICE CREAMw/app! (berkeley)
---
What you are:
Someone who is a joy to be around. Easy to please and all around kind person. Smells good and has good personal hygiene. Has some sort of professional or artistic ambitions in life. Is organized, so we don't have to worry about missed rent payments or loss of important documents, or forgets to pay their share for the utility bill. Someone who treats the place well and respects it as if it was their own. Someone who does not excessively wear down the house. The last thing we need is to fix broken walls, find dings or dents in the walls, and excessive wear and tear on the floors. Basically, someone who is awesome at life. We like you.
---
Our utilities + food + booze generally comes out to +/- 300 a month on top of rent. That means you and your friends can be here and not have to worry about whose stuff is whose, there are no shelves with labels for certain people's things.
You:
Like to cook and eat home cooking and help clean up.
Are excited by the idea of planning and working on projects around the house.
Are open to hanging with the housemates on both planned and spontaneous adventures (board games, darts, drinks, hikes, camping etc.)
Are willing to make our home and the members of our community a priority in your life
Aren't just looking for a room because it is cheaper, but rather because you like people and want to contribute to creating a home.
---
We prefer to find a female-identified person, but we are open to any gender identity, including men, and will consider all applicants [...] We are looking for someone between 25-40 [...]
---
3-year lease. Application, employment verification, and background as well as credit check required. No smoking inside the house. Sorry, no pets. Please send an email about yourself ‒ what you do for work, your lifestyle, what you are looking for in terms of roommates. Interviews will be set up immediately. Available for move in immediately.
---
My ideal roommate is a man, aged 25+. You want to stay with me for a minimum of three months, and a max of seven. None of this is set in stone. What IS set in stone is that you'll respect me, my home and my belongings. You'll see from my past guests' reviews, (I will give you the link to my listing when you reply to this post), and I will do the same for you.
---
Hi, I'm X, one of those Baby Boomers who has kept learning and growing--a writer/artist who had 2 art shows last year. I'm easygoing and have a quiet cat named Y that stays in my room. I would like to live with a fairly quiet person with a full, busy life outside of home. A commuter or full-time student would be ideal. Prefer someone over 25. Just the bedroom by itself is 162.5 square feet! 13' x 12.5'. Sorry, the apartment is too small to accommodate overnight guests, intimate partner visits or additional pets. These points are, alas, non-negotiable.
---
You: Our ideal housemate is warm, playful, responsible, and tidy. Our ideal housemate is also committed to intentional living. That means having passion, as well as capacity, for being part of community. We are looking for someone who's down to co-manifest a radically nourishing and sustainable home, not just have a dwelling for yourself. It includes meeting regularly, contributing to house projects, visioning justice, working through healthy conflict, and kicking it to really know and invest in each other.
---
Please email if you are interested with a little bit about yourself and include a link to your instagram for validity.
---
We are looking for someone who wants to live in a supportive sanctuary of committed, grounded, focused, creative, spiritual people. Mature and above 30 preferred. Yoga, meditation, shamanic practices, martial arts, personal/spiritual growth, art, or a daily discipline that keeps you real, honest, humble, supported, would be great.
---
Must show rental history, show Drivers license or ID, and last 3 pay stubs.
2018jan11.

I made the mistake I make every three years and I forget to bunker down for the holidays, wandering with no defenses into a concentrated capitalist zone or two. I do remember to buy an egg nog unit for Thanksgiving and one for Christmas, so I should probably come up with some mnemonic to tie the two together. This year, I scheduled an eyeball examination at a large consumer warehouse because I like to get my optics checked while buying a steamer trunk's worth of "THE ULTIMATE FISH STICK" and whatever Hummus Pods are. The test came with a two-pupil dilation this time, so I got to wander around the brightly-lit aisles flinching at the lights, trying to focus on tiny product type exhortations ("NOW 30% MORE REVERSE-GRANULATED!!!"). The first thing I tried to read was a urinal mat (in the bathroom, not on sale in a convenient 144-pack variety), but it was printed in the icon-based Symbol typeface. "Wow, this eye shit is powerful stuff." In a confused state, I wandered up to various groups of people pushing around giant shopping carts, whispering "I am a palette, choose me" and "be my eyes, daddy." Bulk consumers enjoy levity during the stressful holiday season. They are now selling cases upon cases of bottles of Mexican Coke with sugar right next to cases upon cases of cans of United Statesan Coke with HFCS (I've seen purported "Mexican Coke" that used HFCS in the past), I reported in an attempt to provide you with at least one interesting nugget of information if you drink Coke; nowadays I don't drink non-alcoholic brown fluids. To top things off, I went for a quick test ride on the Orbio T17 ECH20 Heavy Duty Battery Rider Scrubber and Harnessed the Power of Oxygenated Micro Bubbles. Daily driver, or just for recreation, the T17 does it all! [Product endorsement paid for]
2017dec19.

I get anywhere from 0-3 robocalls a day, because some asshole left my number instead of her own with 10+ car dealerships when test-driving new SUVs. The program(s) these robots are using believe that the incoming number should be EXTREMELY local, so that the prefix (first three numbers) is the same as mine.
I'm very tempted to block the entire 10000-number list of all the numbers with the same prefix, but there's no automatic way to do that.
I'm sure that's going to be an option on a smartphone in 2097 or so.
2017nov30.

#OUTCLAMMED!
2017nov19.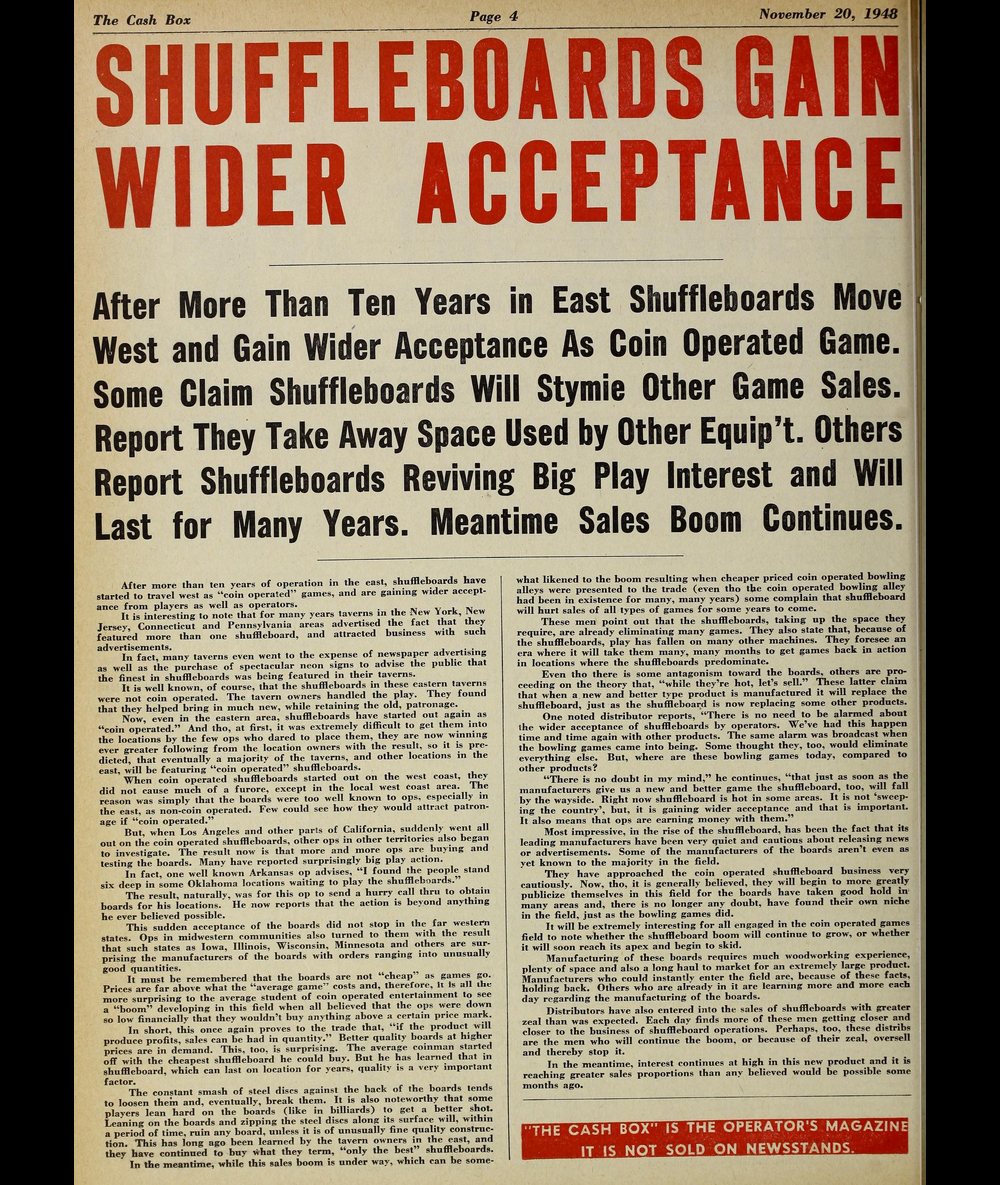 Cashbox, November 20 1948. My favorite sub-heading of all time for many reasons. Abbreviating "equipment" in the middle of of a sub-head without any sense of restraint, the presence of the word "stymie," the earnest reporter digging up ENEMIES OF SHUFFLEBOARD, etc. Now the entirety of shuffleboard as a concept occupies that tiny space in your memory devoted to seeing an Armstrong(R) Standard Shuffleboard Flooring Insert Kit on the floor of the rec center when you were ten years old.
2017nov17.

Saw a video the other day that was centered around a taste-test of a clear pumpkin pie. I didn't actually watch the video, I saw the thumbnail. I tend to avoid online videos because 90% of them seem to be comprised of n white dudes who would have been obnoxious coke-addled DJs if computer technology hadn't come along to save them.
I think this pumpkin pie heralds a future innovation no one is talking about: clear skin. See-through. You take a pill, a day later you can see inside you.
I'd do it, being able to self-monitor your organs overrides any sort of negative consequences, like other people being able to see your organs.
2017nov14.

Message sent to friends:
-------
MY PAIN IS YOUR GAIN
Tiny Target Jr is giving out gift bags today because I don't know why even though at least two of the products make reference to the school year? It's November? I don't want:
+ Justin's Almond Butter
+ One small stick of Trident gum (come on Trident)
+ Ibuprofen PM 80 caplets (compare to active ingredients in Advil(R) PM Caplets)
+ Dentek Triple Clean Floss Picks (3)
+ Pantene Hair Spray (1 oz)
+ Hask Argan Oil (from Morocco(R)) "Repairing Deep Conditioner" (1.75 oz)
+ St. Ives Apricot Scrub (1 oz)
+ Acure Foam Cleansing Gel (1 fl. oz.)
+ Herbal Essences bio:renew argan oil (FROM MOROCCO AGAIN!(R)) (1.4 fl. oz.)
+ Coupon for One (1) FREE Sparkling Ice(R)
+ Not The Candy I Took The Candy
+ Axe Daily Fragrance PHOENIX PROJECT 2000 (1 oz.)
+ Axe Body Wash PHOENIX PROJECT 2000 (3 fl. oz.)
+ Also I took the two "Acroball PURE WHITE" pens even though they're "BLACK ADVANCED INK" (it's like ink but it's more)
+ Target-branded Target Bag From Target
so if you want then that
HOT TRENZ: ARGAN OIL; MOROCCO
hahahaa "Mrs. Thinster's Cookie Thins Chocolate Chip"
"best by 9/21/17"
I'm UNLOCKING THE SECRETS OF THE GIFT BAG
it's like i go into stores w/this glazed-over post-capitalist zombie look and they smell fear now
"No ... TAKE THIS EXPIRED GIFT BAG"
if i die arrest mrs. thinster
-------
2017nov09.

I have secured a location in the bay area for my meatself and am in the process of moving to it over the next week or so. It's accompanied by a general sort of endless nauseous feeling, because it's clear I hit the apogee of my bay area living experience years ago. I can't keep up with all the exciting rocket-like innovations in pricing with this area, so instead of waiting for dotbombv2.0 to wave off the hordes of Uhaul trucks clogging up East 580, I'll be the one leaving. A year, two years. Find some cheap property, cram a cabin into a hillside, grow a long beard, get off my land, die. Dude still owes me five bucks, I'm taking this hammer and the big Faile book.
2017oct23.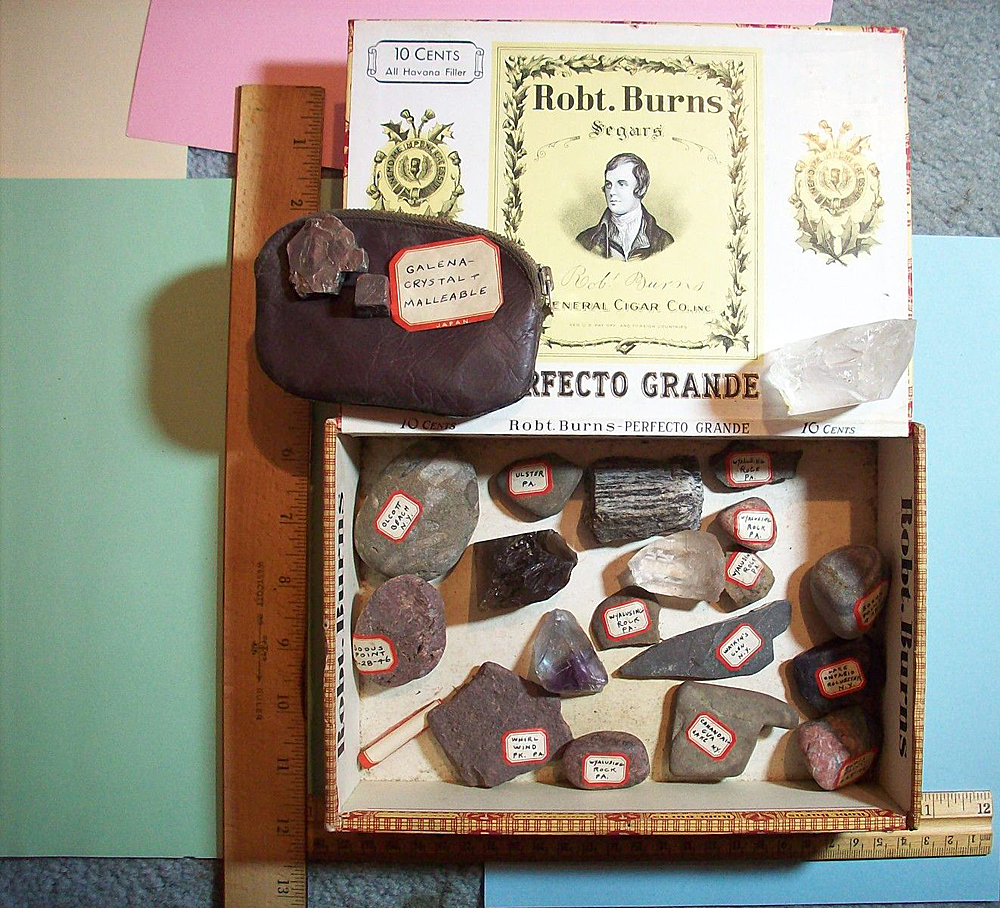 Auction: TOY 1946 ROCK COLLECTION NEW YORK PENNSYLVANIA IN CIGAR BOX ROBERT BURNS SEGARS
2017oct20.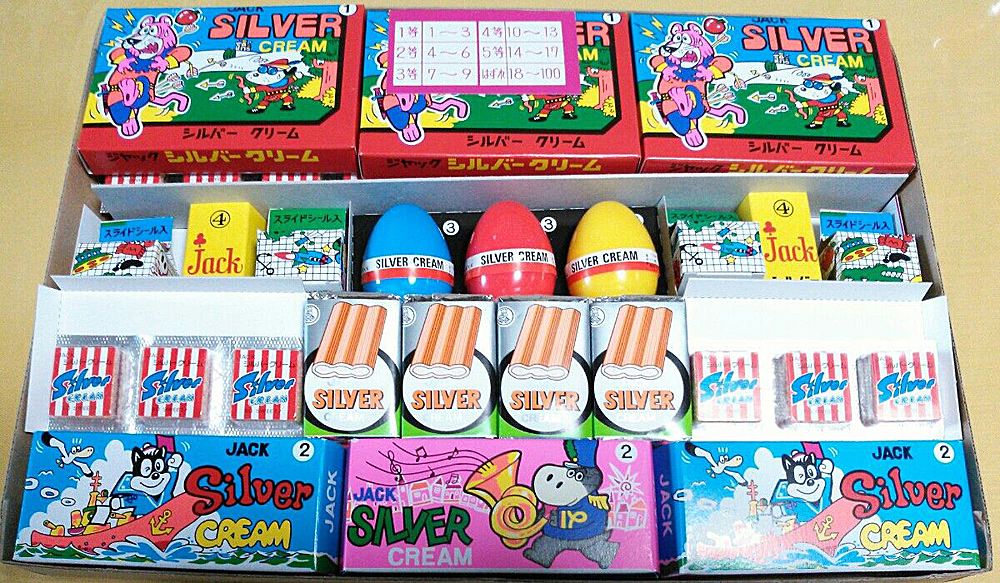 Jack Confectionery Co., Ltd. Silver Cream.
2017sep22.

Hi hello! The building I live in changed owners and the new owners are giving us all 30 days to pack up and leave starting now. I myself am looking for a housemate-type situation in the bay area of California. I do not have pets, nor do I smoke, nor do I have smoking pets. If you have any leads, please contact me at [do not contact me now] ...
2017sep13.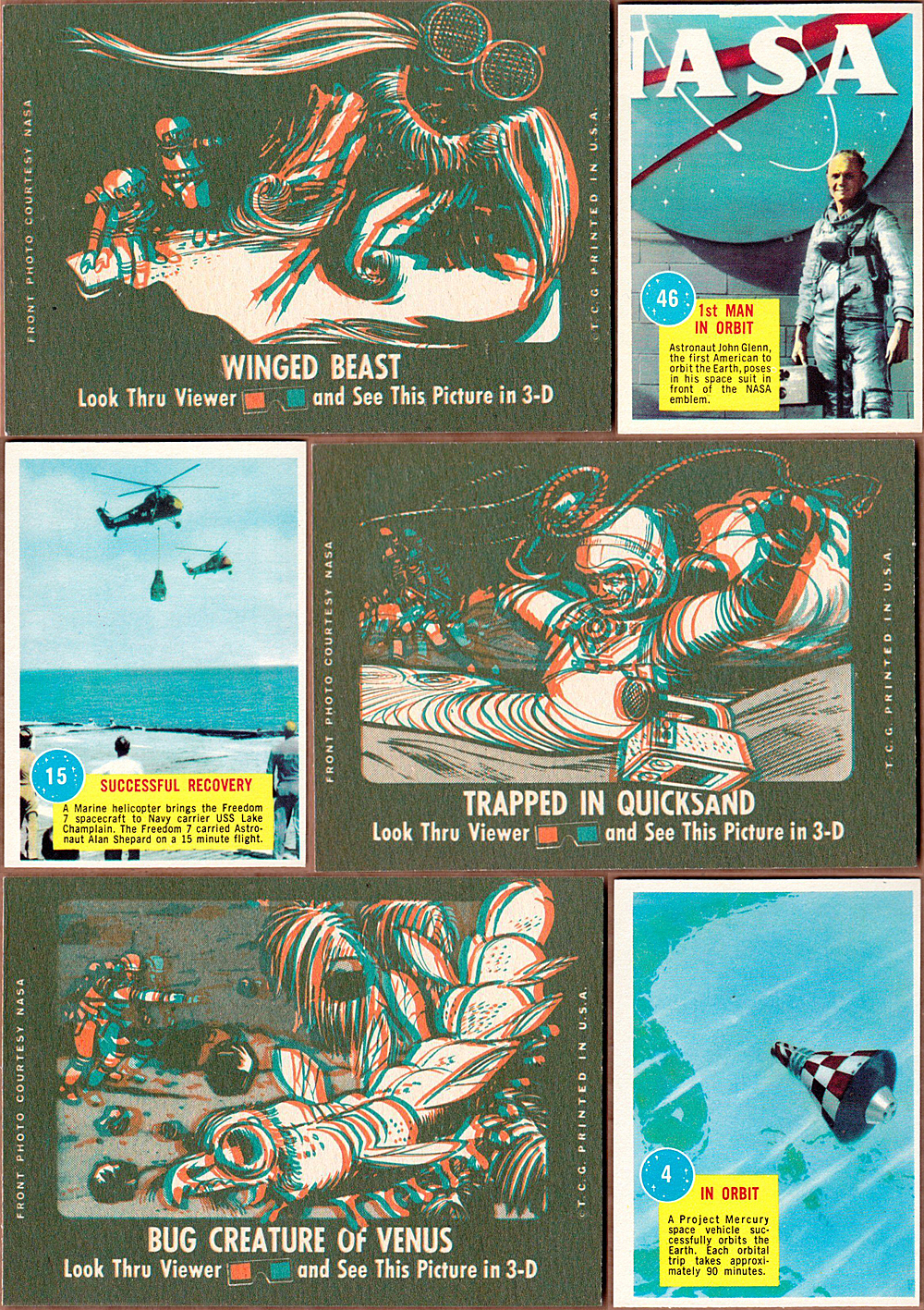 1963 series of space-themed trading cards issued by Topps. On the front, photos provided courtesy of NASA. On the back, images of frighteningly-realistic space situations that came at you in a newly-developed "third dimensional" technology. How do the bug creatures of Venus handle the extreme atmospheric pressure? Hardy exoskeletons, of course.
2017sep09.

Radio Shack Eulogy Stories by Jon Bois (What football will look like in the future)
2017sep03.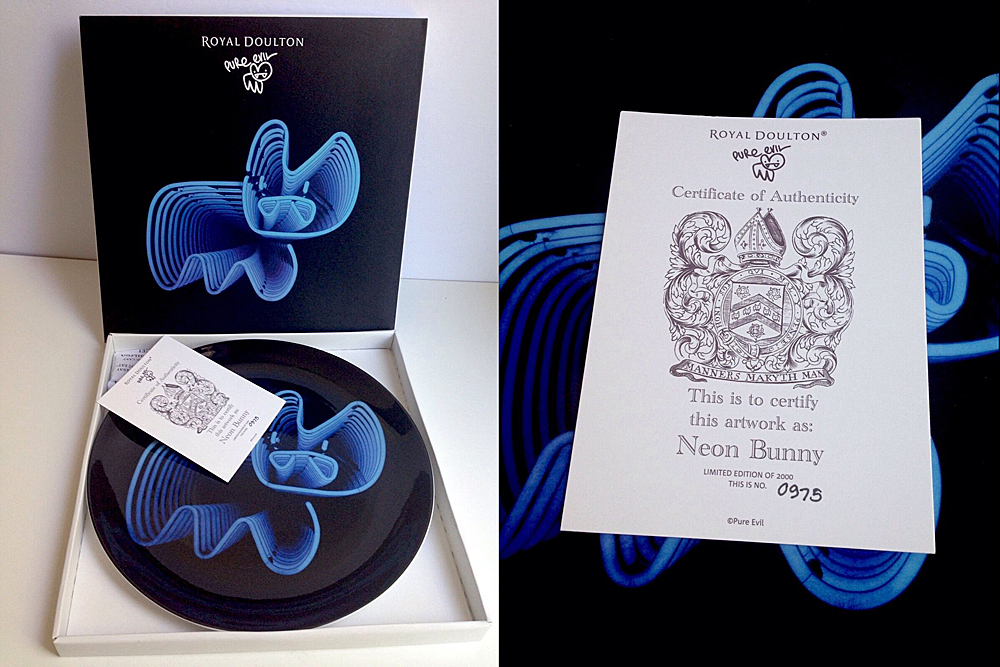 Art sometimes surprises us with what a huge load of shit it can be. The Venn diagram for this is empty now, but wait until all of those street art lovers turn 60. Just wait.
Could this be farther from street art? Neon / mirror / collectible plate. IT'S ALL ABOUT THE PROCESS
Now if he had gone and glued all the plates to an alley wall, then, mayb ‒ no. Still no.
Here is another big fat surprise ... the art at the artist's Pure Evil Gallery is crammed with the top end of dead pop culture icons tweaked a tiny bit. But that's actually what 30% of street art is now. What if Mickey Mouse had a gun. What if Cinderella had a gun. What if Elvis looked like he was crying but not really because that does not look like tears. Dig deeper, maybe, or even ... draw ... something ... yourself.
2017sep02.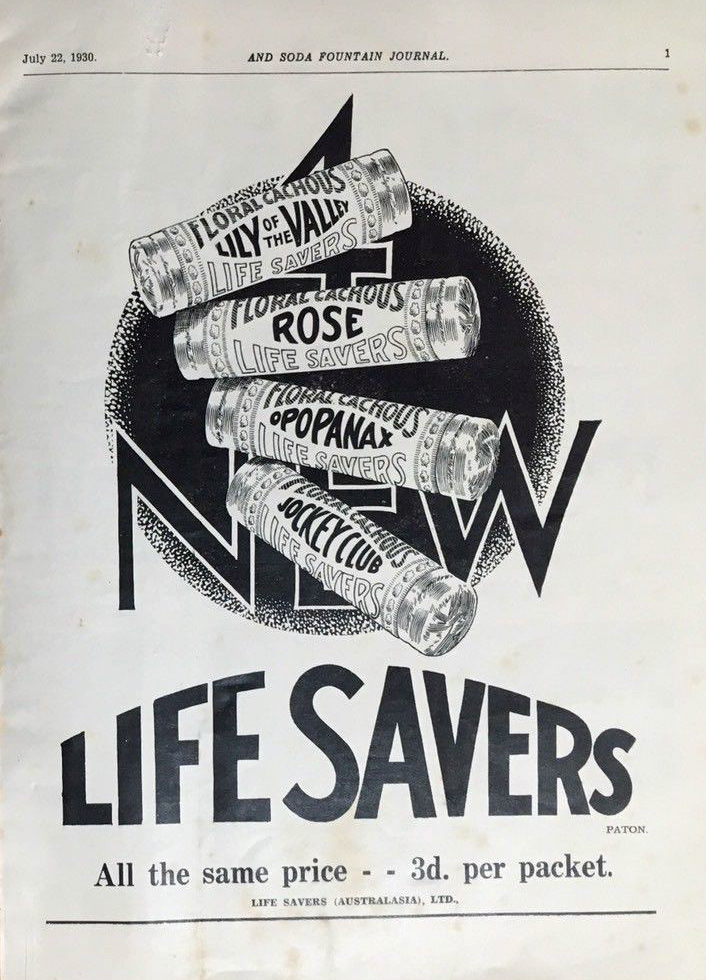 Australasian Confectioner and Soda Fountain Journal July 1930.
2017sep01.

2017aug23.

A look now at some of the TOTALLY EXTREME PRODUCTS registered under the X-TREMELY creative trademark name "X-Treme":
X-TREME (ABANDONED) IC 034. US 002 008 009 017. G & S: CIGAR CUTTERS, CIGAR CARRYING CASES, AND HUMIDORS. FIRST USE: 20081031. FIRST USE IN COMMERCE: 20081031
X-TREME IC 020. US 002 013 022 025 032 050. G & S: Polyester resin anchor for use in rock stabilization. FIRST USE: 20120625. FIRST USE IN COMMERCE: 20120625
X-TREME (CANCELLED) IC 017. US 001 005 012 013 035 050. G & S: Plastic film, web or sheet material for agricultural and horticultural applications; plastic film for mulching
X-TREME IC 012. US 019 021 023 031 035 044. G & S: MANUALLY OPERATED NON-MOTORIZED AGRICULTURAL GRAIN CARTS FOR TRANSPORTING AND DUMPING GRAIN FOR FARM RELATED USE ONLY AND NOT ON RAILROADS. FIRST USE: 20090901. FIRST USE IN COMMERCE: 20100524
X-TREME IC 016. US 002 005 022 023 029 037 038 050. G & S: Garbage bags of plastic. FIRST USE: 20090713. FIRST USE IN COMMERCE: 20090713
X-TREME (ABANDONED) IC 028. US 022 023 038 050. G & S: non-metal, water-tight containers for outdoor recreational use. FIRST USE: 20060430. FIRST USE IN COMMERCE: 20060501
X-TREME (ABANDONED) IC 009. US 021 023 026 036 038. G & S: Protection equipment to prevent falls, namely, harnesses, belts, vests, anchorage ropes, energy absorbers and special protection stilts
X-TREME (ABANDONED) IC 010. US 026 039 044. G & S: Catheters; Medical guidewires
[SFX: GUITAR WHEEDLY] TOTALLY ... X-TREME!!!!!!!
2017aug22.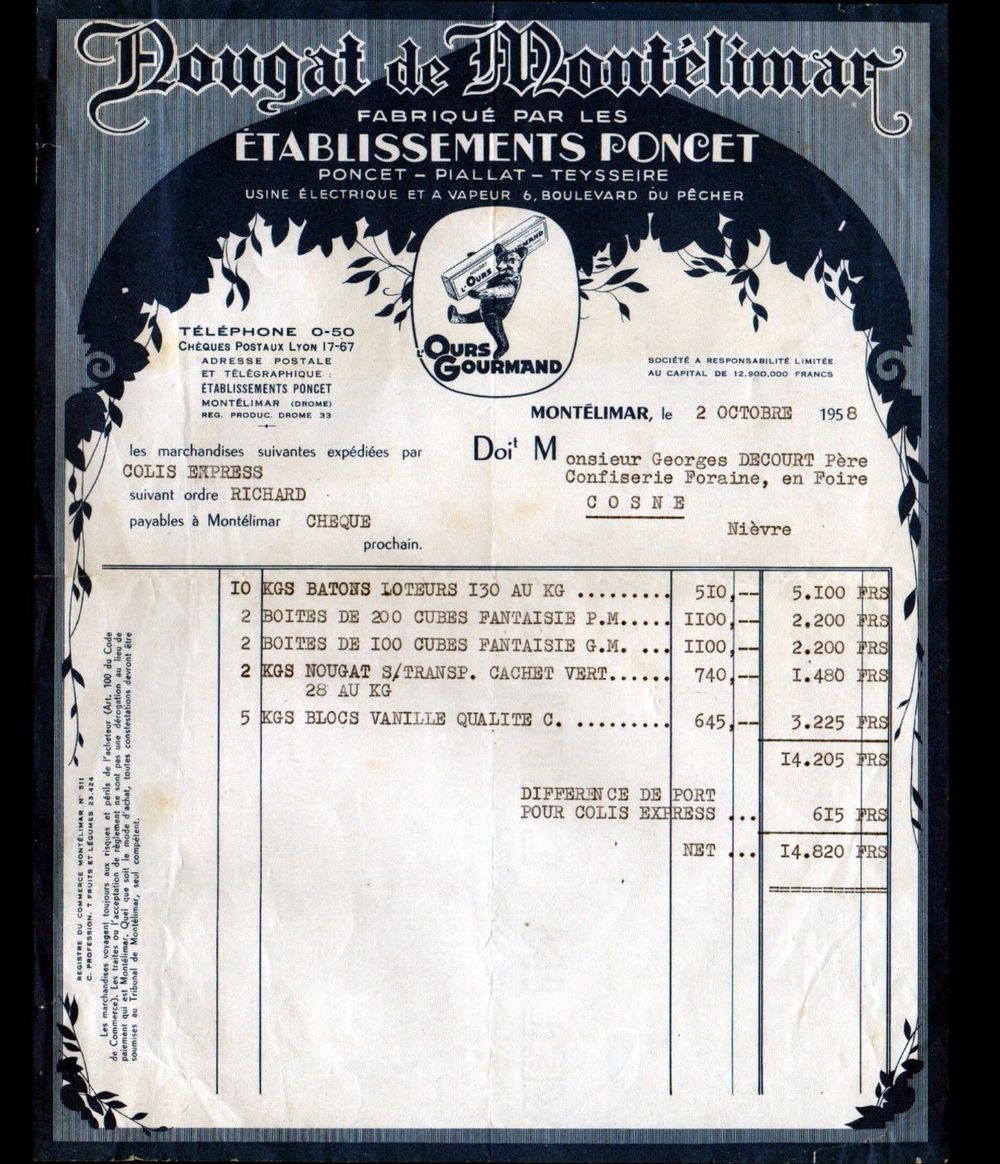 2017aug19.

The store that used to sell the Chocoballs and then did not sell Chocoballs is now selling Chocoballs at HALF OFF because they're clearing the decks for new Chocoballs or they're just getting rid of Chocoballs. So I bought ten packs and got z-e-r-0 angels which means my dream of a can of toys is dying in front of me much like a dying toy can dream but at least I got a $50 parking ticket. When one door closes on your face, another opens on your face. As solace, I will make a t-shirt with the Chocoball mascot and the can of toys and a big "WANT" above it. Yes. Working on that ... now.
2017aug15.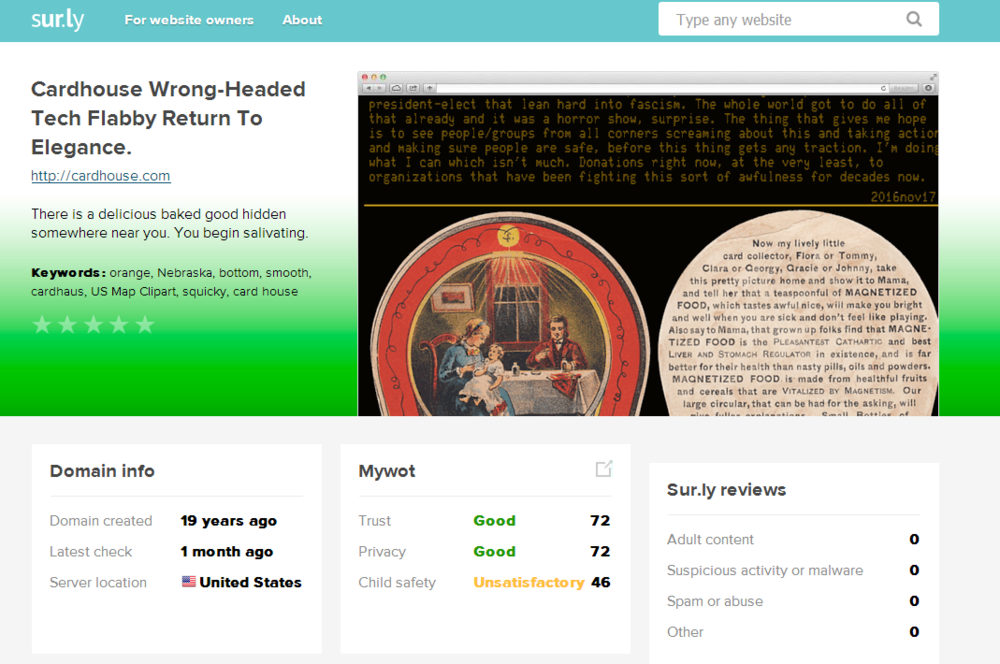 To wrap up the last month of Cardhouse-On-Cardhouse coverage, please take a look at our disappointing child safety score. We apologize to all of our child viewers. The hordes. Of children. Children would you like to buy a fidget spinner. It has a cigarette lighter. Children.
2017aug11.