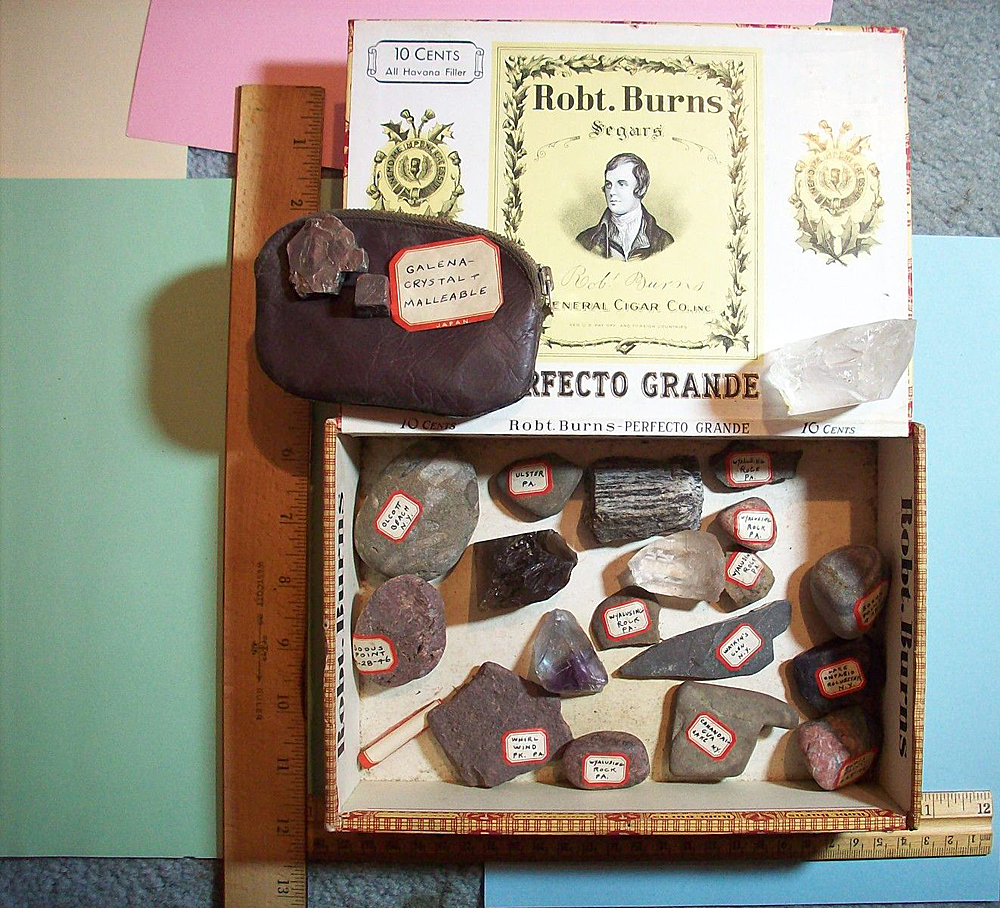 Auction: TOY 1946 ROCK COLLECTION NEW YORK PENNSYLVANIA IN CIGAR BOX ROBERT BURNS SEGARS
2017oct20.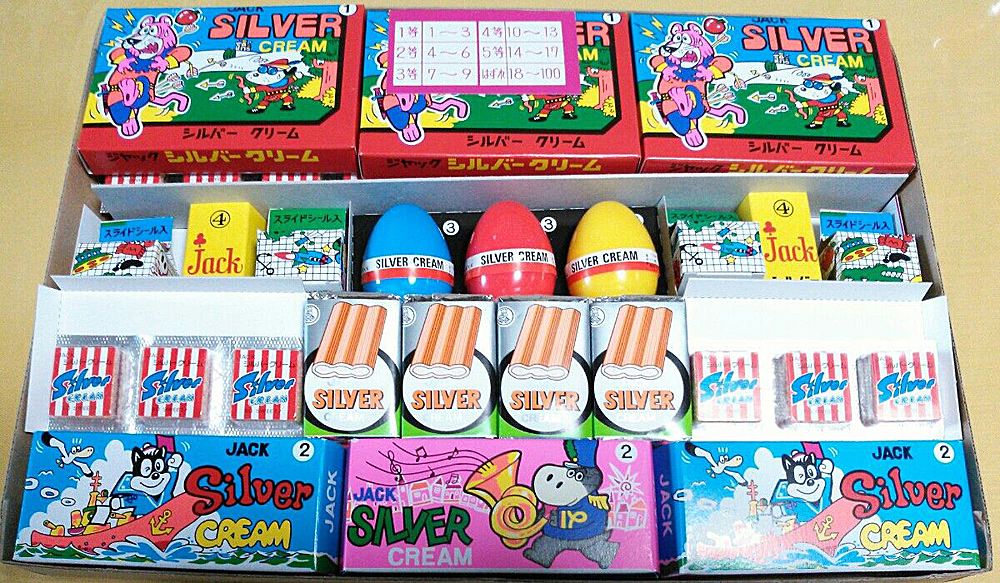 Jack Confectionery Co., Ltd. Silver Cream.
2017sep22.
Hi hello! The building I live in changed owners and the new owners are giving us all 30 days to pack up and leave starting now. I myself am looking for a housemate-type situation in the bay area of California. I do not have pets, nor do I smoke, nor do I have smoking pets. If you have any leads, please contact me at a08@cardhouse.com ...
2017sep13.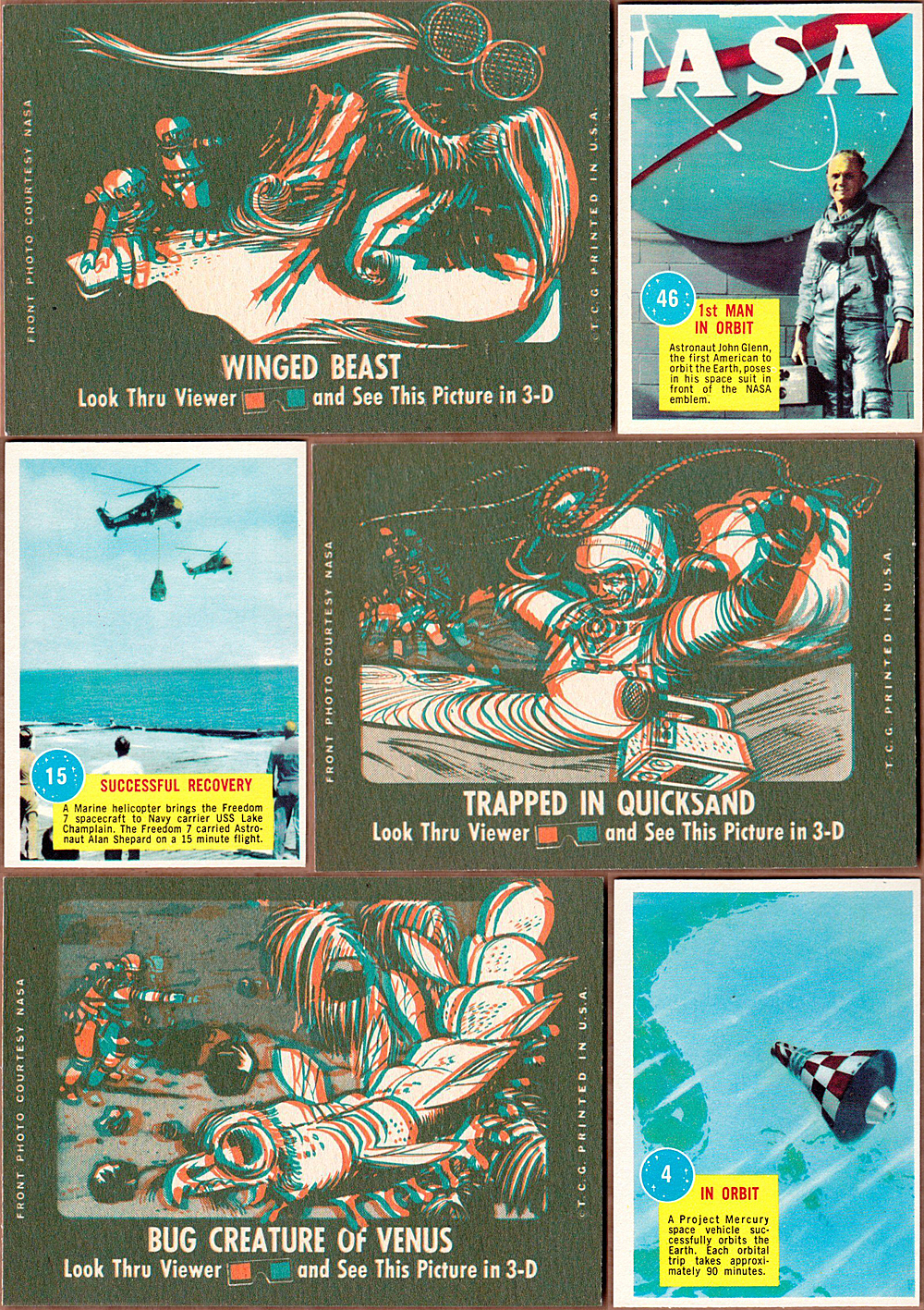 1963 series of space-themed trading cards issued by Topps. On the front, photos provided courtesy of NASA. On the back, images of frighteningly-realistic space situations that came at you in a newly-developed "third dimensional" technology. How do the bug creatures of Venus handle the extreme atmospheric pressure? Hardy exoskeletons, of course.
2017sep09.
Radio Shack Eulogy Stories by Jon Bois (What football will look like in the future)
2017sep03.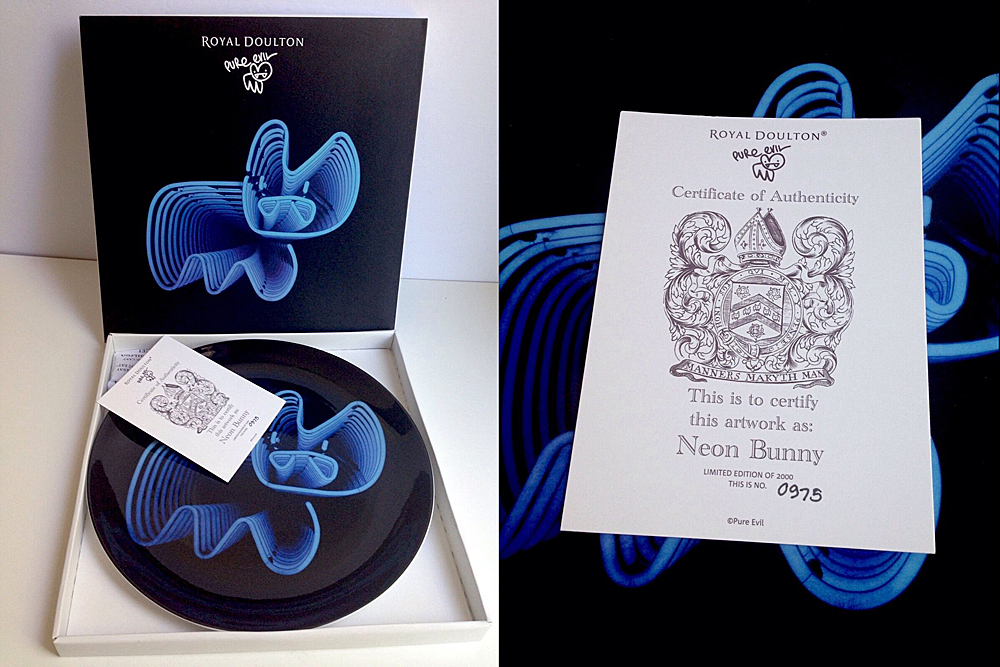 Art sometimes surprises us with what a huge load of shit it can be. The Venn diagram for this is empty now, but wait until all of those street art lovers turn 60. Just wait.
Could this be farther from street art? Neon / mirror / collectible plate. IT'S ALL ABOUT THE PROCESS
Now if he had gone and glued all the plates to an alley wall, then, mayb ‒ no. Still no.
Here is another big fat surprise ... the art at the artist's Pure Evil Gallery is crammed with the top end of dead pop culture icons tweaked a tiny bit. But that's actually what 30% of street art is now. What if Mickey Mouse had a gun. What if Cinderella had a gun. What if Elvis looked like he was crying but not really because that does not look like tears. Dig deeper, maybe, or even ... draw ... something ... yourself.
2017sep02.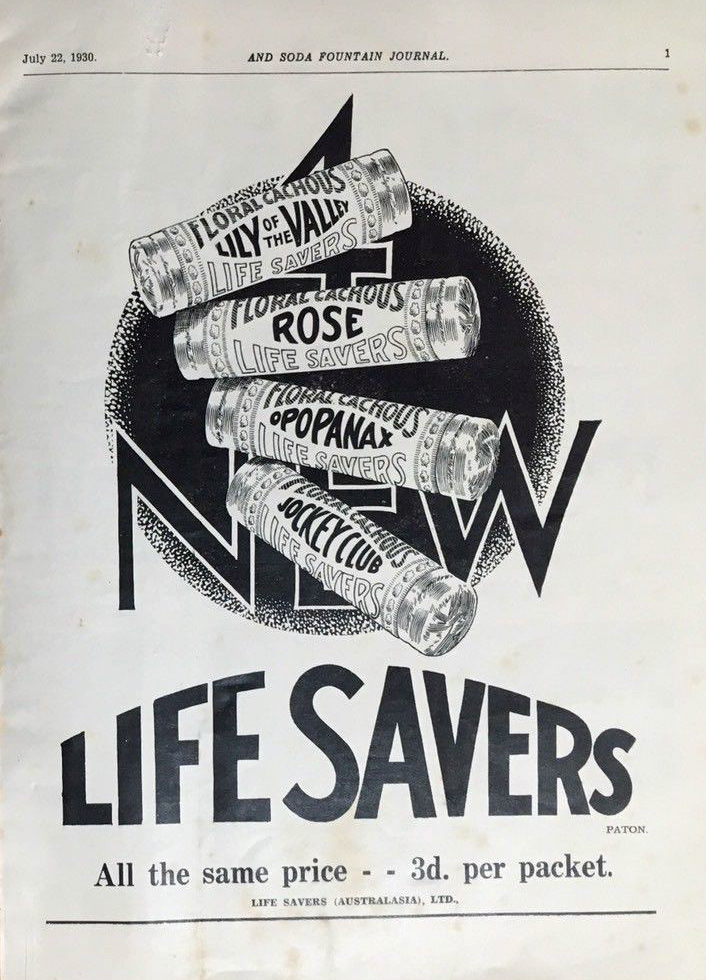 Australasian Confectioner and Soda Fountain Journal July 1930.
2017sep01.
2017aug23.
A look now at some of the TOTALLY EXTREME PRODUCTS registered under the X-TREMELY creative trademark name "X-Treme":
X-TREME (ABANDONED) IC 034. US 002 008 009 017. G & S: CIGAR CUTTERS, CIGAR CARRYING CASES, AND HUMIDORS. FIRST USE: 20081031. FIRST USE IN COMMERCE: 20081031
X-TREME IC 020. US 002 013 022 025 032 050. G & S: Polyester resin anchor for use in rock stabilization. FIRST USE: 20120625. FIRST USE IN COMMERCE: 20120625
X-TREME (CANCELLED) IC 017. US 001 005 012 013 035 050. G & S: Plastic film, web or sheet material for agricultural and horticultural applications; plastic film for mulching
X-TREME IC 012. US 019 021 023 031 035 044. G & S: MANUALLY OPERATED NON-MOTORIZED AGRICULTURAL GRAIN CARTS FOR TRANSPORTING AND DUMPING GRAIN FOR FARM RELATED USE ONLY AND NOT ON RAILROADS. FIRST USE: 20090901. FIRST USE IN COMMERCE: 20100524
X-TREME IC 016. US 002 005 022 023 029 037 038 050. G & S: Garbage bags of plastic. FIRST USE: 20090713. FIRST USE IN COMMERCE: 20090713
X-TREME (ABANDONED) IC 028. US 022 023 038 050. G & S: non-metal, water-tight containers for outdoor recreational use. FIRST USE: 20060430. FIRST USE IN COMMERCE: 20060501
X-TREME (ABANDONED) IC 009. US 021 023 026 036 038. G & S: Protection equipment to prevent falls, namely, harnesses, belts, vests, anchorage ropes, energy absorbers and special protection stilts
X-TREME (ABANDONED) IC 010. US 026 039 044. G & S: Catheters; Medical guidewires
[SFX: GUITAR WHEEDLY] TOTALLY ... X-TREME!!!!!!!
2017aug22.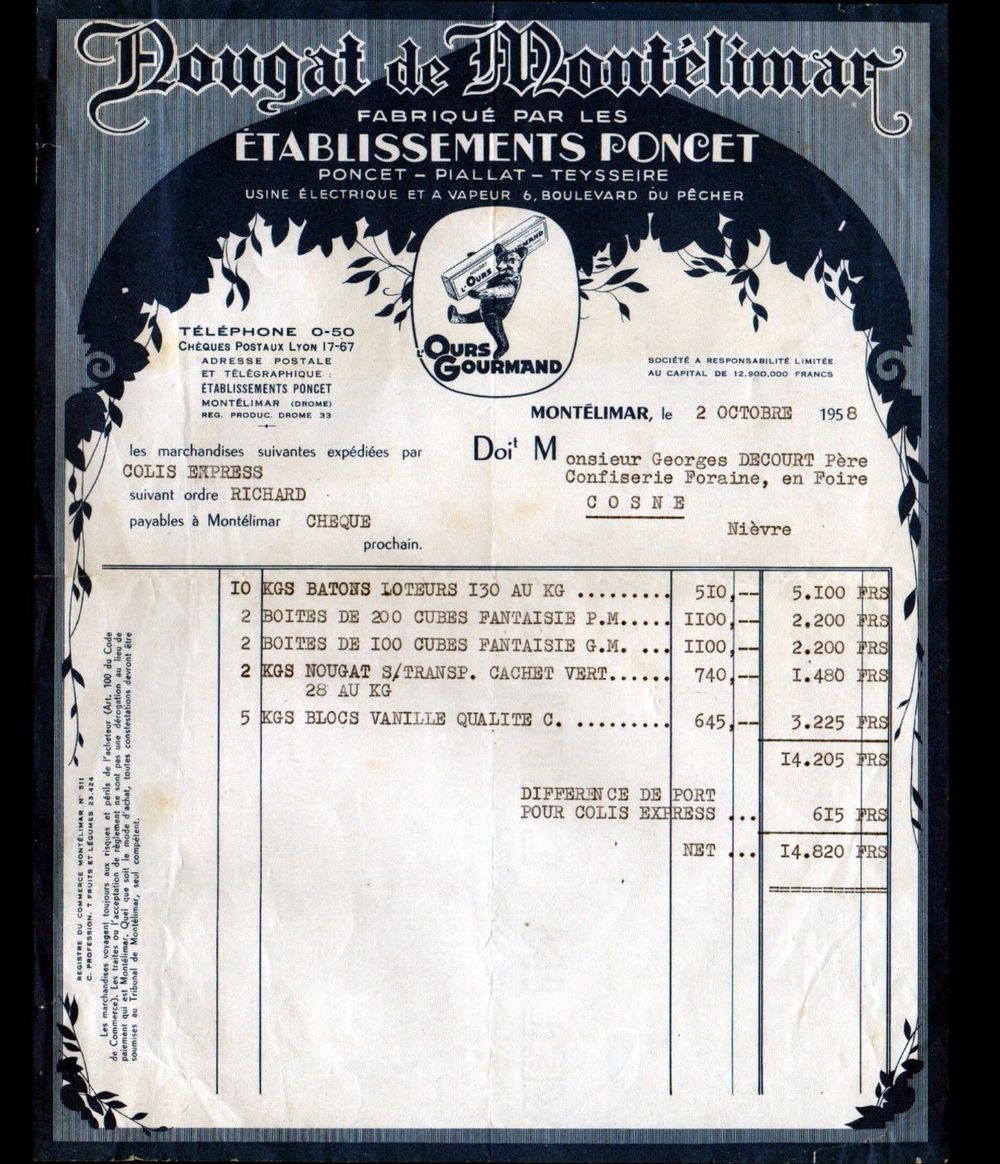 2017aug19.
The store that used to sell the Chocoballs and then did not sell Chocoballs is now selling Chocoballs at HALF OFF because they're clearing the decks for new Chocoballs or they're just getting rid of Chocoballs. So I bought ten packs and got z-e-r-0 angels which means my dream of a can of toys is dying in front of me much like a dying toy can dream but at least I got a $50 parking ticket. When one door closes on your face, another opens on your face. As solace, I will make a t-shirt with the Chocoball mascot and the can of toys and a big "WANT" above it. Yes. Working on that ... now.
2017aug15.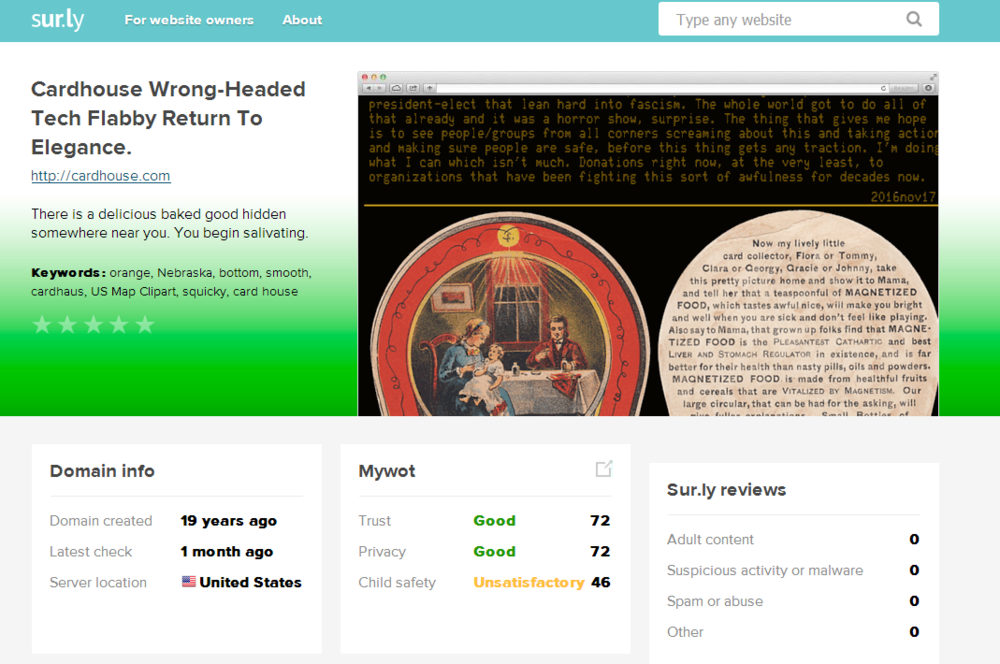 To wrap up the last month of Cardhouse-On-Cardhouse coverage, please take a look at our disappointing child safety score. We apologize to all of our child viewers. The hordes. Of children. Children would you like to buy a fidget spinner. It has a cigarette lighter. Children.
2017aug11.
Fidget spinner cigarette lighter. Still looking for a fidget spinner AM radio egg timer. If you see one, let me know in the comments section below.
2017aug10.
The Soothing Sounds Of Alcatraz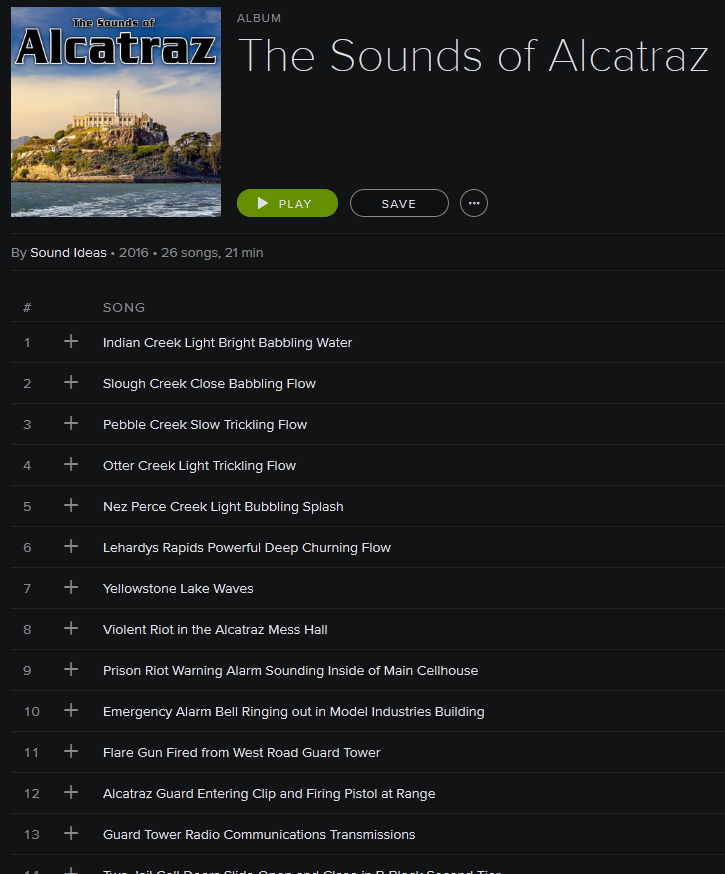 2017aug08.
I was going to write a big entry about how I've spent the last month waiting for a store to re-open that sold Chocoballs and how I contacted the distributor but they wouldn't tell me where else I could buy Chocoballs except for their website which has a minimum charge of $25 along with $10 shipping but I went to the store today now that they are open again (stores close for a month all the time around here, it's a ghost town, even the hospitals) and they did not know what Chocoballs were and also did not have them.
2017aug07.
IT IS THE SECOND HISTORICAL HISTORY ARTICLE OF WEB/CARDHOUSE HISTORY TIEM
I have spent what investigators have called "a bone-chilling, flabbergasting" amount of time fixing the Cardhouse weblog pages. I have "revamped" the weblog, removing all previous attempts to modernize it. Now older pages look approximately like they did before ... but centered, with underlining removed, and a little bit of grammar/layout clean-up. The Cardhouse weblog now consists of 27 pages. That's highly-concentrated value, right there. "It's so easy!" "So convenient ..." "So crisp." No one links to weblogs any more, so why waste the time with individual entry pages. There are unique links to each entry if you need to link to something. You do not.
I got some comments about the last historical history post I made, about those ancient little buttons everyone used to make for the sites back in the stone age. "Hey, those buttons, those were different." So you like the little buttons, do ya now. Well, how about a bunch of Cardhouse weblog buttons. How about that.
There. You like buttons so much. Swim. Swim in the buttons! Each year of the weblog is now one page with a header and a tiny goddamn throwback button you can put in your pocket and feed tiny bits of egg from time to time. The button has a strange diet. That's what the pet store said to give it, I don't get it either.
That's right, each button is a year. Each button is one page. Yes. A button ... is a page ... is a year. You can click forward and backward on the big images on top of the pages ... that are years. "But it takes long to load." Go grab a snack. Get off DSL. Wait a few years for technology to catch up.
Also perhaps you have noticed how over the past 27 years or so I have matured quite a bit ‒ whereas before I would go "YAAAAAAAAAAAAAAAAAAAAAAAA!!!!!! SOME BIT OF NON-IMPORTANT CULTURAL DETRITUS I WILL OVER-EMPHASIZE!!!!!!" now I'm all "Here's an image. Knock yourself out, I'm going to go take a nap in the back." I have even noticed myself, and I'm me. Anyway, de-emphasis on input (political/cultural spew), over-emphasis on output (the Elsewhere Philatelic Society, other various projects).
For those of you just tuning in, Cardhouse started in 1990 as the backing organization for X Magazine. The Cardhouse website started on or before November 27 of 1994. The Cardhouse.com domain started August 1 1997. The weblog itself, that's more of a mystery. I remember churning through small entries on the home page which were not archived around 1996, and I started answering email there around the end of that year. The term "weblog" was coined by Jorn Barger with the start of Robot Wisdom weblog on 17 December 1997. I don't know how many people were making weblog-like constructs back then; what I do know is that most of them are gone, including Barger. Most everything is gone. I didn't go through every link, but I checked a large number of them and I'd say 97.3% of them are dead. I didn't search for them, most of the time, so maybe they exist on some other website. No, just kidding, you know 90% of that 97.3% is totally missing. People are gone, products are gone, art collectives are gone, institutions are gone, Elizabeth Hurley's guilt-free air-dried organic silverside beef jerky snack packs are gone. That funny service-sector weblog? Yeah, that's definitely gone. So if you like something out there ... save it to your local drive now. Because it will die.
2017jul21.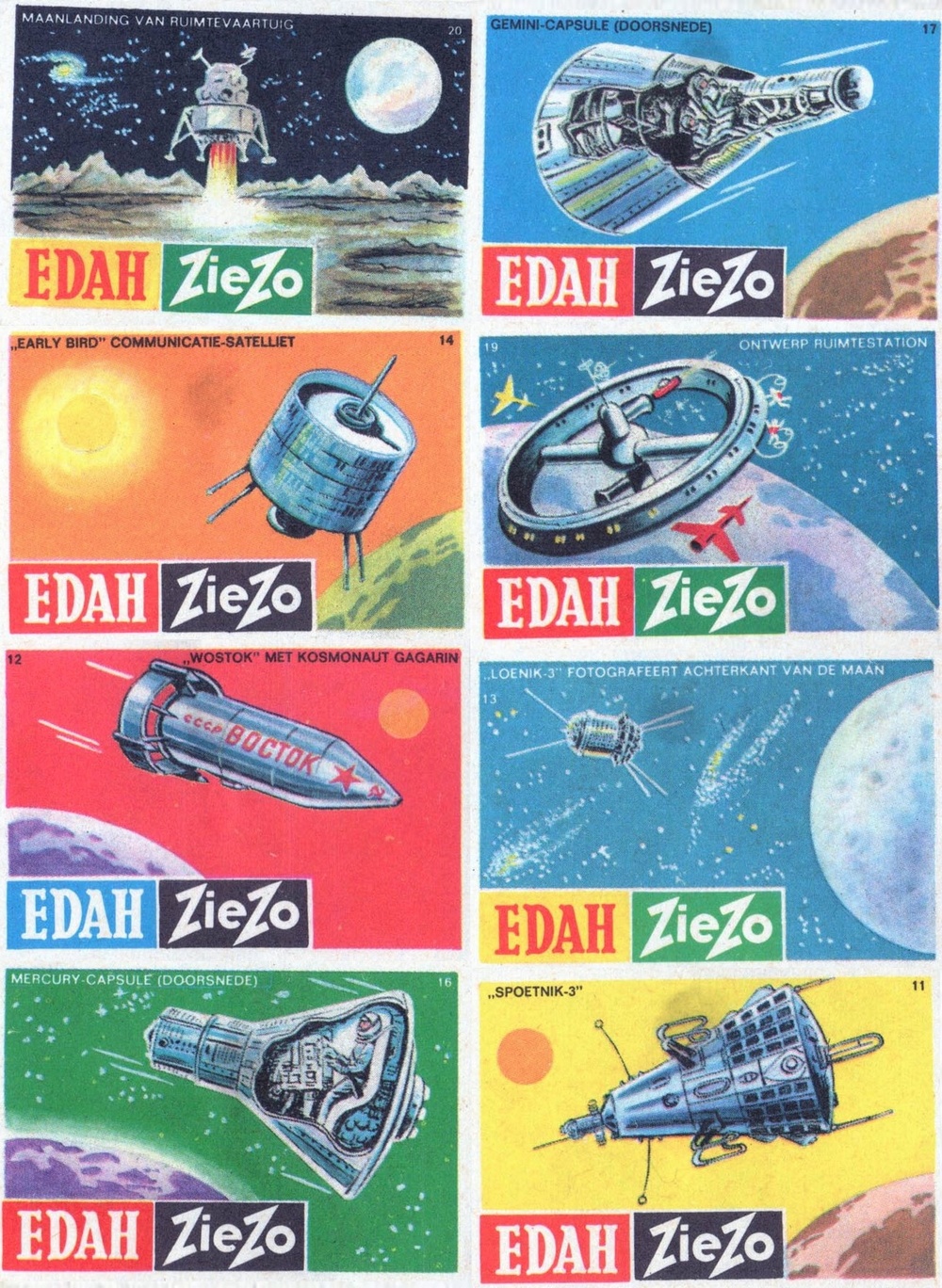 2017jul20.

2017jul10.
What football will look like in the future. Set aside a nice chunk of time for this one. This is the most important link you will visit in 2017 (thanks Jon!).
2017jul09.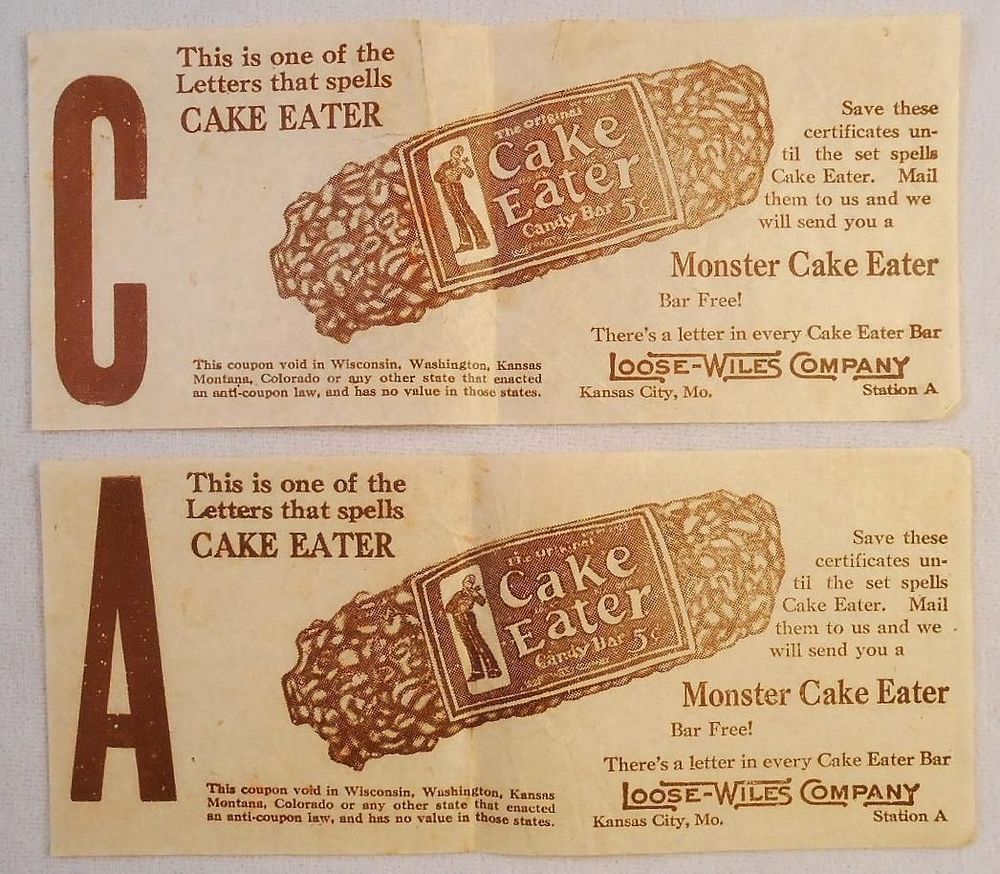 Same.
2017jul08.